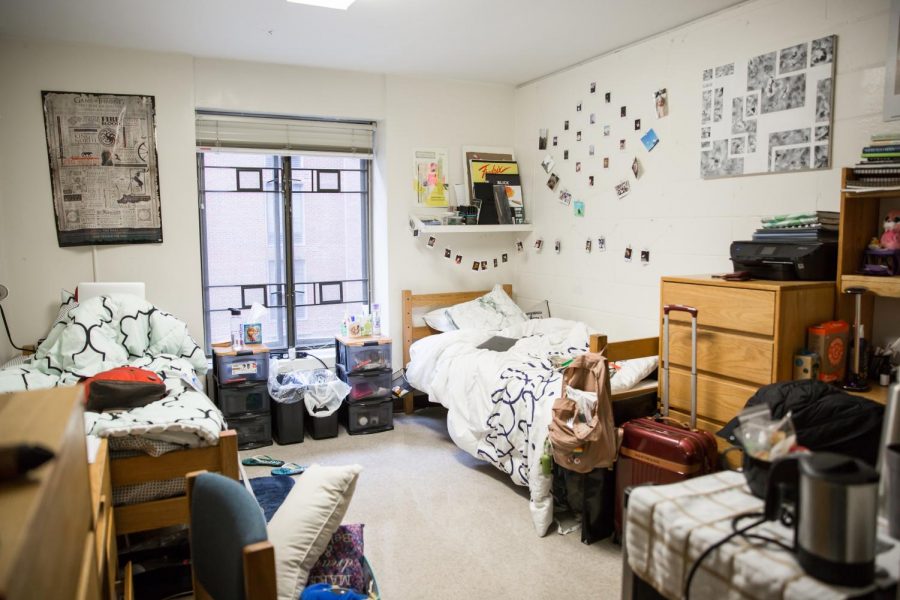 Weinstein Hall
Address: 5 University Place, New York, NY
Cost per semester: $6,332-$8,471
Low cost: Available
Rooms available: Singles, Doubles, Triples
Nearby subways: N, R, A, C, E, 6
NYU Shuttles: None
Closest dining hall: Weinstein
Walk to campus: 1 minute to Washington Square Park
Exploration floors: Laughing Matters, Represent NYC: Expressions of Social Justice
Amenities:
***
Weinstein Residence Hall is a freshman dorm located near the northeast corner of Washington Square Park. Weinstein houses around 600 students and consists mostly of double and triple rooms, with some private rooms available as well. The building is made up of studios and suites in two towers, each with their own bathrooms. Low-cost rooms are available.
The building is a five-minute walk from Elmer Holmes Bobst Library, Kimmel Center for University Life and several other campus buildings.
"One of the best things about living in Weinstein is that it's so close to campus," Stern freshman and Weinstein resident Zoe van den Bol said. "It's so nice waking up 10 minutes before class and getting to class and still being early."
The all-you-can-eat Weinstein Passport Dining Hall, known as Downstein, is on the lower level, the Upstein Food Court — with restaurant options like Chick-fil-A and Over Easy — is on the first floor. Weinstein's convenience store, Sidestein, stocks snacks, meals and toiletries; it takes dining dollars.
The residence hall also has a lounge with a study space, a community kitchen and a TV.
Despite the proximity to campus and the convenience of the multiple dining halls, Weinstein residents claim it isn't the most comfortable or clean living space.
"When I got here, it felt totally different from what they described online," CAS freshman Mike Chen said. "There are rats and cockroaches running around everyone's room in Weinstein. [Rats] were quite frequent during the summer, and we still get cockroaches pretty often."
Van den Bol said she found a dead rat in her bathtub when she returned from winter break.
The look of the building — inside and out — is also not ideal.
"Coming into the school year, I was pretty upset I got Weinstein," Van den Bol said. "It was not one of my top choices because it's basically a glorified prison just by looks."
However, according to residents, the small rooms often force them to spend their time in the hallways and study lounges, acquainting them with more students in the building.
"Because the rooms are so small, everyone hangs out in the hallways, and we're all really close because of that," Van den Bol said. "Everyone has been super friendly and the experience has been a lot better than I anticipated."