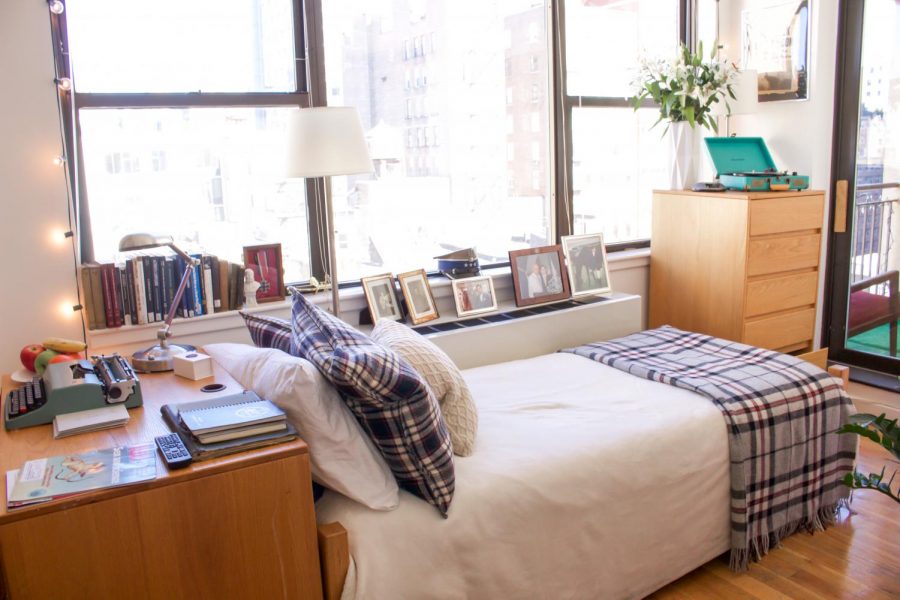 Senior House at W. 13th Street
Address: 47 W. 13th St., New York, NY 10011
Cost per semester: $6,622-$8,061
Low cost: Available
Rooms available: Doubles
Nearby subways: F, L, N, 1, 2, 3
NYU Shuttles:  None
Closest dining hall: Weinstein
Walk to campus: 10 minutes to Washington Square Park
Exploration floors: Senior-only residence
Amenities: Penthouse, study lounges
***
A hidden gem on 13th Street, tucked away between Fifth Avenue and Sixth Avenue, Senior House is a residence hall that is much more of a community than just a roof overhead.
As the name suggests, Senior House is a special-interest housing option exclusively available for seniors. A community that is built of seniors who want to reconnect with fellow students one last time before graduating, residents of Senior House can expect a plethora of activities and events throughout the academic year that include themed movie nights and fun day trips throughout New York City.
The building is divided into two towers, North and South, which are connected by a tunnel system that weaves through the basement. Each nine-story tower includes apartment style suites and two-person studios. The rooms include their own kitchens, bathrooms and common areas. Senior House also offers two study lounges, two laundry rooms and a penthouse lounge with a communal kitchen.
Senior House's location near Union Square, the West Village and Chelsea make it exceptionally convenient when it comes to accessing the subway.
"Living on the border of West Village gives you access to the best restaurants and sights in the area, but is also close enough to go to more commercial locations like Union Square," Gallatin senior and Senior House resident Daryl Ocampo said. "Everything you'd ever need is so close by, and the brick walls are to die for."
Furthermore, this advantageous location comes with the added benefit of great food, like Chipotle, which is right across the street, or Chelsea Market, which is just few avenues west.