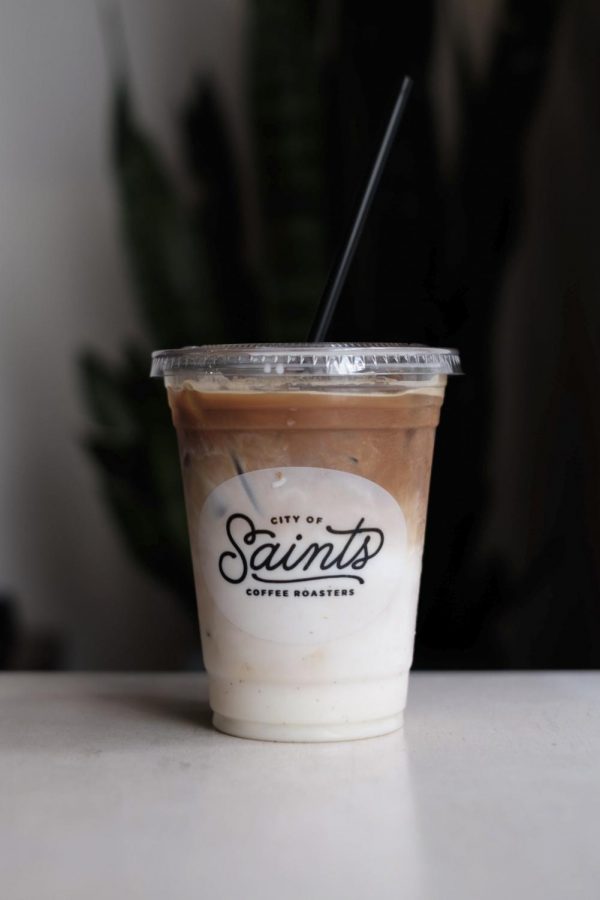 City of Saints in the Big City
On a gray yet comforting fall morning, I sit outside of City of Saints Coffee in anticipation of the interview I have set up with the store manager, Danielle Pittner. As an individual who used to work in a coffee shop and an overall connoisseur of the versatile beverages that make up the world of specialty coffee, I was over the moon to go to this local cafe.
Upon the first couple of steps into the shop, customers enter a sort of serenity that balances the sounds of light traffic outside with the clean aesthetic of the shop. I find Pittner behind the counter in a perfectly constructed barista outfit complete with a red beanie and a clean black ensemble. We sit down at a bench in the cafe that allows us to take in the energy of the people and tasty creations that are being produced while our lovely chat begins.
The world of specialty coffee puts great emphasis on all aspects of the coffee-making process, from the climate the beans come from to the delicate latte art, and Pittner's introductions to this world start from the root of it all — literally. When Pittner served in the Peace Corps, the people in her host family in Jamaica were coffee farmers. There she learned everything about growing and harvesting the beans, thus inspiring her to enter the vast world of coffee. Upon coming back to the United States, she looked for barista jobs and wound up as store manager at City of Saints Coffee.
The shop gets its adorable name from the country that is credited as the birthplace of coffee: Ethiopia. City of Saints is the nickname of the Ethiopian city Harar. Located near the corner of Fourth Avenue and 10th Street, the shop prides itself on making well-crafted coffee. While Pittner's beverage of choice is a classic drip coffee, the shop has become well known for its  lavender agave latte. What started as a seasonal iced latte has become a new staple due to popular demand, so try one out any time of the year, hot or iced. For all of the autumn enthusiasts out there, if you crave a beverage that tastes like fall in a cup, try the seasonal and adorably named jack-o-latte.
At the end of the interview, I discovered that I went for the coffee but wanted to stay for the people. Whether you're in there for five minutes or five hours, City of Saints Coffee successfully turns its little cafe into a temporary community. With the cold months and long school days ahead, stop in City of Saints to warm your stomach and spirit, and, like their mantra says, drink what you like.
A version of this article appeared in the Monday, Nov. 20 print edition. Email Michael Muth at [email protected]