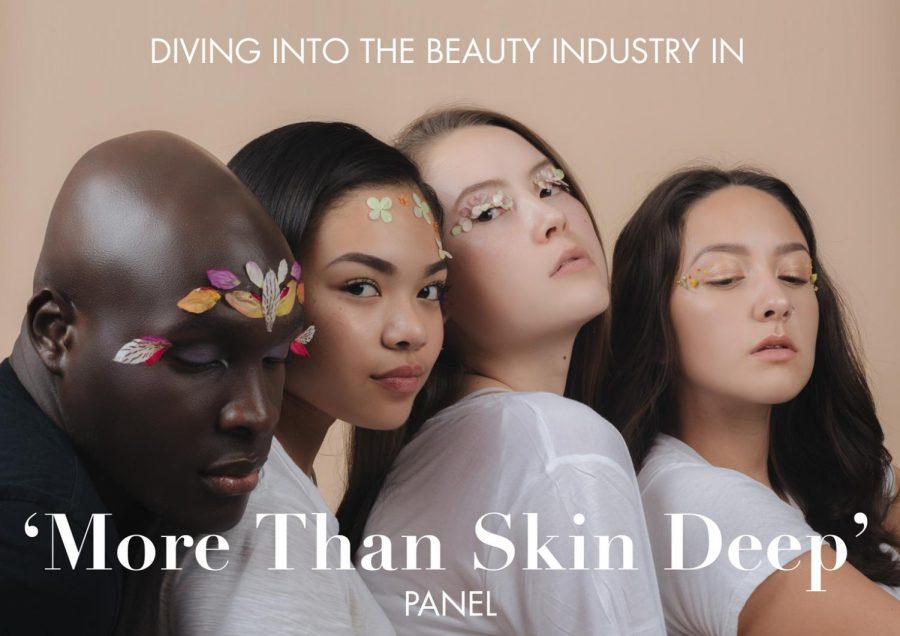 Diving Into the Beauty Industry in 'More Than Skin Deep' Panel
Makeup, haircare and skincare, oh my! On Oct. 18, the "More Than Skin Deep: Riding the Wave of the Changing Beauty Industry" panel, hosted by the Gallatin School of Individualized Study, brought together powerhouse figures within the beauty industry for a panel and Q&A discussion of pertinent topics in the field.
The four panelists in attendance included Sarah Brown, a contributing writer and former beauty editor at Vogue; Jennifer Tuchman, the senior vice president general manager international for La Mer; Zahir Dossa, the chief executive officer and co-founder of Function of Beauty; and Blair Lancer, the director of communications at Lancer Skincare. The panel of beauty industry insiders fielded questions on issues such as inclusivity, environmental awareness and the growing importance and influence of social media on the beauty industry at large. Due to each of the panelists' unique respective areas of expertise within the industry, each question was discussed and considered from a myriad of perspectives and outlooks.
While each panelist is now a beauty authority in their own right, no two panelists found themselves on the exact same path toward establishing a space for themselves in the industry. Brown — first and foremost a journalist — found herself in the world of beauty after landing an internship in the beauty department of Elle magazine while in college. After discovering her passion for beauty magazines, Brown continued to delve deeper and deeper into the realm of print publications with beauty sections, going on to write for publications like Harper's Bazaar, InStyle and Nylon. After freelancing for seven months, Brown went to Vogue as a senior beauty editor and, within a year and ahalf, was promoted to beauty director.
Dossa, on the other hand, a graduate and doctorate from the Massachusetts Institute of Technology, did not originally envision himself in beauty, nor did he have a particular passion toward the industry specifically. After studying computer science and management in undergraduate and then sustainability for his doctorate, Dossa channeled his expertise into the beauty industry by founding Function of Beauty and The Argan Tree before that.
"Beauty was the industry that I selected because it was the most bloated and had the most middle men," Dossa said. "We haven't seen much changes from a technological perspective in the beauty industry in the last two centuries. I thought there was such a lack of transparency between stuff that's in your product and what companies advertise to you."
While the panelists, of course, love the world of beauty, some were conscious of some areas worth improving within the field. Gallatin 2015 alum Lancer spoke about the thin line the beauty industry walks in terms of advertisements jading reality.
"I think the main thing that needs to be addressed is the industry's authenticity," Lancer said. "When consumers look at magazines and advertisements, they are looking at models in photographs that have had hours of photoshop and editing done. The models' skin tones are always perfectly even and there isn't a pore in sight. It's a tricky space because advertising is all about selling perfection and fantasy. Companies won't sell a product if the model doesn't look perfect, but there should be some way to bridge the gap between fantasy and reality."
Tuchman, who received her MBA from Stern School of Business, addressed the double-edged sword that is the dynamic nature of the marketing behind the beauty industry.
"My favorite thing about the beauty industry is that it moves rapidly and is ever-changing, and my least favorite thing about the beauty industry is that it moves rapidly and is ever-changing," Tuchman said. "It always allows for innovation, which I love, whether it's products or commercials, but it means that you continually have to maintain the thread of your heritage, while changing all the time."
In an industry that has garnered a reputation for being exclusive or restricting, all the panelists acknowledged this problem, but also all agreed that the industry has rapidly begun its change toward inclusivity.
"It's becoming way more inclusive, that's the point of beauty," Brown said. "It's to celebrate everyone's beauty and to give everyone a way to feel their most beautiful, and I think that right now, the world is becoming a more inclusive place, in every respect."
Email Thomas Chou at [email protected]