The Financial Aid Issue
Nov 9, 2015
Letter from the Editor
How am I going to pay for all of this? Most NYU students have asked ourselves this question starting when we receive our much-anticipated acceptance letters and often extending far past the graduation ceremony at Yankee Stadium. The media — Washington Square News included — have published countless stories of how students cope with the extreme tuition for an NYU education. Instead of exploring how the burden of debt affects life while enrolled, we chose to focus on the future after the degree.
As students, we have a vested interest in NYU's approach to financial aid. We're familiar with that heart-pounding, panic-inducing feeling that accompanies an email from the financial aid office: your financial aid has been revised. We panic because despite NYU's flaws, we love it and we want to be here. We love New York City — a leading cause of those high tuition costs — we enjoy our classes and student activities, and when we weighed the costs and benefits, NYU came out on top.
The question remains: How does this calculation differ from student to student and how does it change post-graduation? We tried to include stories that were more representative of the average NYU student experience. Some alumni had more debt, some had less, but they all found a way to cope with NYU's price tag.
The purpose of this issue is not to examine the faults of financial aid at NYU, or in the United States for that matter. It is to give a voice to students who live the day-to-day realities of student debt when the bills start to come in.  It is helpful to know what the reality of graduating with college loans looks like; that's why we chose to talk to six alumni about whether or not it was all worth it. After all, the answer to that question is a personal calculation that goes far beyond account balances and starting salaries, and for current students the answer remains up in the air. We'll have to see.
---
Financial aid by the numbers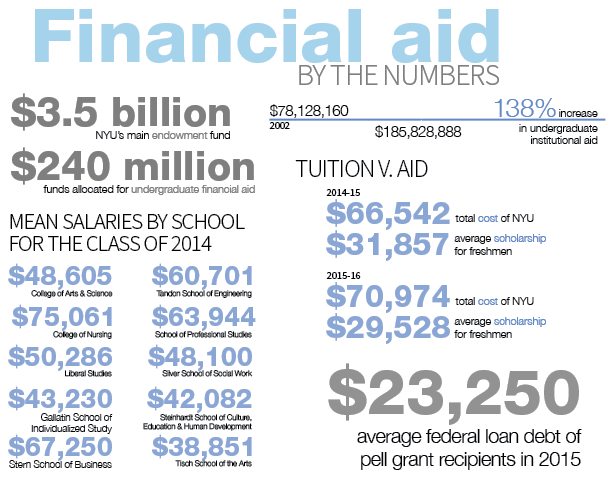 Financial aid over the years // Total cost 2014-15 // Average scholarship for freshmen 2014-15 // Total cost 2015-2016 // Average scholarship for freshmen 2015-2016 // Average federal loan debt 2015 // Average starting salaries // Endowment // Funds allocated for undergraduate financial aid
---
Was NYU worth it?
Nathan Christensen, GSAS 2014
No, it wasn't worth it to me in the sense that the graduate program that I was a part of didn't provide any serious job training that I hoped that it would. You know, if you wanted to go into academia and become an academic, maybe that sort of program would have provided the job training necessary to go out into the labor market, get a job.
In any case, I didn't feel like I got the job training that came with the price tag. You know two years later, I sort of speak two, a second and third language, you know that was something I thought at the time would be a very useful skill. It turned out not to really be, and I had a really hard time. It took about a year to find a stable job after graduating.
I don't regret my decision to come here because I found folks who were willing to push back against some of the problems that I have with the university, and in that sense, was a very fulfilling experience for me. I found a job in the end so at the end of the day I met my long-term partner at school, I got a job and I live in one of the greatest cities in the world. But saying I don't regret it doesn't mean that there aren't some things I do regret.
Sara Gates, CAS 2012
For me, NYU was worth the cost. I was in somewhat of a unique situation because I qualified as "independent" on the FAFSA, so I did not need to report my parents' income. I was effectively the head of my household and I did not make much money at the time, so my expected family contribution was very low. Thus, I qualified for more federal grants and also received a significant amount of merit scholarship money for my high school achievements. This combination certainly lowered the cost of NYU for me. The bulk of the cost — and the reason I took out loans at the time — was housing and living expenses.
Despite this cost, I still think going to NYU and living in the heart of Manhattan was worth it. It was my dream to live and work in New York, so I only applied to schools in the city. I chose NYU not only because of the generous scholarship and financial aid package, but also because of the its prestigious journalism program and network. It was very easy for me to take classes and land internships in my field of interest. I had a job in journalism upon graduation because of that experience.
Adam Brulhardt, CAS 2015
In the literal sense, no. But I'm glad I did it. I owe all my connections, travel, friends, identity and professional experience to the fact that I went to NYU and in the city. Whether it was worth it really depends on what you value about higher education. If it is so you can get a job, then it's not worth the money. If it's about invaluable experiences and also getting you a job, then sure it's worth it, as long as you can live with the debt for the next 10 or more years.
Marie Pederson, CAS 2015
I do have some debt, though not a large amount. I was lucky to get a good scholarship and that my parents were willing and able to help me out. I think NYU is ridiculously expensive and that education in the U.S. in general is overly expensive. This being said, I think my education was worth the debt I currently have. Education is very, very important to me, so I am willing to continue to make payments. I also know that because I went to NYU and graduated with highest honors, I will most likely not have to pay for my PhD. To me, it evens out.
One thing to add — my goal was to graduate with less debt than my starting salary. Luckily, I was able to do this, so I am able to make payments without feeling like I am scraping by.
Kokei Otosi, Steinhardt 2014
I do believe my debt was worth it, in the sense that my presence at NYU afforded me access to opportunities and people I otherwise would not have had access to. For that, I am truly grateful. I do believe, however, that it is almost criminal for that access to cost so much. It's exploitive and manipulative.
Yara Elmjouie, CAS 2013
As far as jobs are concerned, I can only think of one or two job interviews wherein my university and by extension academic performance roused the HR person phoning me. Work experience and internships have naturally played a far bigger role in getting called back for an interview — and during the interviews themselves.
The counterpoint — and I willingly admit this — is that being in New York City exposed me to a veritable ocean of internship opportunities that I wouldn't have otherwise had access to. NYU's career/internship staff were instrumental in helping me identify which internships to apply for (a shout out to the amazing Sylvan Solloway at the journalism school). That NYU is located in the heart of New York City is a major draw. So I'd say if think you know what you want to do with your life, are career-oriented and are willing to juggle internships with academics, NYU could pay for itself in the future.