Campaign contributions by NYU faculty
Nov 2, 2015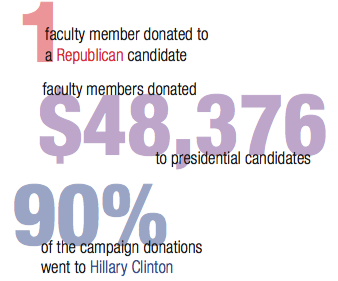 The majority of NYU faculty members' campaign contributions towards 2016 presidential candidates went to Hillary Clinton, according to public records from the Federal Election Commission.
A WSN analysis of campaign finance records revealed that NYU faculty members have contributed a total of $48,376 to candidates trying to represent their party in next year's election with 90 percent of the money going to Clinton. The resulting data showed that faculty members lean strongly to the left, perhaps unsurprisingly — Niche.com ranked NYU as the 44th most liberal college in the U.S. out of 880 total.
Only one faculty member donated to a Republican candidate — Jeb Bush received $1,500 from a member of the Forum on Law, Culture & Society at NYU School of Law.
Clinton received the most money from faculty members at $43,626. Bernie Sanders, meanwhile, received just $3,250 over five different contributions. Bush, Clinton and Sanders were the only candidates to receive contributions in the last year.
Lesmah Fraser, an adjunct professor in the School of Professional Studies, donated the most to a candidate, giving $3,950 to Clinton over multiple donations. Meanwhile, some donations from other faculty members went as low as $250.
Contributions were spread out across schools, but only one came from the Tandon School of Engineering, as Jerry Hultin, the former president of the school, donated $2,700 to Clinton. Among the other schools represented in the analysis were the College of Arts and Science; the Stern School of Business; the Robert F. Wagner Graduate School of Public Service; the Steinhardt School of Culture, Education and Human Development; the School of Law and the School
of Medicine.
The data took into account contributions from NYU faculty members who listed either "New York University" or "NYU" as their employer. Additionally, the data compiled only included faculty members who hold a position of instruction or research at the university.
Email Alex Bazeley at [email protected]