Walking Through Galleries, Dazed and Confused
Oct 26, 2015
Nineties cult classic "Dazed and Confused" revolves around experimental teenagers in the 70s, and the plot remains just as relevant in today's youth culture. The presence of hallucinogens in the lives of millennials cannot be denied. Unsurprisingly, there is a parallel between drugs and art. Just as hallucinogens induce psychoactive effects, art has the power to stimulate thoughts and emotions. As the city is home to some of the most celebrated museums and galleries, taking a trip and indulging in art simultaneously is more than possible. Apply the film's phrase "see it with a bud" for a fresh perspective of art while under the influence.
MELA Foundation: Dream House
275 Church St. between Franklin and White streets in Tribeca
Through the collaborative "Sound and Light Environment" exhibition, Dream House at the MELA Foundation manipulates patterns and sound frequencies for a full-body experience. Featuring the work of composer La Monte Young and visual artist Marian Zazeela, Dream House impacted a Tisch sophomore who regretted not intensifying the experience with a smoke.
"So I went to this place and made the biggest mistake ever — not smoking beforehand," the Tisch sophomore said. "Honestly when I was there it felt like I was tripping on something. There's these intense lights and loud tonal music and weird things hanging around but it's basically a room."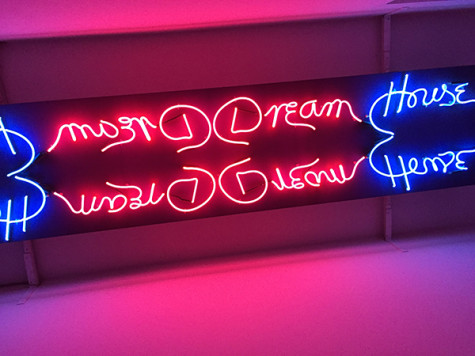 David Zwirner gallery: Isa Genzken exhibition "Mannequins, Mirrors and Self-portraiture"
525 W. 19th St.
"Mannequins, Mirrors and Self-portraiture" featuring the surrealist work of German artist Isa Genzken, shows an array of mannequins dressed in disassociated clothing pieces including fluorescent-colored mesh vests. Contemporary and engaging, the exhibition plays 21st-century pedestrian life by encouraging visitors to flow in and become another part of the work.
"The David Zwirner gallery makes for a surreal trip," a Steinhardt sophomore said. "The exhibition especially will make you moan oohs and ahhs with its flashy neon colors, transporting you to an alternate space and time."
New Museum: "Oculus Rift"
235 Bowery
Known as a hub of emerging art and ideas, a visit to the New Museum downtown could surely be an intense experience. The museum proved to deliver unconventionality and strangeness for a Steinhardt junior.
"I did the oculus rift there and it was so surreal and wild," the Steinhardt junior said. "If I go to a place like the Met while I'm high, I get incredibly bored and paranoid because of the stressful environment. But the New Museum is pretty low key and in my opinion way more interesting."
Museum of Sex
233 Fifth Ave.
Bound to induce giggles from the immature among us, the Museum of Sex is an erotic experience regardless of being under the influence or not. With photography, sculptures, devices and art revolving around sex, hallucinogens can intensify the titillating experience.   
"Under the influence, the MoSex exhibits cease to be simply carnival attractions of pornography, but emit an intense emotional charge through which we can better understand the nature of not only eroticism, but also love," a Tisch freshman said.
A version of this article appeared in the October 26 print edition. Email Nina Jang at [email protected].