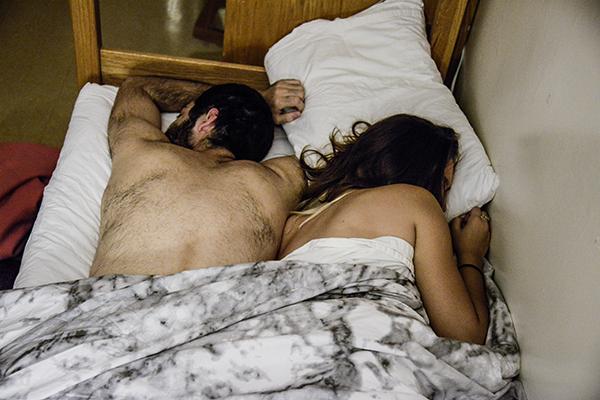 The One and Not-Quite-Done Generation
Oct 26, 2015
Our generation has become known for ambiguous relationships that are rarely as simple as "single" or "taken." The emotionless hookup is often complicated by someone catching feelings. This is the story of two NYU students who attempt to make "friends with benefits" or "the open relationship" a reality.
They met in class, first semester of freshman year. It started out as a hook up during finals or crossing paths after leaving different parties. They were both looking to get tangled up in someone else, whether it was to feel something or to distract each other.
Being friends made them feel comfortable. It was classic — hook up with someone you sort of know, are sort of attracted attracted to, but probably don't pay much attention to.
The first time they found themselves in bed together was right before winter break. Following that, she thought about it — asked herself the typical questions. What happened this weekend? Did this matter? And of course: Do I text him?
The holidays provided a good excuse to send drunk Snapchats to each other, and social media was a window into each others' lives.
They returned to school. They made plans to see each other that would fall through, would run into each other on campus, were courteous. When she ran into him in public all she could think of was waking up in his bed two months prior.
They talked anyway. She hungered for attention but not attachment. They texted after long nights out, and she found reasons to bother him with irrelevant sentiments that she hoped sent the message, "Talk to me, I want to see you."
They fell into bed together again and again. At first, they didn't know each other's bodies. They tangled in the sheets. With the passing of time, the awkwardness eased. He dotted her neck with hickeys out of lust, but the next morning all that remained was a reminder to buy good coverup. Unlike in the three-year relationship she had been in, the hickeys didn't come from a boy that she knew would kiss her next weekend.
Summer came. She learned that it is easier to have feelings for someone from a distance. She would stay up late talking to him, trying to outrun the time difference. He sent a goodnight text with a heart at the end, which freaked her out. However, she knew it was so much easier to feel things for other people when they were only a figure of speech: "my friend with benefits," "this girl I used to hang out with at school."
They go back to school. The sex had been flanked by conversations about music, relationships, travel and home. But without sex all that would be left were fragments of a friendship.
They had been sleeping together for five months, and she wanted a more concrete idea of what they were.
"This has been fun, whatever it is that we're doing," she wrote to him in a text, hoping to elicit a response to a question she wouldn't ask.
She understood that he wasn't looking for another relationship, and he understood if she couldn't handle just hooking up. They confirmed that they were comfortable with using each other for sex, for company.
One morning the following fall, they discussed other people's relationships, past and present, which turned into a discussion of their own. She referenced their relationship as "nonexclusive" which was muddled by his reply. "Well I'm not sleeping with anyone else," he said.
Though she wasn't either, it complicated the "open" part of the open relationship. Beyond agreeing that they weren't serious, their relationship was tricky to define when they knew there was an element of consistency. However comforting it was to know that they were not in a "relationship" — at least one that didn't value monogamy — the question of "What are we?" remained.
And she won't ask. She's comfortable not knowing.
A version of this story appeared in the October 26 print edition. Email Grace Halio at [email protected].