Out of Bounds: Sports at NYU
Oct 13, 2015
This week, WSN explores sports at NYU and the financial and cultural challenges that stand in the way of our athletic program.
NYU's forgotten culture
Now, in my second semester of being sports editor at WSN, I've experienced my fair share of NYU sports. My first Violet sports outing was covering the men's soccer match against the United States Merchant Marine Academy. It was a cold September night, and the team battled through a physical contest for an exciting 2-1 victory that left them with 7-1 record on the season and in good position to compete for a league title. I had arrived early, expecting the seats to fill before kickoff. But the stands were a ghost town. On the field you could hear a pin drop.
NYU has 24,985 students. It's ranked 32nd in US News' annual National College Rankings. It has 13 campuses worldwide. It is at the forefront of one of the most diverse, high achieving cities in the world. How, then, could a school as major league as NYU have such a minor league sports culture?
Way back when, as unbelievable as it may sound, NYU was a national competitor in the two most mainstream college sports at the Division I level: basketball and football. The football team used to play in the prestigious Polo Grounds and Yankee Stadium. The basketball team was a perennial contender, finishing as national runners-up in 1945 and losing in the Final Four in 1960. This all came to an end in 1971 with a wholesale shutdown of NYU athletics. Since then, NYU has been a Division III school.
A general campus-wide lack of interest has undermined the fact that nearly every Violet team remains competitive at the Division III level. There is an overriding sentiment among student-athletes and fans that unlike other schools, the culture that craves Division I sports has long been dead and will not come back to life any time soon.
The question remains why NYU's more competitive teams, which include women's basketball and soccer, cannot garner even high school level support while participating in NCAA athletics. In a school as bustling and cramped as the downtown Manhattan campus of NYU, it comes down to two main factors: location of games and the overwhelming division of student interest among other aspects of college life.
NYU Assistant Athletic Director for Sports Information Jeffrey Bernstein said these two factors play off one another and make it difficult for sports to keep the attention of NYU students.
"There is definitely more of a challenge in keeping our students involved as spectators when comparing our 'campus' to those of other universities," Bernstein said. "We cannot offer Friday night or Saturday afternoon football games in 100,000-seat stadiums, which are usually used as campus-wide rallying points. Rural campuses also have a lot less entertainment options than does an NYU student who is in the middle of New York City."
Location, at least in the near future, does not seem a solvable problem. As of now, the only spectator sports that play within walking distance of Washington Square Park are volleyball, basketball and hockey. Soccer and baseball, each about an hour commute by subway, present the most difficult challenges for student support among all athletic teams at NYU.
Men's basketball captain Max Ralby recognized that playing in Coles has been beneficial to the attendance of his team's games, and admitted that when Coles is closed and the basketball team is moved to Baruch College, it will be a much larger challenge to drum up a home crowd vibe.
"It's not really that enticing for students to go all the way to MCU park for baseball or all the way uptown for soccer," Ralby said. "We live in New York City and these students have so much on their plates, whether it's classes, internships. So it's tough for them to go make that trip and take three or four hours out of their day."
Among athletes, there is disagreement about whether students would have interest in attending even if a convenient location made their options more readily available. A pair of junior soccer stars, captain Petter Aasa and goalkeeper Lucas Doucette, said given the amount of international students enrolled here, soccer could be one of the most widely supported sports at NYU if their games were closer. The team, who used to play at Pier 40 on the West side, now plays at Gaelic Park, a one-hour ride away on the 1 train to the Bronx.
"It doesn't matter the program they're studying, whether it's business or arts," Aasa said. "A lot of people have in common that they would want to get the sense of school spirit into the athletic department."
As for athletics as a whole, Doucette was a little more skeptical about the possibility of transforming the entire sports culture here to mirror a state school environment.
"I think the type of student that comes to NYU is the anti-jock," Doucette said. "Obviously there's always going to be a culture for people who love sports wherever you go, but I think that's very much a minority here."
Through no fault of its own, NYU has created so many opportunities that there's just no need for students to go out of their way to get to an athletic event. With so many other options available to them, there's hardly any student who would find themselves at a Violets game out of boredom. This same idea is exactly what makes NYU so unique and attractive to prospective students.
"If you're interested in painting, then Thursday night there'll be this huge free painting thing," sophomore diver Austin Campitelli said. "If someone is actually interested in something else then they're going to go to that instead. I think that's why NYU is unique in itself. As an athlete you have to know that before going in."
With all that in mind though, it's still conceivable to think that a school with NYU's resources could compete in Division I conferences similar to the Patriot League or the MAAC conference while maintaining its academic prowess. However, considering the financial implications of a reclassification to Division I, it's just not a pressing concern for a school that is already enjoying the environment they find themselves in the UAA — one that includes an overt focus on academics coupled with a realistic outlook on the future of athletes' careers after sports. NYU Athletic Director Christopher Bledsoe sees no better option than the current situation the Violets are in.
"NYU is not planning to reclassify from NCAA Division III to NCAA Division I," Bledsoe said. "NYU is very happy with our affiliation with the University Athletic Association, an excellent group of Universities that mirror our commitment to academics and athletics. We believe it is the best place for our student-athletes and our University. What Division I conference could offer us such an affiliation?"
However, men's hockey Head Coach Chris Cosentino, who is a strong proponent of impacting the community through athletics, believes NYU could be a better university if it had the resources and space to foster a sports culture.
"In my honest opinion the only thing that really separates NYU from Ivy League schools is the athletics," Cosentino said. "I think Ivy League schools give their students more opportunities in athletics. It's no surprise that so many companies now love hiring athletes, because they know how to work as a team and overcome adversity."
In the short term, the question of how to foster a tighter knit athletic community at NYU seems to be far from answered. Between Violet Nation Giveaway Days, posters and emails, the athletic department is already doing as much as they can. It seems that sports junkies at NYU will have to overhaul the school's culture from the bottom up, starting with attending more events and seeing the ways in which Violet athletes work within the Division III mold to make an impact not only on the field, but as growing members of the unique and individual NYU community.
Until there is an overwhelming majority of students who demand a larger focus on athletics — which may very well never happen — a school that was once an athletic titan within New York City will continue to sport, at best, only a tiny niche community of athletes and fans.

A version of this article appeared in the Oct. 13 print edition. Email Bobby Wagner at [email protected].
Budget boundaries leave athletics behind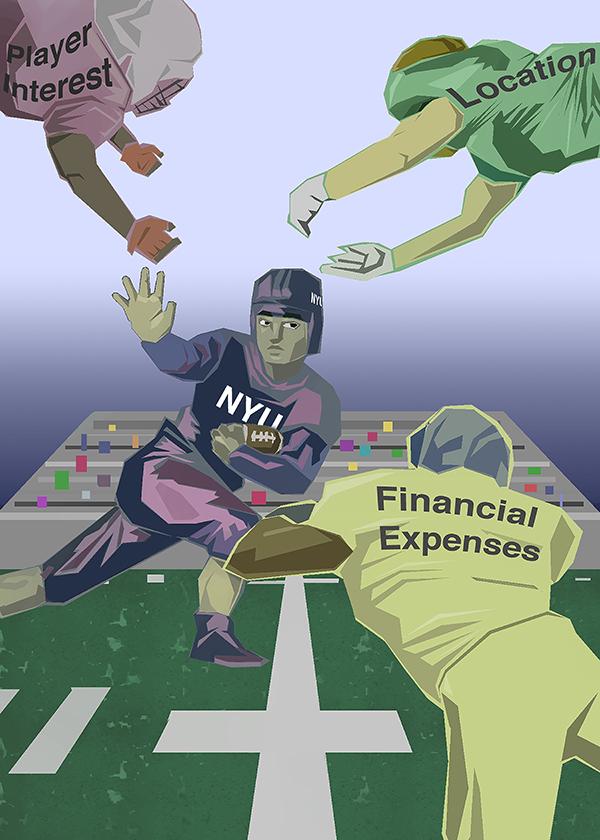 NYU Football shirts are easy to spot around campus, but considering the fact that the university does not have a football team, all these shirts advertise is the idea that NYU sports are comical in comparison to what they once used to be. There was a time long before any current NYU student was born, however, when Violet football fans supported a reputable Division I football program.
NYU has not hosted a football team in over 60 years, but their football history dates back to 1873 when they were one of the first college football teams established in the United States. In the 1930s, NYU football star Ed Smith became the inspiration for the model behind college football's most prestigious award — the Heisman Trophy.
Only 20 collegiate athletic departments in the United States operated at a profit last year, according to a recent study conducted by the NCAA. With no Division II or Division III institution operating out of the red, and less than 6 percent of Division I schools doing so, it's not hard to see why NYU decided to drop the football program after the 1952 season, and why it's not likely to come back any time soon.
"There are several reasons why it would be extraordinarily difficult for NYU to bring back its football program," said Assistant Director for Sports Information Jeffrey Bernstein. "For one, just generating enough interest in participating, to fill out a full roster, would be challenging."
Despite a multitude of logistical concerns, the largest issue for NYU remains a lack of financial incentive. The last fiscal year demonstrated median losses of $1.5 million for Division III college athletic departments, while seeing equidistant revenues that barely eclipsed six figures.
Those revenues did increase for universities and colleges that hosted a football team, but the median total losses for those athletic programs also doubled to $3 million. For NYU, the addition of a football team would see the university entering a space that has shown a 112 percent increase in athletic department expenses over the last decade.
The cost of running a collegiate football program could be at least six times more expensive than NYU's current highest-expense sport: men's basketball. In comparison to other New York City schools that offer varsity football, Columbia accumulated over $3.2 million in expenses for their football team last year, while Fordham University in the Bronx totaled close to $6 million. The NYU men's basketball team only showed expenses of less than $500,000 during the last fiscal year.
With football being a financially unattainable option for NYU, the question then becomes if another sport can become large enough to be the proverbial bell-cow for the university, and supplement the losses of the athletic department. Could another team's ascension to Division I provide enough revenue to at least close the gap?
The next-highest revenue producing sport in the NCAA after football is men's basketball. NYU's men's basketball team makes up nearly 20 percent of the total team revenue for the university. Hypothetically, looking past the red tape and the eligibility requirements NYU would have to meet to move up to Division I, the men's basketball team is the most applicable choice for the school.
The main incentive for a basketball program to make the jump to Division I is to participate in the annual NCAA Tournament and share in the tremendous revenue that it produces. For a university to see dividends from CBS and Turner Broadcasting's 14-year, $10.8 million agreement, all they have to do is be classified as Division I.
Each year, 70 percent of that television revenue is distributed evenly among every school in Division I. The remaining revenue is split between tournament participants, and in turn, their respective conferences. For every game played in the tournament, a team earns a unit — $260,525 in 2015 — that is then pooled and allocated evenly among all of the teams in its conference, regardless of record.
The assumption that a program may take several years to become acclimated and competitive within the Division I environment is valid, but the program would still be able to see immediate revenue from the tournament television deal, and perhaps more depending on the relative success of their conference counterparts. But this additional stream would not be able to cover the incredible increases that would be seen in order to jump from Division III to Division I across all areas including recruiting expenses, staff salaries and facility upgrades.
This brings to light the issue of where an NYU football or Division I basketball team would even play their home games. Aside from the absence of a football stadium, NYU does not presently boast facilities capable of handling potential Division I attendance for the 13 other athletic teams that would be required to jump up to Division I if the basketball team were to reclassify.
"We used to play in the Polo Grounds and Yankee Stadium," Bernstein said of the defunct NYU football team. "The Polo Grounds are obviously no longer an option, and we're currently not looking into renting out Yankee Stadium."
With renting is out of the picture, NYU Football would presumably be looking to build a new facility — and those costs could be astronomical. The Columbia Lions Football program is pursuing avenues to build a new stadium to share with professional soccer team New York City F.C., which is expected to cost at least $400 million.
Renovating a facility to meet capacity requirements would also come at a considerable cost to NYU. In 2005, the St. John's University basketball program spent $30 million to upgrade several facets of Carnesecca Arena, making it the fourth largest indoor arena in the Metropolitan area.
The upcoming renovation of the Coles Sports Center isn't expected to cater to Division I capability requirements. Despite the potential that Division I football and other sports have to unite the student body, it's just not financially feasible for the Violets. Without financial incentive, and without a strong fan base to sway the university, NYU basketball will stay a Division III team, and NYU Football will remain a joke on a T-shirt.
A version of this article appeared in the Oct. 13 print edition. Email Tyler Eyre at [email protected].