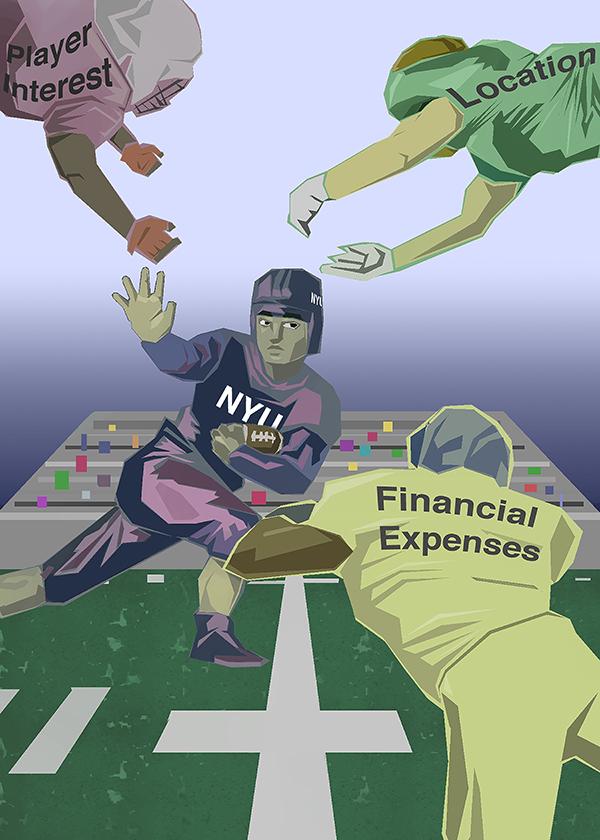 NYU Football shirts are easy to spot around campus, but considering the fact that the university does not have a football team, all these shirts advertise is the idea that NYU sports are comical in comparison to what they once used to be. There was a time long before any current NYU student was born, however, when Violet football fans supported a reputable Division I football program.
NYU has not hosted a football team in over 60 years, but their football history dates back to 1873 when they were one of the first college football teams established in the United States. In the 1930s, NYU football star Ed Smith became the inspiration for the model behind college football's most prestigious award — the Heisman Trophy.
Only 20 collegiate athletic departments in the United States operated at a profit last year, according to a recent study conducted by the NCAA. With no Division II or Division III institution operating out of the red, and less than 6 percent of Division I schools doing so, it's not hard to see why NYU decided to drop the football program after the 1952 season, and why it's not likely to come back any time soon.
"There are several reasons why it would be extraordinarily difficult for NYU to bring back its football program," said Assistant Director for Sports Information Jeffrey Bernstein. "For one, just generating enough interest in participating, to fill out a full roster, would be challenging."
Despite a multitude of logistical concerns, the largest issue for NYU remains a lack of financial incentive. The last fiscal year demonstrated median losses of $1.5 million for Division III college athletic departments, while seeing equidistant revenues that barely eclipsed six figures.
Those revenues did increase for universities and colleges that hosted a football team, but the median total losses for those athletic programs also doubled to $3 million. For NYU, the addition of a football team would see the university entering a space that has shown a 112 percent increase in athletic department expenses over the last decade.
The cost of running a collegiate football program could be at least six times more expensive than NYU's current highest-expense sport: men's basketball. In comparison to other New York City schools that offer varsity football, Columbia accumulated over $3.2 million in expenses for their football team last year, while Fordham University in the Bronx totaled close to $6 million. The NYU men's basketball team only showed expenses of less than $500,000 during the last fiscal year.
With football being a financially unattainable option for NYU, the question then becomes if another sport can become large enough to be the proverbial bell-cow for the university, and supplement the losses of the athletic department. Could another team's ascension to Division I provide enough revenue to at least close the gap?
The next-highest revenue producing sport in the NCAA after football is men's basketball. NYU's men's basketball team makes up nearly 20 percent of the total team revenue for the university. Hypothetically, looking past the red tape and the eligibility requirements NYU would have to meet to move up to Division I, the men's basketball team is the most applicable choice for the school.
The main incentive for a basketball program to make the jump to Division I is to participate in the annual NCAA Tournament and share in the tremendous revenue that it produces. For a university to see dividends from CBS and Turner Broadcasting's 14-year, $10.8 million agreement, all they have to do is be classified as Division I.
Each year, 70 percent of that television revenue is distributed evenly among every school in Division I. The remaining revenue is split between tournament participants, and in turn, their respective conferences. For every game played in the tournament, a team earns a unit — $260,525 in 2015 — that is then pooled and allocated evenly among all of the teams in its conference, regardless of record.
The assumption that a program may take several years to become acclimated and competitive within the Division I environment is valid, but the program would still be able to see immediate revenue from the tournament television deal, and perhaps more depending on the relative success of their conference counterparts. But this additional stream would not be able to cover the incredible increases that would be seen in order to jump from Division III to Division I across all areas including recruiting expenses, staff salaries and facility upgrades.
This brings to light the issue of where an NYU football or Division I basketball team would even play their home games. Aside from the absence of a football stadium, NYU does not presently boast facilities capable of handling potential Division I attendance for the 13 other athletic teams that would be required to jump up to Division I if the basketball team were to reclassify.
"We used to play in the Polo Grounds and Yankee Stadium," Bernstein said of the defunct NYU football team. "The Polo Grounds are obviously no longer an option, and we're currently not looking into renting out Yankee Stadium."
With renting is out of the picture, NYU Football would presumably be looking to build a new facility — and those costs could be astronomical. The Columbia Lions Football program is pursuing avenues to build a new stadium to share with professional soccer team New York City F.C., which is expected to cost at least $400 million.
Renovating a facility to meet capacity requirements would also come at a considerable cost to NYU. In 2005, the St. John's University basketball program spent $30 million to upgrade several facets of Carnesecca Arena, making it the fourth largest indoor arena in the Metropolitan area.
The upcoming renovation of the Coles Sports Center isn't expected to cater to Division I capability requirements. Despite the potential that Division I football and other sports have to unite the student body, it's just not financially feasible for the Violets. Without financial incentive, and without a strong fan base to sway the university, NYU basketball will stay a Division III team, and NYU Football will remain a joke on a T-shirt.
A version of this article appeared in the Oct. 13 print edition. Email Tyler Eyre at [email protected]