FRINGE Fall 2014
Nov 20, 2014
There comes a time when the mixture of hues and the sweep of a rainbow palette become overpowering, and we lose ourselves altogether. Cocooned in color, fashion becomes a medium not of expression, but of expectations. These expectations, many of which are brought upon subconsciously through social media, are manifested in a chaotic and confusing ensemble of tints, prints and pigments. It is for this reason that Fringe breaks that convention with a celebration of the monochrome.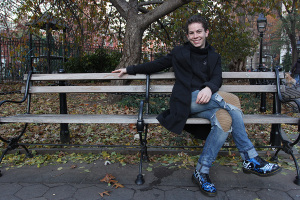 Yves Klein once said he first painted monochromes "just to 'see,' to 'see' with my own eyes what existential sensibility granted me; absolute freedom." With a stark palette of single-toned pieces, this freedom is found and liberation is achieved. Beauty is elevated in our editorial as the details of each unique face blossoms against a unifying canvas of solid clothing.
Through this utopian lens of chromatic simplicity, the power of the individual is our focus. This theme was especially influenced by renowned designer Oscar de la Renta, whose tragic death struck the world exactly one month ago. Reflecting on this, we students are reminded of the potential we possess to change the world as de la Renta did. We look to our alumni and predecessors for advice on how to succeed in this bustling city. We pursue new media like the fashion film to explore the evolution of a changing industry. We celebrate ourselves through the uniting color of the monochrome.
Thank you to all who contributed to this incredible issue. Special thanks to Dana Reszutek and Valentina Bojanini for guiding me through this entire process, to Gianna Collier-Pitts for rolling with every punch thrown at us during our shoot, to Maya Baroody, Nicky Ottav and Kaleel Munroe for producing exquisite images, and to you for choosing to follow the world of fashion through the starry eyes of a college sophomore.