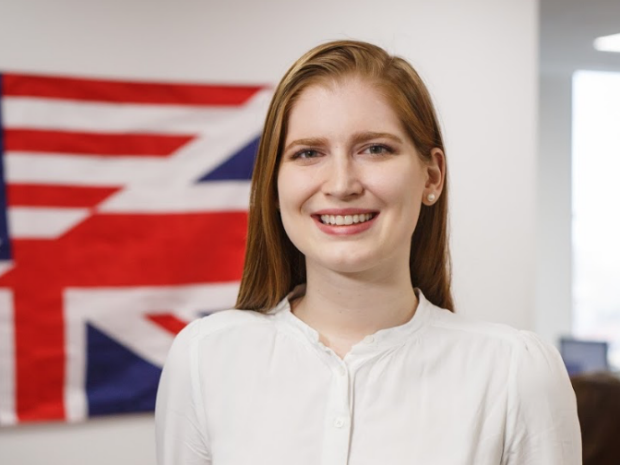 When GLS senior Rebecca Brett was struggling with the math section of the SAT, her grandfather suggested that the two play chess together — a game he taught her when she was four. She credits these chess sessions with a 200 point rise in her SAT score and, subsequently, her admittance to NYU. 
Since then, Brett has helped to teach chess to children and Rikers Island inmates through Chess NYC and Chess for Girls. She also works as a paralegal at the Shannon K. Such law firm. For these efforts, she was named one of 12 George J. Mitchell scholars nationwide — the first NYU student in history to receive this honor. The scholarship was named in honor of former U.S. Sen. George Mitchell, who played a substantial role in achieving peace in Northern Ireland, and it grants Brett a full year of postgraduate study at the National University of Ireland.
Brett comes from a low-income background and said she felt out of place at a reception in Washington for the scholarship, prior to the final interview.
"I was one of a small handful of people who had never been to D.C. and did not come from wealthy parents, had very few people in my family that had gone to college," Brett said. "People from less privileged backgrounds should be the top applicants to be reviewed for these opportunities, but they're not." 
Kurt Davies, the NYU Director of Office of Global Awards and Brett's scholarship advisor, attributed her success to her determination and resilience.  
"Everywhere that Becca has landed, she's made a mark," Davies said. "I think the piece that I responded to most viscerally, and my instinct that the piece that Mitchell responded to most strongly, is her work around chess and using chess as a tool of empowerment."
The game became a source of comfort for Brett after her move to NYU. 
"When I came to New York, chess was like home for me," Brett said. "I didn't know anyone that played, so I just played with the guys in Washington Square Park, they are really good."
During that semester, Brett met Chess NYC Director Michael Propper, who introduced her to the organization, which Brett said further engaged her in the New York community.
"[Chess NYC] is just a really incredible organization in New York that's doing a lot of work specifically with Rikers, teaching at nursing homes [and] working with over 200 schools, both private and public," Brett said.
Propper helped Brett start Chess for Girls, an organization empowering young girls learning to play chess. Chess NYC had existing classes and programs for girls, but Brett's rebranding of them as an independent organization created a space specifically geared towards empowering them. The creation of Chess for Girls led to a partnership with one of the first female chess grandmasters, Susan Polgar, who is involved with an annual tournament whose winners are given full-ride college scholarships. Brett has since passed on control of the organization to Propper.
Yinyi Cao, who contributed to Chess for Girls' efforts and worked with Brett at Chess NYC, described her as inclusive and someone who always made people around her feel welcome. 
"As a chess coach, many students specifically requested Rebecca," Cao wrote in an email. "Parents loved that she had the patience to work with really young kids."
While Brett no longer teaches chess, it still plays a significant role in her work as a paralegal. Her newest project involves a case study in which rejected female visa applicants are given weekly chess lessons to improve their math skills. The idea for the case study stemmed from Brett's success in raising her standardized test scores.
"There are a lot of studies that link chess and math and there are a lot of studies that link lower math scores with visa rejections," Brett said. "There aren't any studies that connect all three of those things together, so I wanted to use this case study as an example of that."
Brett is currently double-majoring in the Politics, Rights and Development GLS concentration and Social and Cultural Analysis. She plans to study gender and globalization at NUI. 
She said winning the award still feels unreal for her, but her winning it sends a powerful message for others.
"Even if you are a competitive applicant, or you are someone who's first-gen, or don't necessarily feel qualified for these awards, you should really shoot your shot," Brett said. "The majority of the people at NYU are wealthy and from a privileged background, so it's really easy to get this imposter syndrome. But I think being the first Mitchell scholar from NYU, it shows that it doesn't matter what your background is, people are interested in your story."
Additional reporting by Ronni Husmann. Email Lisa Cochran at [email protected]