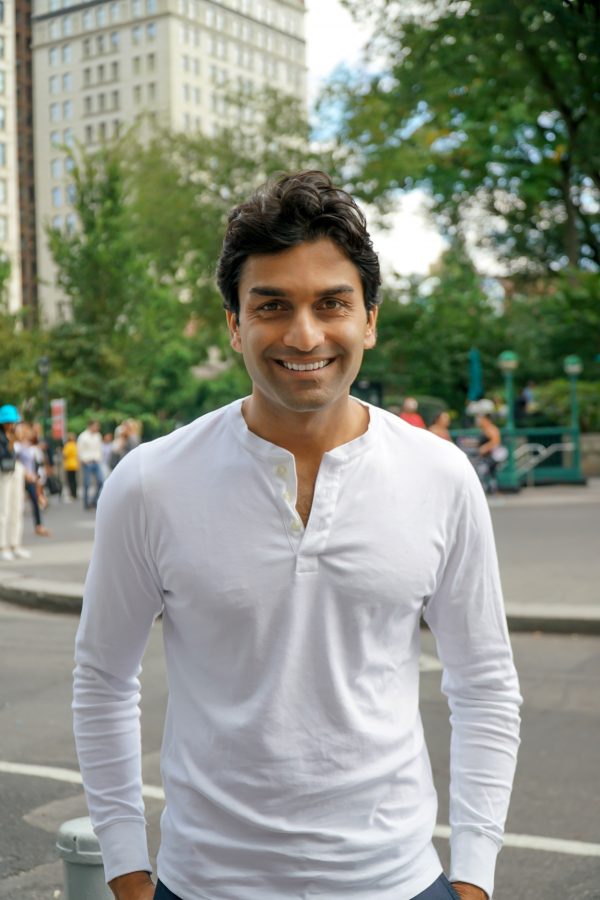 Surrounded by students and young professionals in a buzzing coffee shop on Union Square West, Suraj Patel blends right in. However, he is doing something few 35-year-olds do: he's running for Congress. Again.
An adjunct professor at the Stern School of Business and an alumnus of the School of Law, Patel is running on a progressive agenda that prioritizes criminal justice reform, debt-free college, defunding ICE and the Green New Deal. He hopes to beat out Democratic incumbent Carolyn Maloney, who has held the seat since 1993, in the June 23 primary elections. Like many New York Congressional elections, the democratic primary is seen as the decider of the race as a Republican has not held the seat since 1961.
Patel's No. 1 policy issue is climate change, which is currently at the political forefront due to events such as the Global Climate Strike, U.N. Summit on Climate Change and the proposal of the Green New Deal.
"Anybody who's not talking about climate change — it is the single most important existential threat to the world and to our generation — is derelict in their duty on a daily basis," Patel told WSN.
Encompassing the east side of Manhattan from the Upper East Side to the East Village, and from Astoria, Queens down to Greenpoint in Brooklyn, District 12 is ranked as one of the highest educated and richest in the country.
Patel noted that, still, the district has impoverished areas and large housing projects such as Queensbridge and Baruch Houses — although Baruch is slightly outside the district.
"It's the richest district in America; it's also the most unequal district in America," Patel said. "Two of the largest housing projects in the Western Hemisphere are in this district, but Fifth Avenue against Central Park is also in this district."
Patel ran against Maloney previously in 2018. During that time, hotels linked to Patel had been found to have not paid workers and committed overtime violations, according to the New York Daily News. A campaign spokesperson responded to the allegations by saying that Patel had a limited stake in the hotels, claiming he was not involved in the mistreatment of workers.
Despite this controversy, Patel received about 17,000 votes in the primary, 8,000 less than Maloney. He hopes his progressive platform will serve him as well as it did U.S. Rep. Alexandria Ocasio-Cortez — the 29-year-old who ran on similar issues and unseated long-time incumbent of NY-14, Joe Crowely, in 2018. 
Ocasio-Cortez is one of few Congress members championing the Green New Deal, one of Patel's major policy proposals. Like Ocasio-Cortez, Patel has sought — and, to some extent, succeeded — to win over young voters. This time, he hopes to expand his target demographic.
"We focused the entire election on getting new people and young people to vote, and to some extent, we did that to a fault," Patel said. "You cannot win an election by appealing to only one demographic. We'll make a concerted effort to speak to older voters, especially on the Upper East Side."
Perhaps trying too hard to win over young voters, Patel came under fire when it was revealed that he and his staffers used dating apps like Tinder, Grindr and Bumble to try and gain support. During his previous campaign, Patel and his staff catfished people in the area on the apps, using photos of attractive people to entice a right swipe. Once matched, Patel would reveal who he was and encourage users to vote for him.
Many critiqued this tactic, calling it fraudulent and deceitful, while Patel painted it as a unique way of getting voters.
When using a more traditional method of gaining voters, canvassing, CAS junior Ariana Bakhsh — who interned on Patel's 2018 election — said it was difficult to win over those on the Upper East Side.
"We were competing against someone who is so ingrained in New York politics, and she garnered a lot of support," Bakhsh said. "It was hard to canvass in the Upper East Side because that's where her main voters came from."
CAS senior and Digital Director for Patel's campaign, Utkarsh Yadav, said Patel's previous run will help him this time around. He hopes that, now that people know who he is, the campaign can use Patel's platform to win over voters. 
"We have the benefit of name recognition," Yadav said. "We can get our message across now."
Email Julia at [email protected]