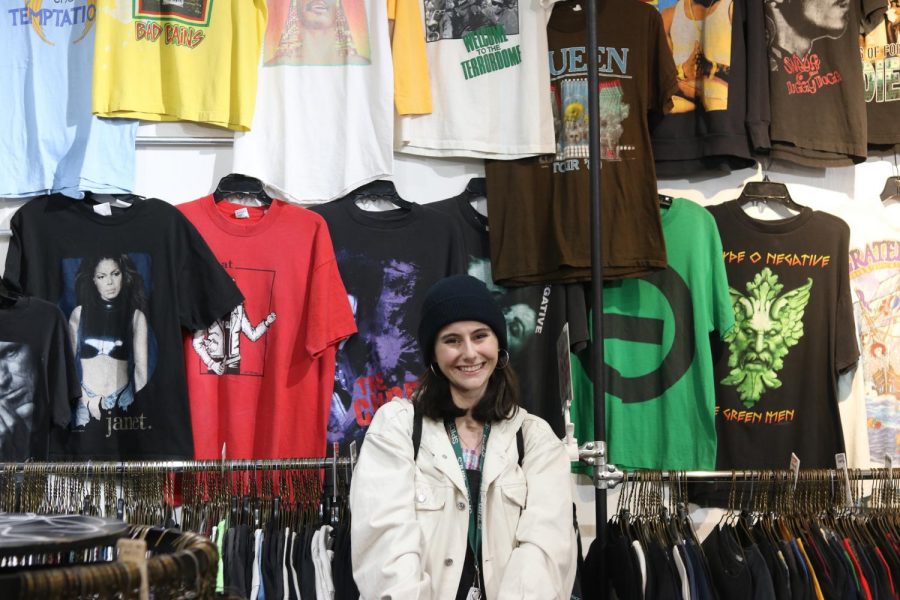 Kylie Smith
Jenn Roberts, a Liberal Studies sophomore, is dressed as if she has been plucked from an Urban Outfitters advertisement, wearing black denim overalls, a purple and blue plaid babydoll blouse and topped off with a black knit beanie. But these aren't your average mass-produced, faux-vintage pieces often sold at stores like Free People. They're thrifted finds that she hunted down herself just like the ones she sells through her online shop. Roberts sells "specially curated and pre-loved treasures" on her Instagram, @shop_jenn, and her Depop page of the same name.
Roberts has garnered almost 4,000 followers since she began her vintage resale shop in 2018, and recently gained a whole lot of new business when YouTuber Ashley (aka @bestdressed) tagged Roberts' shop on Instagram and YouTube. The influencer has accredited Roberts' shop multiple times now for her well-loved Guns N' Roses vintage tee.
Upon first look at Robert's Instagram feed of meticulously curated shop, one might think @shop_jenn is run by a team of people. But behind the scenes, Roberts manages a self-run business model. She simultaneously functions as the shops' buyer, seller, inventory clerk, photographer, model, creative director, social media strategist and public relations manager.
"It's just me. Honestly, one of the best and also one of the worst parts is being able to work for yourself," says Roberts. "It's great in some regards because it's like, 'I don't have to go to work today,' but then it's also dangerous because it's like 'Oh, I don't have to go to work today!' If I don't want to put [clothing] up, I don't have to. It's definitely a challenge — staying motivated."
Although Roberts' motivation may falter day-to-day, her passion for the work has kept the shop's momentum going.
"For me, it's what I actually enjoy doing. Because I'm not in it for the money, it's easier in a sense," she said. "I'm motivated to do it because I want to do it. It worked out that my hobby made money. I had started some other businesses that I wasn't fully invested in, and, honestly, those didn't work out. Creatively, my heart just was not into it. A side hustle works best when you actually want to do it."
As all college students do, Roberts struggles to balance work, school and life obligations. Thankfully, this niche corner of the internet brimming with vintage lovers has created a supportive community for Roberts' business to thrive.
"Juggling it all is still really hard," she said. "I feel like I do my best and I think everyone who follows me understands that I'm a student which is nice. It's a nice little community."
Over time, Roberts has become familiar with what resonates with her audience. These factors influence aspects like how she acquires items for sale, prices and runs her social media.  Roberts has a personal rule of thumb for how she shops for her customer base: "Don't buy it if you wouldn't wear it."
Another unwritten rule Roberts follows is maintaining low pricing. 
"I try to keep my prices cheaper than Urban Outfitters," she said. "I know that my main competition is companies like Urban Outfitters, and I know my customer base is young and a lot of them are students and can't afford $125 pieces."
Students, often frugal as well as busy, may also not want to put in the time and energy that is required to find rare vintage treasures. That's where @shop_jenn comes in.
"[Thrifting] can be really overwhelming," Roberts said. "I'll pick a section, like jeans. Then, I'll go through the entire jean section. It depends on how much time you have. I know that a lot of people don't like to sift through a bunch of stuff, so I like to try to meet in the middle."
But, for those interested in trying a hand at second-hand shopping, Roberts has an insider tip: look in unconventional sections. "Try different genders and even the kids' section. All my favorite puff tops are from the children's section." The aforementioned plaid pastel baby doll top that Roberts is sporting underneath her overalls is, in fact, from the kids section.
Considering the shop emerged from Roberts owning "too many clothes," one might wonder where this shop owner stores her entire inventory in a 600-square-foot apartment with four total roommates.
 "I'm going to be entirely honest and say that everything is in ugly-a– plastic bins under my bed," Roberts said.
According to Roberts, the vintage resale industry has its pros and cons: hefty price tags, yet secondhand shopping is better for the environment.
"So many vintage places will sell Levi's for, like, $200! I feel like it makes vintage and thrifting — in a weird way — kind of elitist," she said. "I personally [thrift] for environmental reasons. Fashion is [one of the most] polluting industries. There are so many clothes that are already out there, and trends are so cyclical that you can find something that is trendy right now and trace it back to a time in the 80s where it was trendy."
With over 3,800 followers to date, Roberts' business seems to only be expanding along with her skillset. In the future, she hopes to work on the creative side of business, and, thanks to @shop_jenn, she's already got her foot in the door.
A version of this article appears in the Monday, Feb. 24, 2020, print edition. Email Kylie Smith at [email protected]