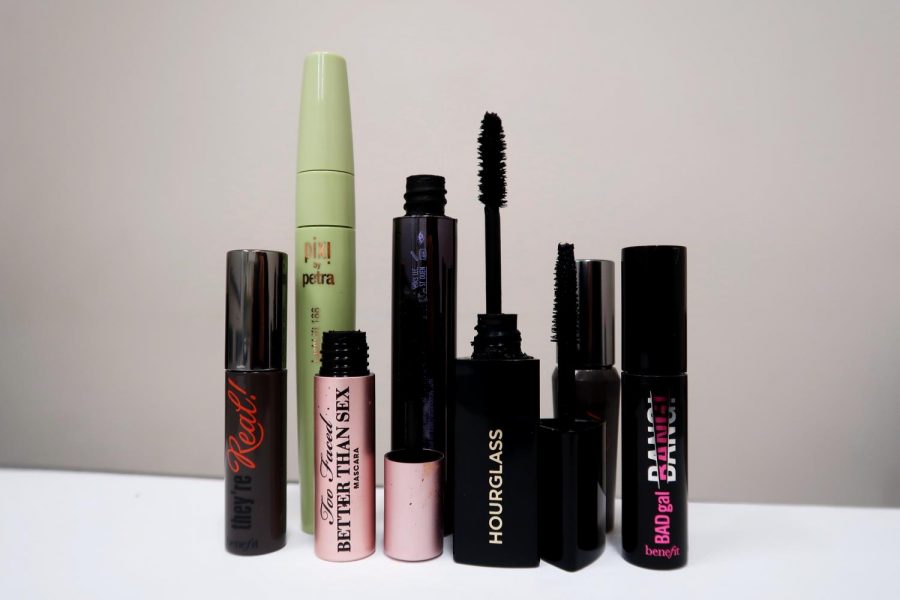 Chelsea Li
Benefit Cosmetics' "They're Real!" Mascara 
Great minds (and lashes) think alike. 
Mascara was the first beauty product I began to wear on a regular basis. To this day, if I had to pick one makeup product to wear, I would probably go with mascara. I first got my hands on the Benefit Cosmetics "They're Real!" mascara in a miniature form when my mom received it as a part of her Sephora Beauty Insider birthday gift. I still remember sneaking into my mom's bathroom after school and marvelling at how long, black and voluminous I could make my eyelashes with just a few swipes of the mascara wand. I tried many different mascaras throughout the last couple years of high school when I was finally allowed to wear just the slightest touch of makeup to school. I have witnessed the horrors of everything from spider lashes to black smudges across my eyelid. Over this past winter break, I saw a full-size Benefit Cosmetics "They're Real!" mascara with a steep discount and couldn't help but revisit the classic. Luckily, it lived up to what I remembered of it. I have worn this mascara through rain, dance practices and (unfortunately) sleep, and it has more than held its own. That being said, removing this mascara at the end of the day is no easy feat! – by Divya Nelakonda, Beauty & Style Editor 
I love mascara, but no matter how hard I (and others) try, my eyelashes just won't curl. So because of that, I'm always looking for mascaras that enhance the curl they already have. No matter how far I stray, I always come back to Benefit Cosmetics' "They're Real!" mascara. The perfect curl, the amount of volume, the way they fan my lashes so they stick out a little on the edges giving me a slight cat-eye … I don't think I could ask for anything more. I go through phases where I use other Benefit Cosmetics mascaras or buy a random sample tube at Sephora to test out, but "They're Real!" still holds the number one spot in my makeup bag. However, I recently received a sample of indie brand Doucce's Maxlash Volumizer mascara, and it may just be because my "They're Real!" is running dry, but I think I found a runner-up fave to "They're Real!".  – by Bella Gil, Culture Editor
L'Oréal Lash Paradise
Skip the lash extensions and buy this. 
If I had to pick only one makeup product to wear for the rest of my life, I would choose mascara, hands down. While my lashes are naturally pretty dark and thick, I generally need some help in the curl and length department, and this mascara is it. After two carefully applied coats and a brush through with a clean brow spoolie to remove any clumps, I am left with fluffy lashes that go on for miles. I can't count how many times I've been asked if my eyelashes are real while wearing this mascara. In fact, I ran into model Josephine Skriver while wearing this mascara, and she complimented me on my eyelashes. If that's not enough of an endorsement, I don't know what is. – by Lauren Gruber, Dining Editor 
No Mascara!
Au naturale.
During my junior year of high school, I created my first Instagram account and discovered a world of beauty that I never imagined. Upon this discovery, I became obsessed with having long, voluminous lashes (among other things) to resemble those picture-perfect girls you always see on Instagram's explore page. With my naturally short lashes, my quest to achieve their idealized look proved difficult. I experimented with dozens of mascaras, faux lashes and lash extensions. But at the beginning of the fall 2018 semester, I met the love of my life and learned that I don't have to be like those Instagirls to be beautiful and valued. Now, I go for the au naturale beauty look, which means I don't wear mascara anymore. Don't get me wrong, I still cover up the occasional pimple or brush some highlighter around my eyes after a bad night of sleep! But now, I simply focus on loving my natural beauty. – by Tatiana Velasco, Deputy Culture Editor
Email the Culture Desk at [email protected]