Immigrants seek a better life for their children in the United States Unsympathetic government officials attempt to separate a mother and her child. Xenophobic nativists demand that we "take our city back."
These events could have been ripped straight from the headlines of the last couple years, but they're also all plot points from the 1986 musical "Rags," which the Steinhardt Music and Performing Arts Department is staging through Feb. 11.
"Rags," with a book by Joseph Stein ("Fiddler on the Roof"), lyrics by Stephen Schwartz ("Wicked") and music by Charles Strouse ("Annie"), opens with Bella (Steinhardt junior Noelle Leinwol), Rebecca (Steinhardt junior Natalie Young; the role was also played by Steinhardt junior Madeline Bernstein on Feb. 7 and 9) and Rebecca's young son David (Professional Performing Arts High School seventh grader Graydon Yosowitz) on a ship bound for New York City. Bella is to be reunited with her father Avram (Steinhardt first-year masters student Tristan Lesso), while the widowed Rebecca has no one waiting for her and David.
When Rebecca is threatened with deportation and separation from her son upon their arrival at Ellis Island, Bella convinces her father to pretend to be a relative of the mother and child, rescuing them from an uncertain future.
Avram then secures a home for Rebecca, David and Bella with his sister Anna and brother-in-law Jack, as well as a job for Rebecca. A gifted seamstress, she sews dresses for a pittance under Jack's supervision.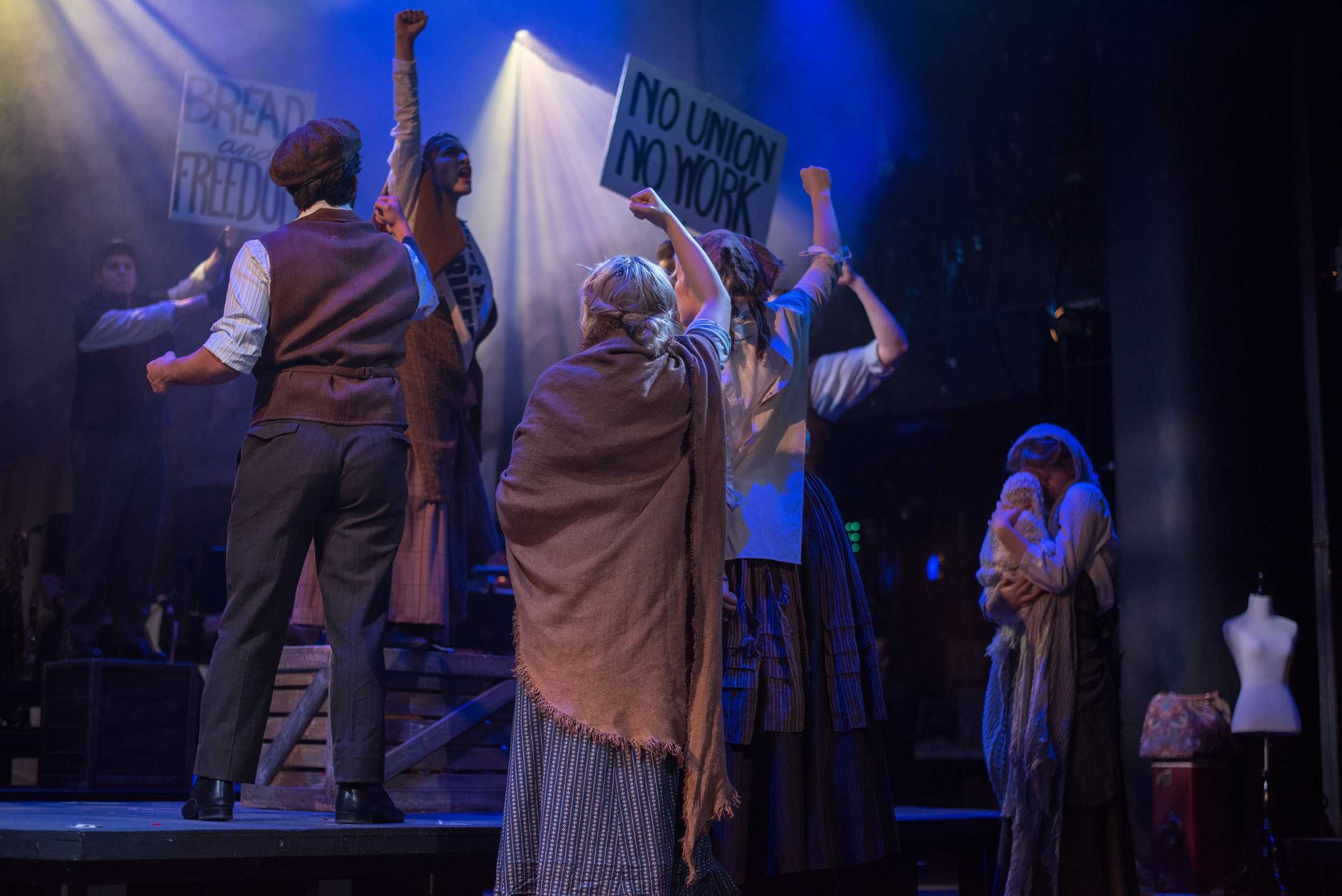 And so the story continues — Rebecca's skill gets her noticed by Max, the wealthy German-Jewish man she and Jack work for. She juggles romantic advances from Max and dashing Italian union organizer Sal, while Bella and Avram are both pursued by suitors of their own. A strike is called. David, Rebecca and Bella face racist harassment on the street. A factory burns.
Director Gabriel Barre — who starred in the original Broadway production — and original lyricist Stephen Schwartz workshopped the production with the students, revising the text to foreground the theme of immigration and xenophobia. This newest version will premiere in the U.K. at Hope Mill Theatre in March. But the parallels between the events of the show and life in Trump's America aren't at all heavy-handed. Their impact is all the more forceful for how clearly they speak for themselves — racism, xenophobia and a selective interpretation of the American Dream aren't anywhere close to 21st-century inventions.
The smartest part of the show is the inclusion of two characters credited as the Americans (Steinhardt first-year Benjamin Raanan and Steinhardt first-year masters student Logan Hoy Tucker). Clad in white suits and boater hats, they relay the sometimes contradictory sentiments of the U.S. public through song. In "Greenhorns," they're the callous capitalists delighting in the flood of cheap immigrant labor, while in "Take Our Country Back/Greenhorns," they're a part of a racist, anti-immigrant mob. Through their presence on stage, we're reminded that oppressive power structures aren't mere abstract concepts, but are constituted and upheld by people and their actions.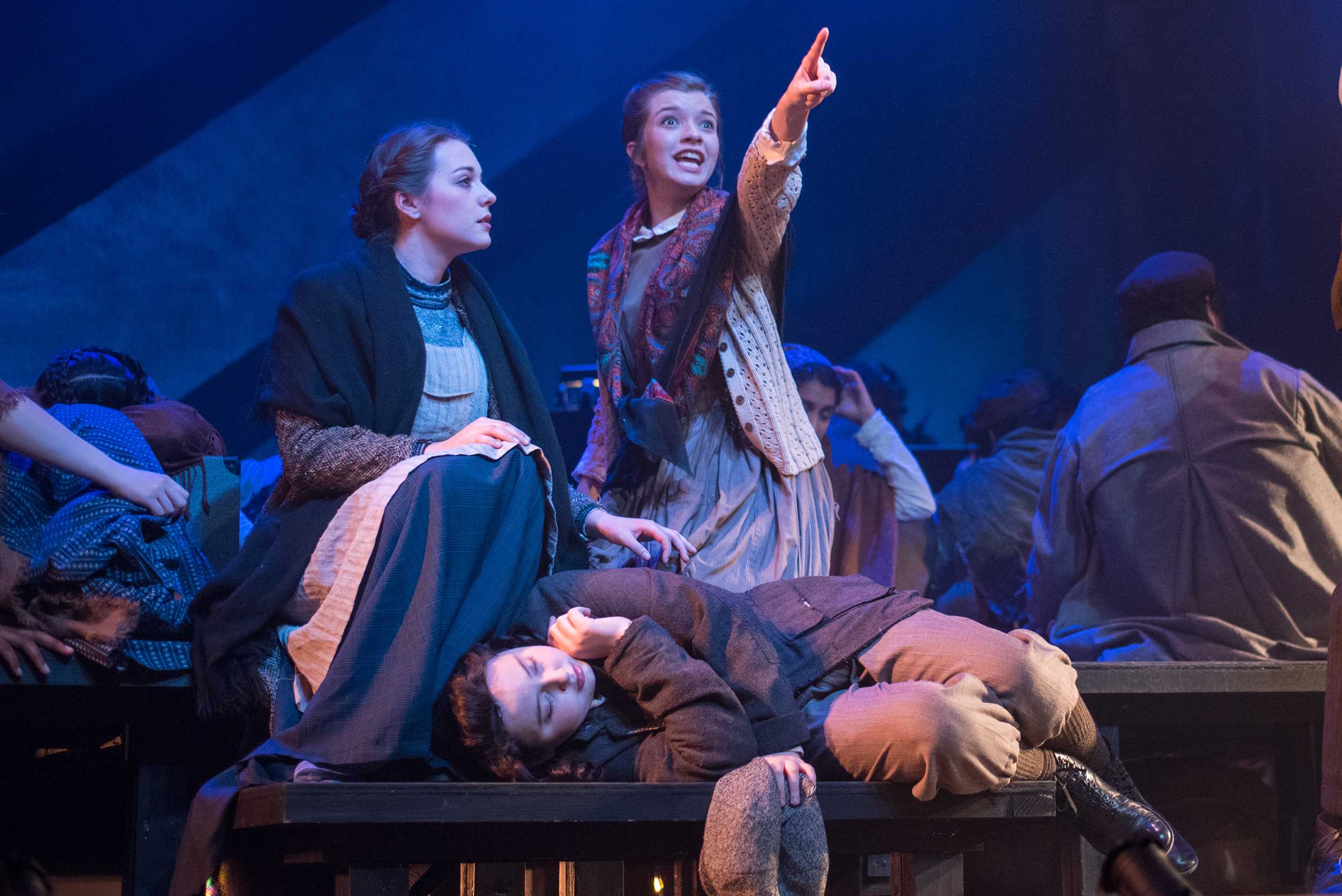 The young actors represent themselves well. Particular standouts include Steinhardt first-year master's student Steven Eddy as Jack, who plays the inveterate kvetcher with a deft comedic touch, and Steinhardt second-year masters student Patrick Clark, whose rakish Sal is a gestural, romantic dreamer. And Young infuses Rebecca with a realistic pathos, even if her voice was a little worn out by the time her big closing number, "Children of the Wind (Reprise)," came around.
While the plotting of "Rags" is relatively intricate, the lessons the show offers are simplistic, the stuff of your typical Broadway musical: love conquers all, friends and family are what matters, we're not so different after all. But the show is also suffused with a specificity that allows these cliches a bit of room to breathe.
Whenever the characters enter Jack and Anna's apartment, they touch the doorframe, a reference to an ancient Jewish spiritual tradition; we're reminded of the ties that bind these characters together, to the Old Country and to each other. In a lovely scene, Bella's aunt and uncle host a Shabbat dinner as Sal attends Catholic Mass, the Hebrew and Latin chanting coming together to form a solemn, holy harmony. Maybe we're not so different after all.
"Rags" runs two hours and 40 minutes, and plays at the Frederick Loewe Theatre through Monday, Feb. 11.
A version of this article appears in the Monday, Feb. 11, 2019, print edition. Email Alex Cullina at [email protected].