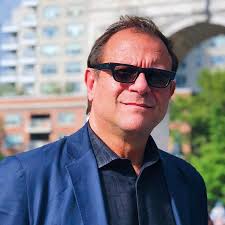 Earlier this January, Liberal Studies Clinical Professor Michael Rectenwald suddenly retired.
Rectenwald became a controversial figure within the NYU community through his Twitter account @antipcnyuprof, where he fashioned himself as a vocal critic of the university's culture.
Initially reported by NYU Local, LS removed Rectenwald's faculty bio from its website, and his NYU email sent out an automated response redirecting to a personal email address.
University spokesperson John Beckman confirmed that Rectenwald had retired in a statement to WSN.
Rectenwald did not cite any specific reasons for his retirement, but mentioned taking on speaking engagements and receiving contracts for two new books.
"Michael Rectenwald, Ph.D., author of eight books and formerly a Clinical Professor of Liberal Studies at New York University, became an official faculty retiree of the university in January 2019," Rectenwald wrote in a statement to WSN. "He is woking [sic] on two new books, for which he has received contracts and advances. He is also undertaking several speaking engagements and pursuing national media opportunities."
In Oct. 2016, NYU put Rectenwald on paid leave, shortly after it was revealed that he was behind the Twitter account @antipcnyuprof. The university did not attribute his leave to the Twitter account or his beliefs.
Last year, Rectenwald sued NYU and four LS professors for defamation, alleging that professors Jacqueline Bishop, Amber Frost, Carley Moore and Theresa Senft sent out false statements in an LS email exchange, which harmed his personal and professional life. He also claimed that the university did not intervene when faculty members made these statements.
Most recently, Rectenwald invited alt-right provocateur Milo Yiannopoulos to discuss Halloween culture and politics in one of his writing classes. The invite drew backlash from student activists, some criticizing the university for not initially canceling the visit and others urging students to call their deans. Ultimately, the university postponed the appearance at the request of New York City Mayor Bill de Blasio, who cited safety concerns.
A version of this article appeared in the Monday, Jan. 28, 2019, print edition. Email Meghna Maharishi at [email protected]