The Long Way Home
After moving out of Manhattan as a high school senior, Nina Lehrecke has embraced her three-hour trek to school.
Sam Klein, Deputy Multimedia Editor
Nov 19, 2018
Morning Coffee
John Denver's "Rocky Mountain High" plays at the 9W Market, a roadside cafe in Palisades, N.Y., and a man with gray hair sings along as he pours Nina Lehrecke her Monday morning coffee. This market, previously a gas station, bears a remarkable resemblance to the painting "Gas" by Edward Hopper, a former local resident.
Nina thanks him and steps into her old, run-down Ford, a dark blue stick shift with a Bernie Sanders bumper sticker.
Four methods of transit and three hours later, Nina will walk through Washington Square Park, arriving early for her 2 p.m. class.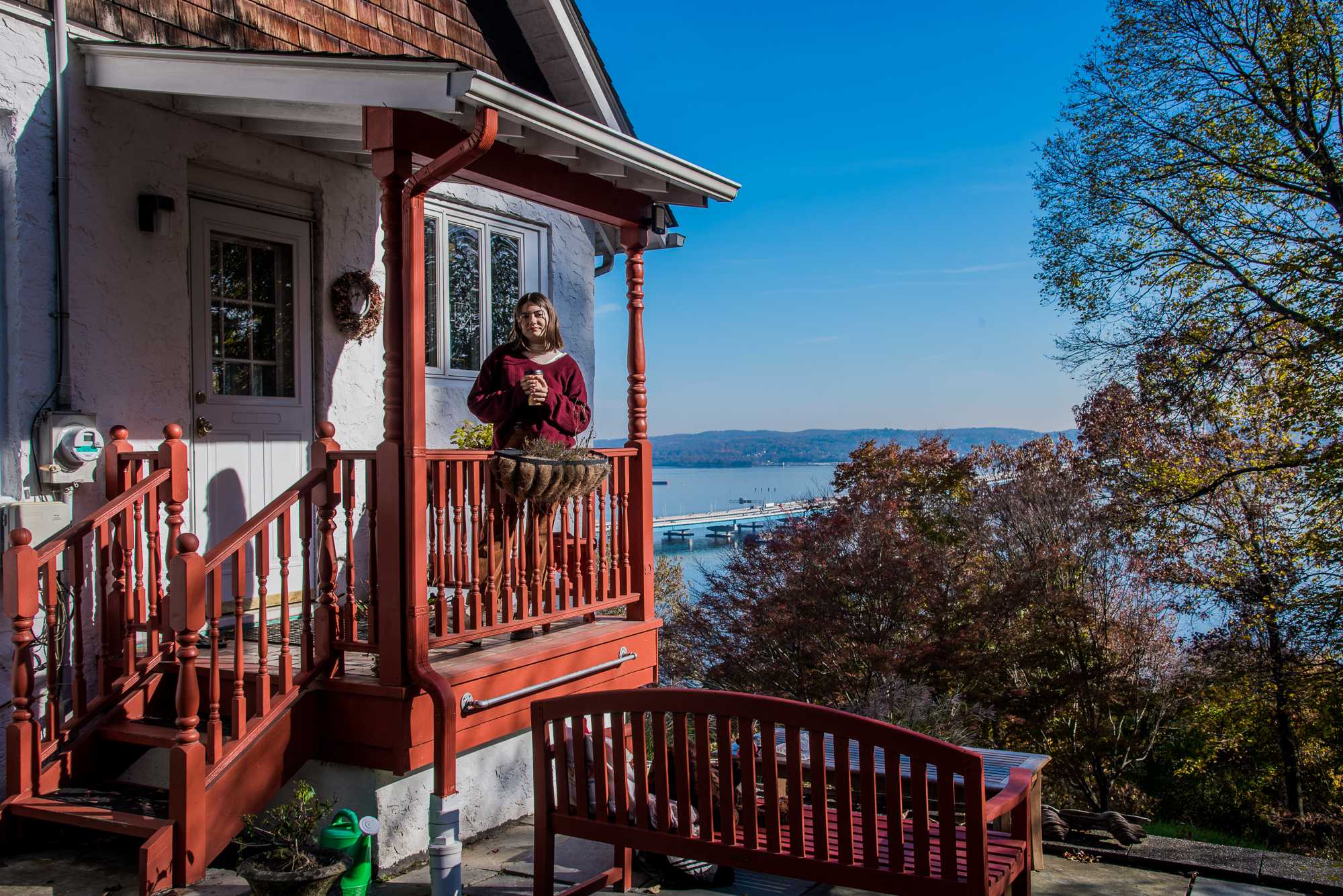 Ready to Go
Nina grabs two bags from her house, one small and one the size of an airplane carry-on. She is a full-time junior at NYU, but, unlike many of her classmates, she doesn't dorm on campus or split rent with eight people shoe-boxed in a two-room Brooklyn apartment.
Rather, she lives upstate in Rockland County. Nina sees the Tappan Zee bridge spanning across the Hudson River from her window, not the buildings of Jersey City.
The catch, though, is that Nina was living in Manhattan her whole life — up until she was a senior in high school, when she and her family decided to move.
"I feel like everyone came to NYU, and that was their new experience," Nina said. "They're like, 'Oh my god, the city that never sleeps!' And I'm like, 'I'm out of here.'"
Nina studies Sustainable Design and Architecture at Gallatin School of Individualized Study, but she commutes at least twice a week between the city and her house, where she lives with her mom and dad. The rest of the time, she either crashes with three of her high school friends who still live in Manhattan or catsits for family friends.
She originally moved up to Rockland County after three years at Fiorello H. Laguardia High School, a public arts school in Lincoln Center. Nina spent her final year of high school at Rockland Country Day School, a high school with fewer than 20 students that her dad also attended. After graduating, she enrolled at NYU, where her mom teaches in the French department. She lived in Lipton Residence Hall as a first-year, but the dearth of nature and proximity to family convinced her to move back upstate.
"My whole family, we kind of revolve around being outside," Nina said. "Me wanting to be here [in Rockland], I feel like it's a learned thing from my parents."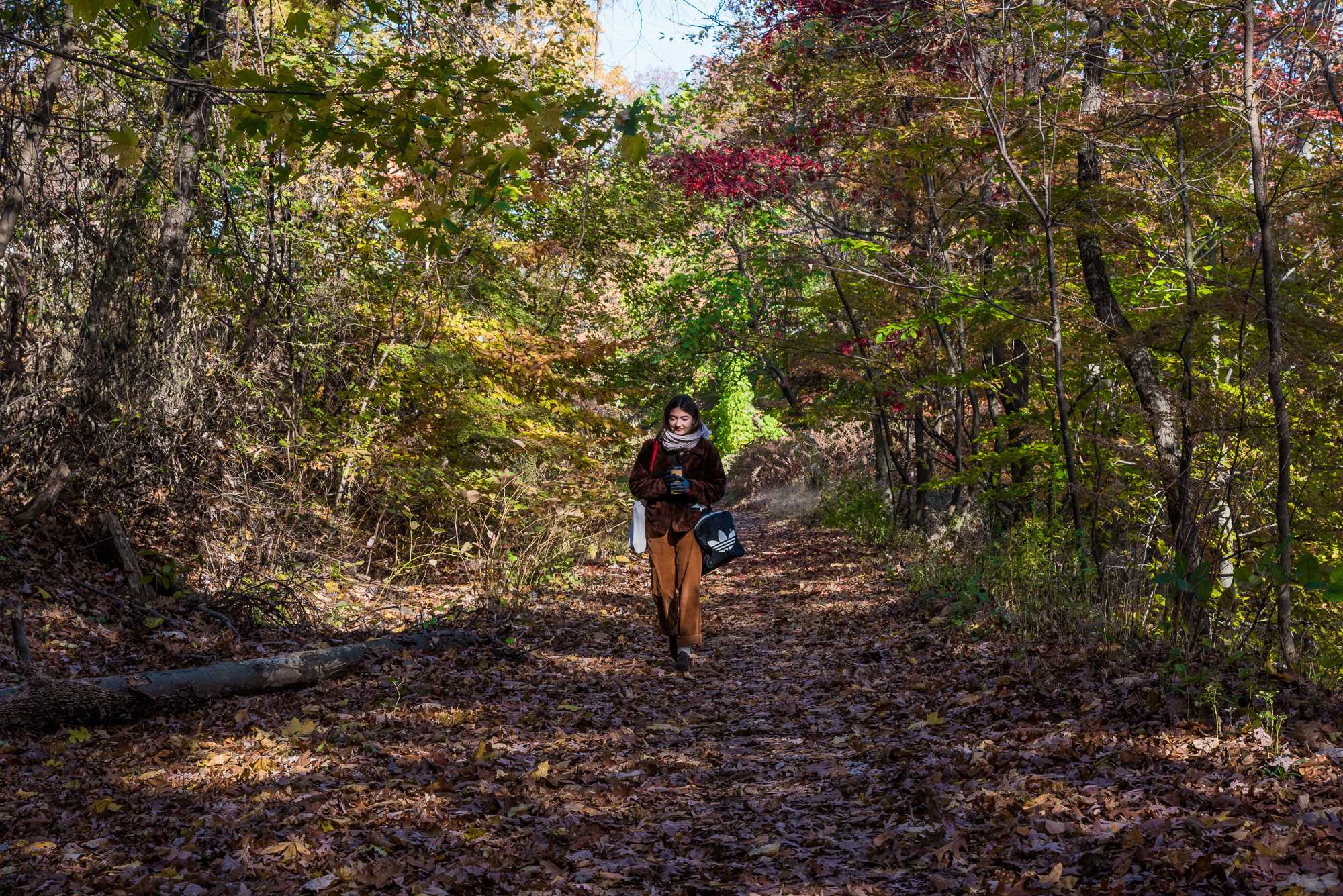 Walk in the Woods
Depending on the day, Nina will change her mode of transportation into the city. Sometimes, she drives across the Tappan Zee to the Metro-North and takes the train. Other times, her parents will give her a ride to the George Washington Bridge before she walks across the 4,760-foot bridge to catch the subway. On this particular day, Nina walks through the woods, takes a bus to 175th Street and then rides the A train downtown.
It's late autumn, and the leaves crunch beneath Nina's feet as she walks to the bus. Her 15-minute walk takes her on a path through the woods. This is her favorite way to get to class because of the nature-immersed respite from her commute.
"Since I was three years old, we would go to Lake George, we would rent an island for two weeks, and we would camp there," Nina said. "Since I was three, still up to now. We would rent a boat, and just be there without electricity, without water, for two whole weeks every year."
Nina also rides horses bareback at her friend's ranch in Alberta every summer. She loves to ski and to ride her motorcycle around Harriman State Park, a short distance from her house.
So why NYU, of all places?
"I have this weird contradiction within myself," Nina said. "I both dismiss the city completely, I'm like 'I don't need that, its ruined anyway, it's dead.' And then when I'm here, I'm like 'yeah, I'm from the city, downtown's my home.'"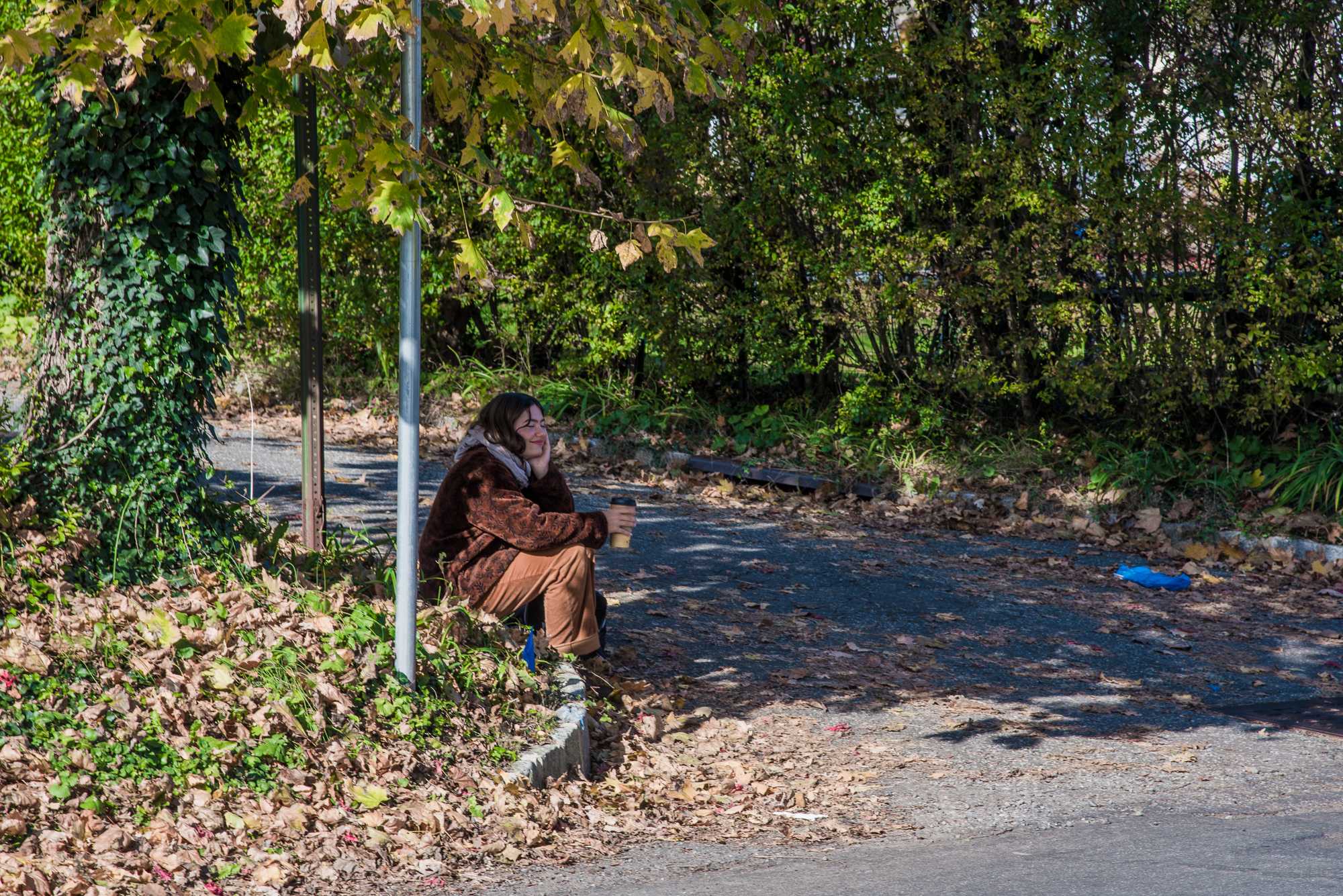 On the Bus
As always, the bus shows up late — 17 minutes late today. The fare is $9.70 to the George Washington Bridge. About 15 passengers ride the bus, which Nina says is more than usual. As the bus winds through New Jersey, the scenery changes from quaint hamlets to industry, and the New York City skyline appears.
Typically, Nina listens to music during the bus ride. (Nina hopes to ease herself into techno to prepare for her spring semester at NYU Berlin.) Despite riding the bus at least once a week each way, she still hates it.
"Recently, I've felt like it's an office job, like I go in and go out," Nina said. "There's not that much that doesn't have to do with school."
After she comes back from Berlin, though, that feeling might change — although she rarely plans that far ahead. One thing she knows is that she will spend more time in the city.
"For me, I hate half-assing things," Nina acknowledged. "Even though I have good grades and I'm learning a lot, I feel like I'm half-assing the experience. Because I'm not mentally there."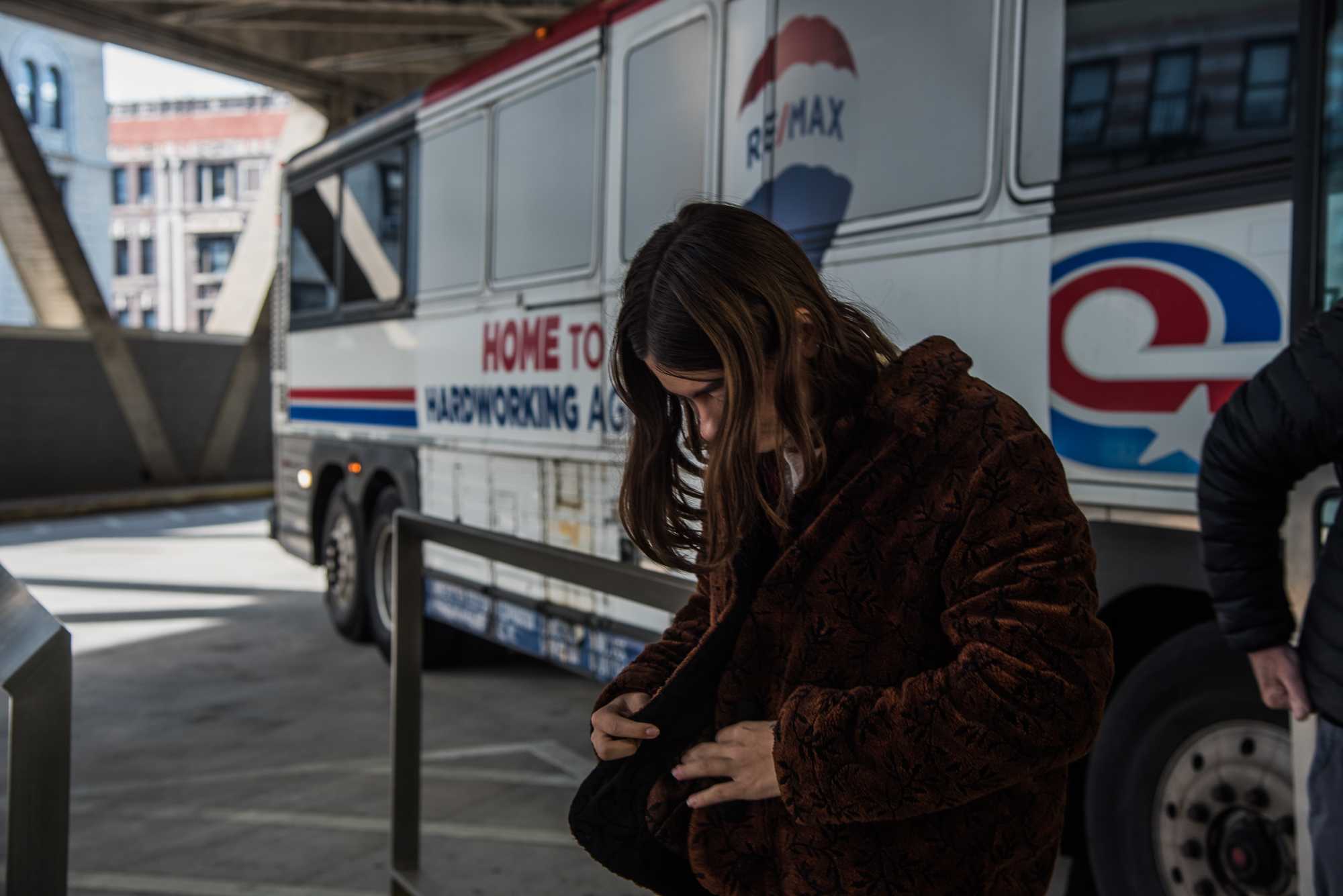 Back in the City
The bus crosses the George Washington Bridge, and the day's clear sky means that Manhattan is visible all the way to the Battery.
Unsurprisingly, Nina always spent plenty of time outside, even in high school. After class, she and her friends would often play soccer in Central Park. Nina smiles as she recalls a time she crossed the Brooklyn Bridge while in high school.
"We had this blizzard junior year, I think it was called the arctic vortex, and we literally walked that bridge at night during the blizzard," Nina said. "There was just us and cross-country skiers on the bridge. We were all bundled up, just walking and rolling down the hill."
But those outdoorsy moments occur less frequently in the city than in Rockland County.
"There's something about leaving the city that I love," Nina said. "The minute you get there, the minute you step off the bus, it's like, ahhh. It's worth it."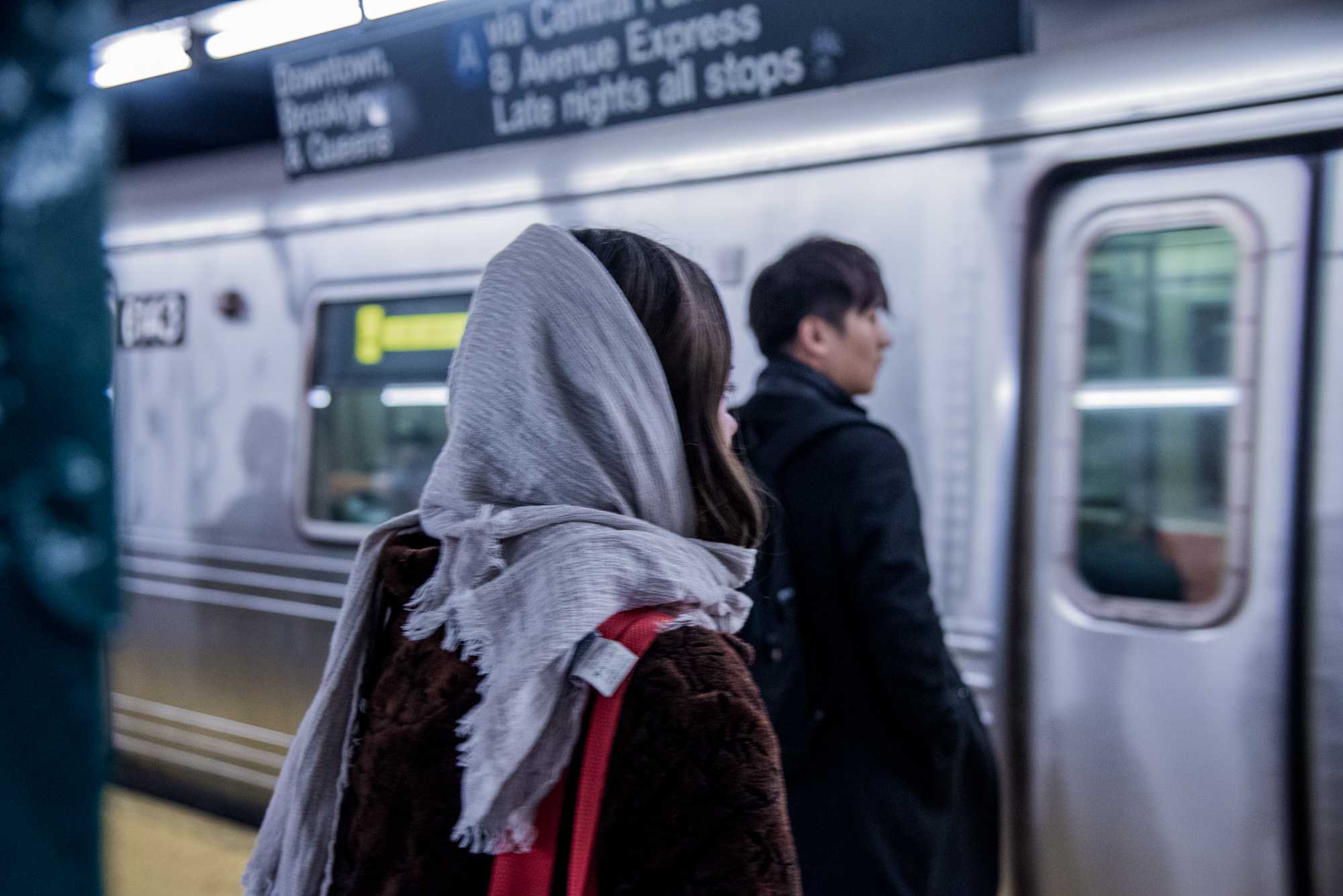 Underground
When the conductor on today's A train announces that it will make local stops, Nina shrugs it off, finding it more funny than inconvenient.
"I like the fact that in the span of one day, so much can happen," Nina said. "At the end of the day, you remember that you were upstate."
Nina isn't sure whether she will stay in the city for college or beyond. In general, she's leaving her future up in the air, characterizing herself as someone who enjoys making impulsive decisions.
She called New York "the greatest city in the world," despite electing not to live there. Unlike other commuters, her commute doesn't burden her social life rather it lets her be more selective with her time in the city.
"I'm looking for life and new movements and new things happening, and I know that there's a lot happening in the city," Nina said. "But I also feel like the city, there's so many layers to it."
Some possibilities for the future include moving to Switzerland, where she holds citizenship; moving to a farm, on her own; or staying in New York. Or something else entirely.
"Whatever happens, happens," Nina said. "The things that have been most impactful in my life have been totally random. I'm not too worried."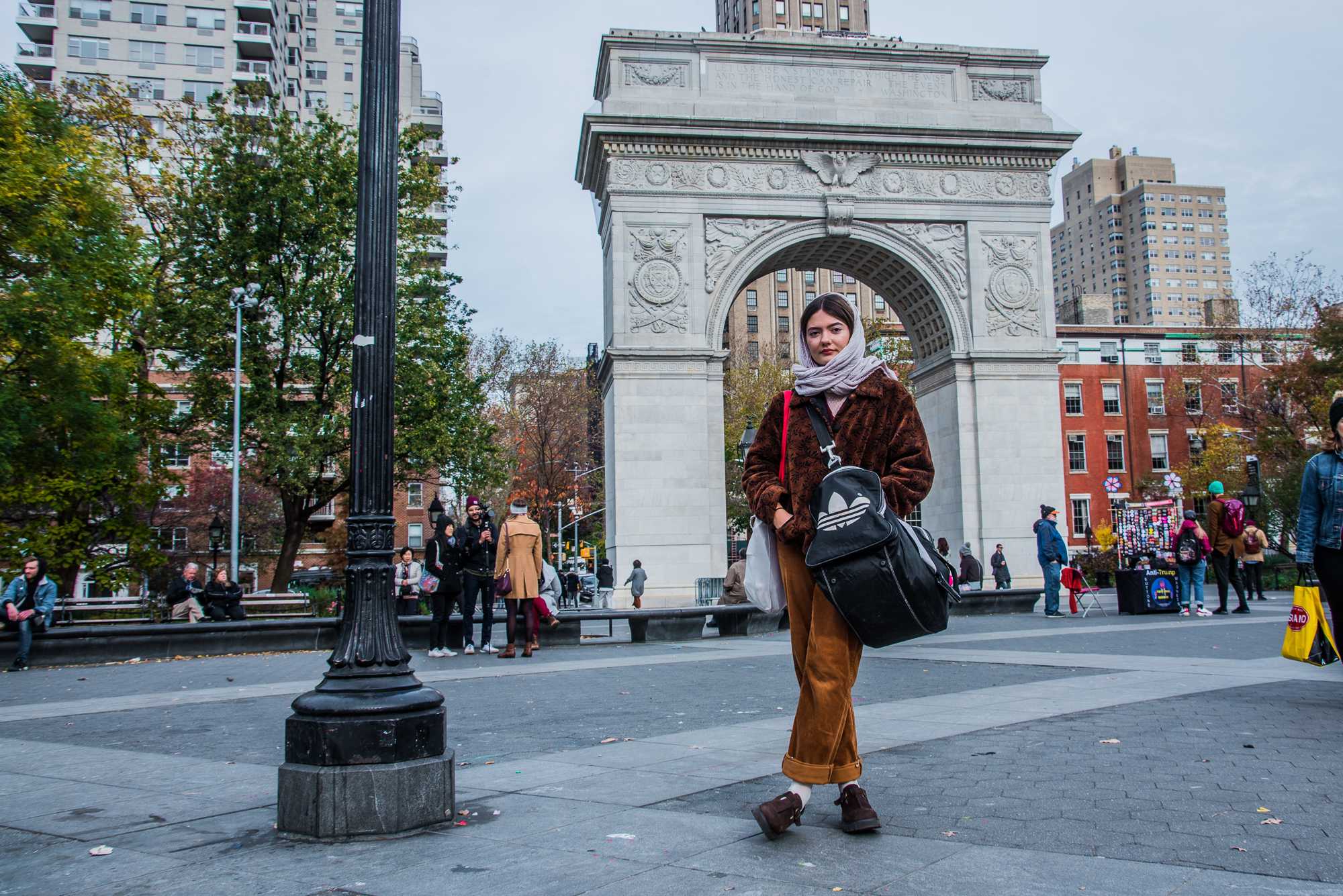 On Campus
Nina cuts through Washington Square Park, equally comfortable here as on a path through the woods.
Tonight, she'll be staying in the cramped apartment with her friends, who play drums and skateboard indoors. This Saturday, she'll be back in Rockland County, working at a local pie shop. Sunday, she'll be riding horses on Long Island with the NYU Equestrian team.
It's a crazy, one-of-a-kind schedule — and Nina wouldn't have it any other way. She doesn't feel held back by commuting; it gives her the freedom to forge her own path into the woods or down to campus. No two days are the same.
"I'm proud of commuting," Nina said. "I think it's a really interesting experience, having both."
These two polarized places define her.
"I love the city. I love it; It's my home," Nina said. "I just think I'm at this new stage of my life; I've been having such a good time here. Just waking up, having coffee on the bench there. This will always be here, and I have to know that."
A version of this article appeared on the Monday, Nov. 19 print edition. Email Sam Klein at [email protected]