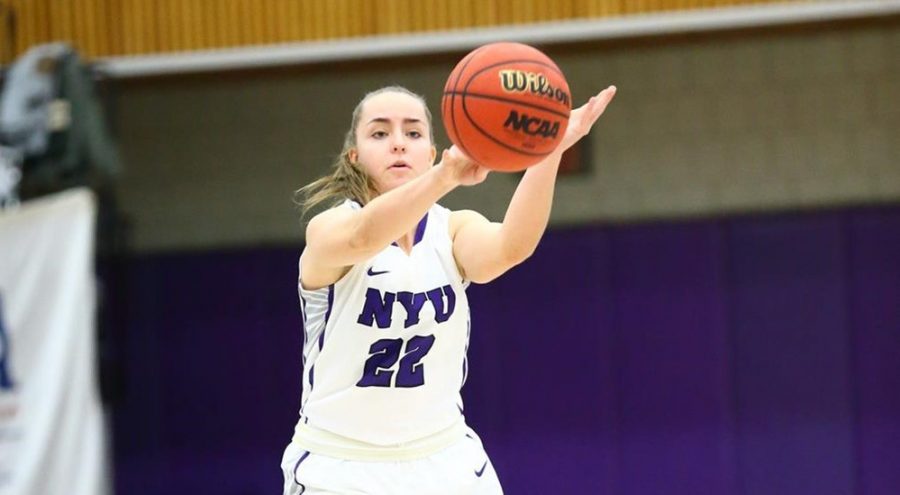 via gonyuathletics.com
Women's Basketball
Women's basketball completed a sweep this weekend of its University Athletic Association conference play. The team defeated opponents Carnegie Mellon University and Case Western Reserve University, improving its overall record to 12-8.
On Feb. 2, the team traveled to Pittsburgh, Pa. to take on CMU. The Violets beat the team the previous weekend, but this time the two competitors were tied 48-48 through the third quarter of the game. In the final period, the Violets were able to break through and seal the deal in a 68-63 victory.
On Feb. 4, the Violets went on the road again to Cleveland, Ohio to play Case Western Reserve University. Once more, the Violets came out victorious, ending with a final score of 67-62.
Men's Basketball
Men's basketball suffered a split outcome this weekend of its conference play. The Violets earned the win against CMU but suffered a loss after playing CWRU, bringing their current season record 10-9.
On Feb. 2, the team played its opponent, CMU, in Pittsburgh, Pennsylvania. The Violets led the score for a majority of the game, even breaking its biggest winning streak to leading CMU by 19 points. The game ended in a 83-65 win for NYU.
On Feb. 4, the Violets suffered a loss in Cleveland against CWRU with a final score of 57-73. The team lost to CWRU the previous weekend as well.
Wrestling 
Wrestling suffered two team losses this weekend when they traveled to Worcester, Maryland to face Roger Williams University and Worcester Polytechnic Institute. The loss was in part due to the three forfeits NYU was forced to concede. In the four other competing weight classes, NYU came out victorious.
The team ultimately fell in a 31-15 to RWU and in a 27-16 decision to WPI. The Violets will return to the mat at the University Athletic Association Championships on Feb. 10 in Chicago, Illinois.
A version of this article appeared in the Monday, Feb. 5 print edition. Email Maddie Howard at [email protected]