Nearly 100 students and faculty packed room 907 of the Kimmel Center for Student Life on Wednesday to answer one pressing question: was NYU Abu Dhabi a mistake?
Students crammed into the room; many sat cross-legged on the floor. The forum, organized by The Review and Debates, came after a volley of media from outlets like The New York Times, Al Jazeera and others that have pointed out faculty allegations of academic freedom violations at NYUAD.
Most recently, the Graduate Student Organizing Committee, NYU Jewish Voice for Peace, NYU Students for Justice in Palestine, NYU Student Labor Action Movement, NYU Sanctuary Coalition and NYU Democratic Socialists of America wrote an article published in The Nation criticizing NYU's response to perceived violations at NYUAD and the global network more generally.
Prior to the debate, attendees were given a sheet of paper asking, "Was NYU Abu Dhabi a Mistake?" Audience members could answer, "Yes," "No" or "Undecided."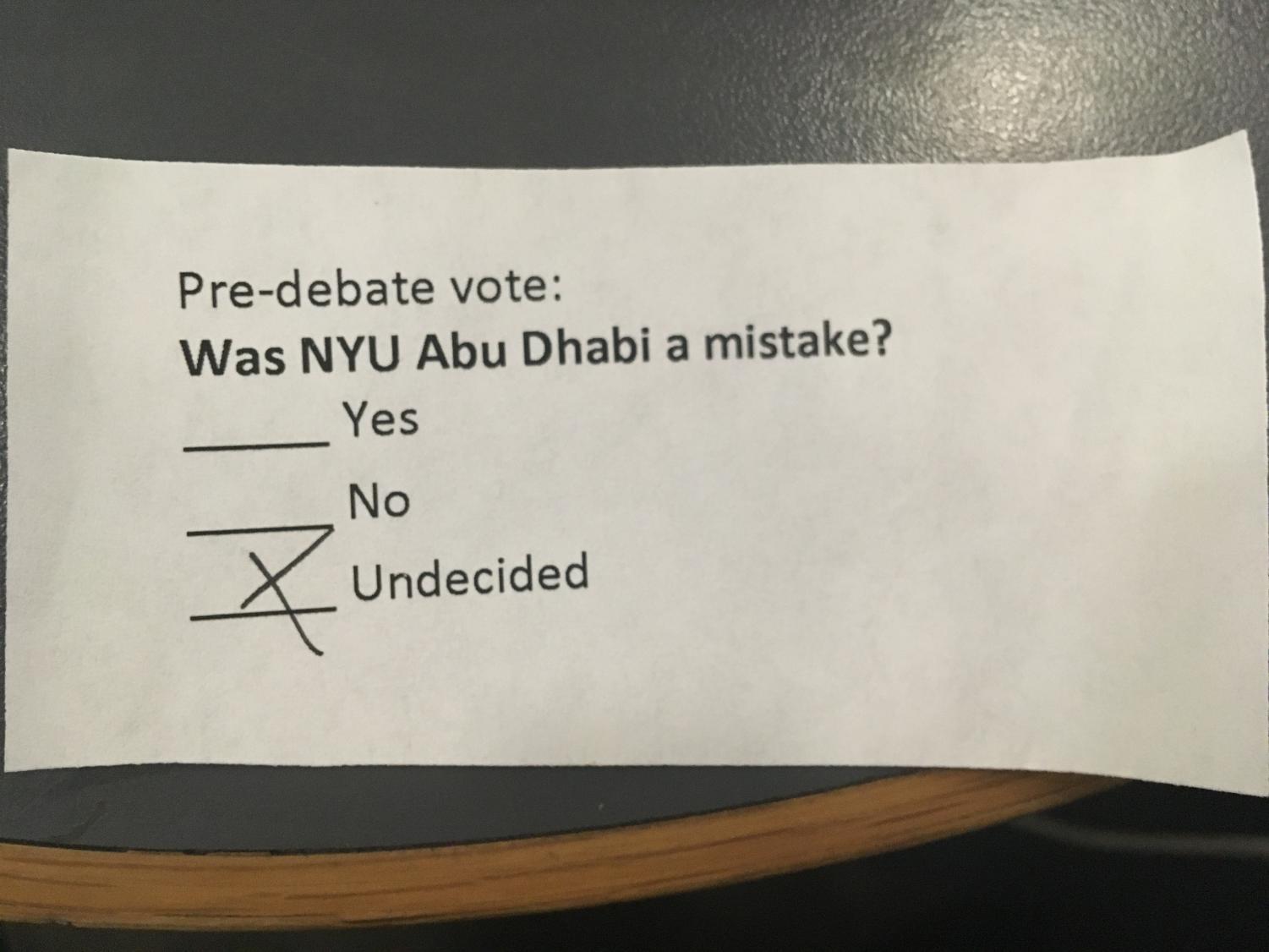 NYUAD Associate Professor of Literature and Visual Studies Shamoon Zamir argued in support of the Abu Dhabi campus alongside CAS senior Louis Bartholomew. On the other side: NYU Local co-Editor-in-Chief and CAS senior Sam Raskin and Associate Professor of Social and Cultural Analysis Andrew Ross.
Ross was the subject of a 2015 NYT article in which he said that he had been stopped from boarding a plane headed to Abu Dhabi where he was to conduct research on labor conditions there. At the airport he was told that he had been barred entry by the Abu Dhabi government. Ross is convinced this was in response to his research.
During the debate, Ross mentioned this experience and explained how he had voiced opposition to NYUAD since its inception in 2010. According to his accounts, he was one of many faculty members who held concerns over NYUAD's construction.
"I will answer this question even though it is above my pay grade," Ross said, beginning his argument. Here, Ross was referring to what he perceives as a lack of public acknowledgment of issues, like the one he faced, by senior members of the NYU administration.
Before relinquishing his time, Ross added that the issues he and others have described are not limited to NYUAD. Ross believes academic freedom violations are occurring at NYU Shanghai and NYU Tel Aviv as well.
Zamir went on to say that he believed there is a real lack of inclusion of NYUAD faculty voices in public discourse surrounding the university.
In his argument in defense of NYUAD, Zamir pointed out what he sees as an unfair criticism of NYUAD.
"There is a crisis of liberal value everywhere right now," Zamir said.
On the question of academic freedom violations, Zamir said there are no restriction to teach and research at NYUAD. While he said that the recent security clearance denials of Bazzi and Keshavarzian are, "deeply regrettable," he did not think they equaled violations of academic freedom.
"Global mobility is not the same thing as academic freedom," Zamir said.
When asked by WSN whether he thought NYUAD faculty and students may be forced to self censor themselves, Professor Zamir responded calling the question "a red herring."
"I am certain that the notion of self censorship is a red herring," Zamir said.
In a Facebook message to WSN, CAS junior and member of NYU DSA Benjamin Zinevich said that his club supported the closure of NYUAD because of what club members believe are unethical, unjust and colonial practices.
"We [NYU DSA] are also concerned by the conflict of interest raised with Khaldoon Khalifa al Mubarak, who is an NYU trustee and government official of Abu Dhabi," Zinevich said. "In effect, what NYU has created is a discriminatory university abroad where students are unable to attend because of their identity."
In his argument supporting Zamir, Bartholomew said he believes NYUAD's pros outweigh its cons. At one point he said there was "no repression in the university at all." He also said that since the Abu Dhabi government does not release the reasons for its security clearance denials, there was no proof that Bazzi or Keshavarzian had been denied for religious reasons.
Near the end of his argument, Bartholomew argued that NYUAD had helped female Emiratis obtain a college degree. To this, a female member of the crowd quickly interjected standing up and accused the man of supporting a male savior complex.
This was far from the only time tensions ran high. During the Q&A segment, multiple crowd members accused the panelists of imperialism. At one point, one crowd member criticized The Review and Debates directly, accusing them of moral superiority. The crowd member said it was hypocritical to criticize human rights violations in Abu Dhabi as she believed violations also occur in the United States.
Ross interjected, explaining that he and Raskin had both mentioned their concerns over issues in NYU Shanghai and NYU Tel Aviv, to which the crowd member accused him of mansplaining.
When asked after the event what she thought of the heated exchanges, Review and Debates Debate Director and GLS Freshman Jennifer Heiman said she thought that the interjections ultimately came from a good place.
"They came from a place of passion," she said.
CAS junior Leen Dweik said after the event that she found some of the criticisms on the pro-Abu Dhabi side hypocritical.
"I think it is ridiculous to say that we are not allowed to talk about human rights violation at Abu Dhabi because other human rights violations exist," she said.
Near the end of the debate, Ross said that he feared he would soon see a NYUAD student or faculty member imprisoned for some violations. To this point, Zamir did not disagree.
A poll before the debate revealed that 20.75 percent of participants thought NYUAD was a mistake, 64.15 percent did not and 15.1 percent were undecided. After the debate, the results of the vote were that 22.7 percent said NYUAD was not a good idea; 3.1 percent were undecided and 74.7 percent were in support of NYUAD.   
Email Mack DeGeurin at [email protected]