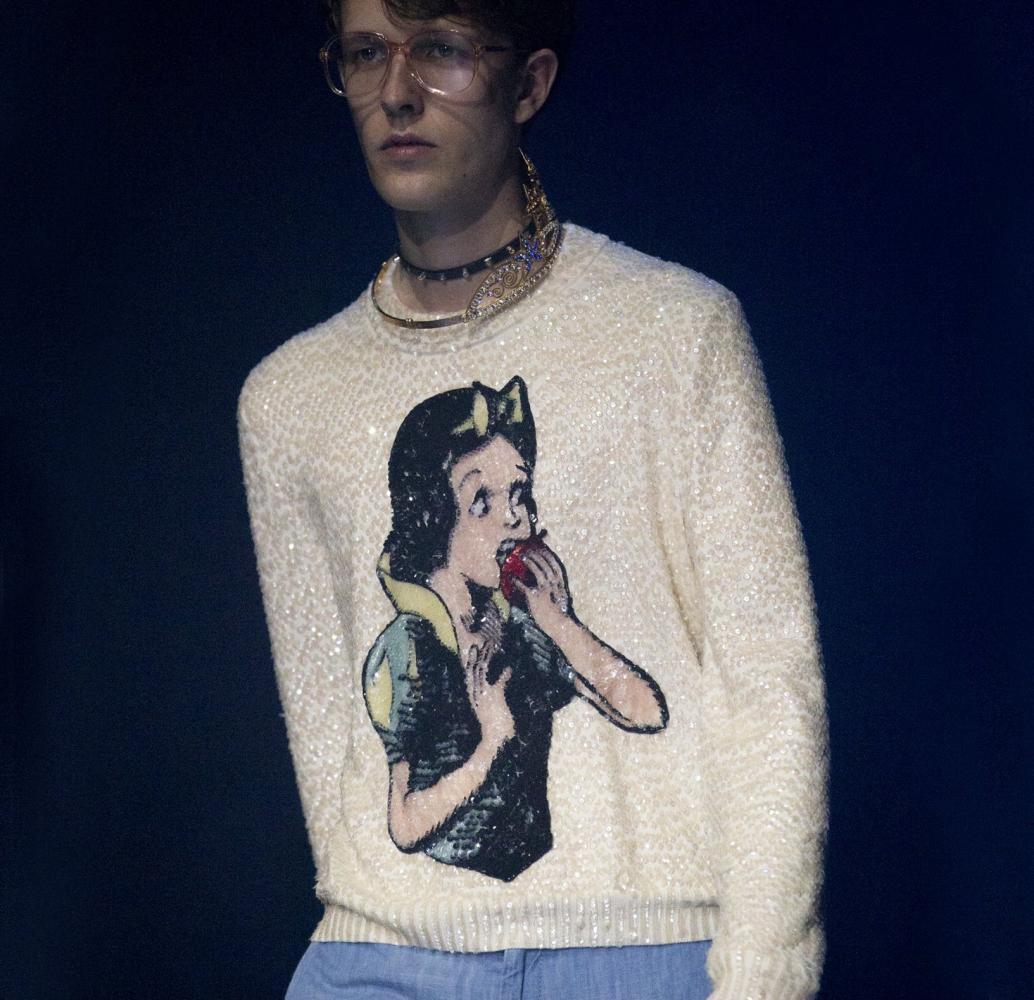 via twitter.com
The fashion world dedicates all of September to a series of shows in four major cities — New York City, London, Milan and Paris — in the name of fashion. New York set the bar for this year's fashion month, leaving the rest of the world to rise to the occasion. The international shows held their own, however, each bringing a unique tone of nostalgia and vulnerability.
Palomo Spain
Alejandro Gómez Palomo created a stir around his label during this past February's NYFW. This year he decided to showcase in Madrid. His Spring/Summer 2018 menswear collection opened with two bellhops clad in identical uniforms. The presentation followed suit, with various nods to hotel life. The mystifying quality of his show was the embracing of clothing that defies the gender binary. Though it is not a new concept to dress men in women's clothing, the men in this collection did not just don women's dresses and heels but rather encapsulated the femininity sewn into them. The show carried a Wes Anderson essence with some models dressed in white cotton robes, and another draped in a curtain. By the conclusion of the show it did not feel like another presentation, but it felt as if you were intermingling at a party with outlandish characters in equally as outlandish costumes.
ASHISH
ASHISH's Spring/Summer 2018 ready-to-wear collection shown at London Fashion Week was nothing short of bewitching. The opening look featured a black hoodie with "Good Mourning" on it paired with a silver skirt. The collection definitely had the feeling of impending gloom. The designer, Ashish Gupta, remarked in a Vogue interview, "In my head, it's just this mood I've been in for the last couple of months, a dark place. And I don't want to fight it and do something that I'm not feeling — I might as well just use it and treat it as a catharsis." Compared to his previous collections, which featured very vibrant bedazzled pieces, this collection offered a more somber mood. There were some sheer pieces in blood orange and glittery black, along with some menswear looks that shared some gender ambiguity. Prominent pieces included matching gowns in silver and red. Though these pieces followed the vampy feel of the show, they brought life to the collection.
Gucci
It is phenomenal how Alessandro Michele has turned Gucci into a cult favorite since he became creative director of the brand in January 2015. His Spring/Summer 2018 ready-to-wear show for Milan Fashion Week calls back to a nostalgic feel, which is common with the present Gucci collections. This collection had the edginess of '80s shoulder pads, pop culture references and, most importantly, an homage to pop legend Elton John. Another recurring theme was a nod to Asian culture which has been customary of present-day Gucci. There were a couple of looks that featured coolie hats in a ravishing red and bamboo texture. There was also a dress that had a Japanese dragon detailing on it. Altogether the collection was another trip down the rabbit hole, which is the innovative mind of Alessandro Michele.
Off-White
Considered a crucial factor in the realm of street style, Virgil Abloh's collection has added a sense of elegance to the streets. With this Paris Fashion Week collection paying homage to the people's princess, Princess Diana, there was a curated hand when it came to the looks. Each piece represented a different facet of Diana's persona. From the tulle dress to the causal denim looks, the collection echoed a callback to a glamorous starlet. This collection also featured a couple prints, which were direct interpretations of prints worn by Diana. Though the prints were not worn in one consistent form, they were transformed into suits, cocktail dresses, gowns, etc. If the royal homage was not enough, Naomi Campbell closed the show thus bringing the collection full circle.
Email Jalil Johnson at [email protected]