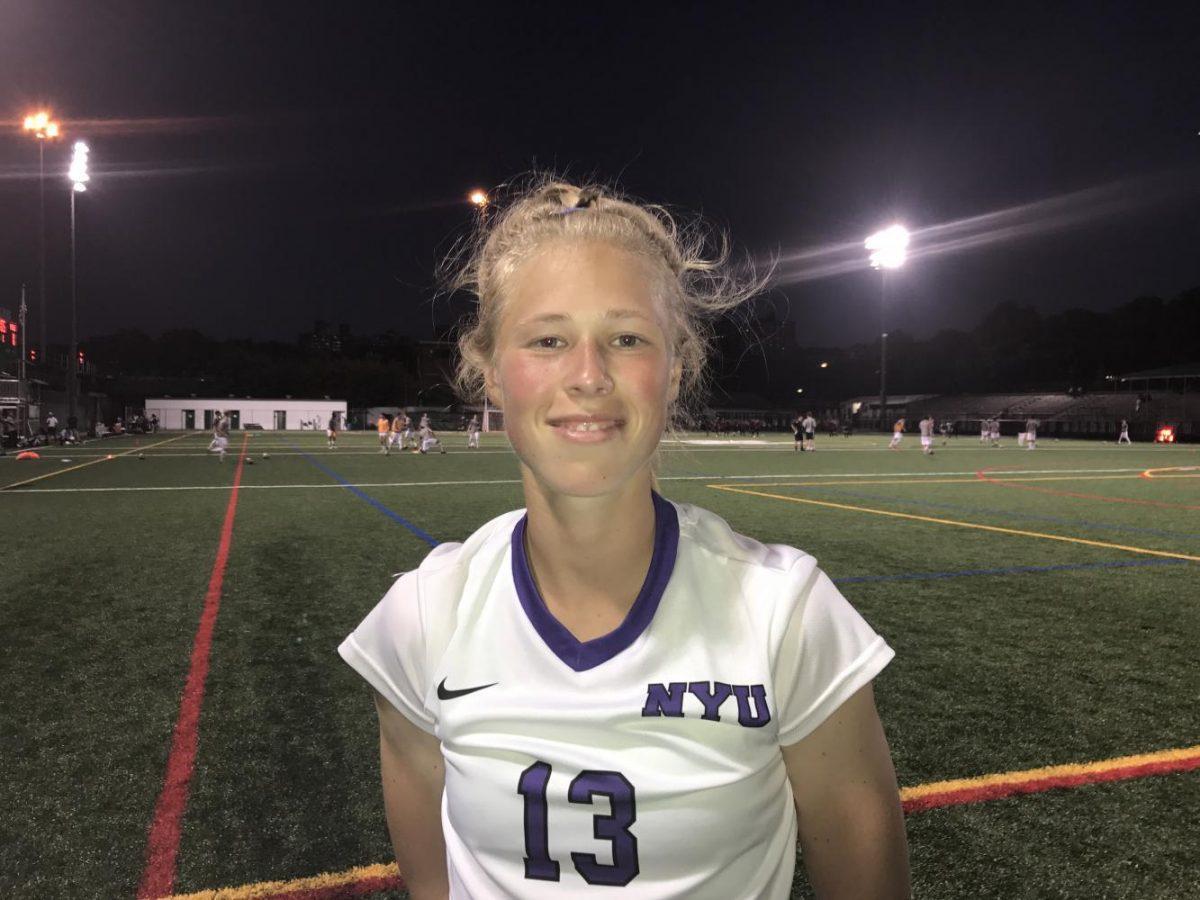 Maddie Howard
Women's Golf
On Sunday, Sept. 17 and Monday, Sept. 18, the women's golf team traveled to Howey-in-the-Hills, Florida to compete in the 2017 NCAA Division III Fall Preview. The Violets nished in first place as a team, which was their second consecutive tournament victory.
GLS sophomore Arisa Kimura tied for the individual championship with Berry College's Jorie Hadapp.
The 2018 DIII Women's Golf National Championship will take place on the same course in May.
The team returned to action the following Saturday, Sept 23. and Sunday, Sept. 24 at the Mount Holyoke Invitational. After Saturday's play, the Violets are in first place out of 18 teams participating, an improvement from their third place finish last season.
Women's golf has a small break and will be returning on Saturday, Oct. 7 for the Williams Women's Fall Invitational in Williamstown, Massachusetts.
Men's Golf
After the first day of the Liberty League Championship in Baldwinsville, New York, NYU men's golf is in fourth place out of seven teams competing. NYU is behind Skidmore College by only two strokes, and Clarkson, in fifth place, is trailing the Violets by 27 strokes.
Men's golf is coming off of a victory after winning the St. Lawrence University Invitational, which was its first match of the season.
The team returns this Saturday, Sept. 30 for the ECAC Championship at Ravenswood CC.
Women's Soccer
The women's soccer team played the University of Scranton on Tuesday, Sept. 19 at its home field, Gaelic Park. Although the Violets outshot Scranton, they could not make contact with the net, resulting in a scoreless draw following overtime.
Stern freshman Meghan Marhan earned her first career start in goal, which was also her first shutout.
The team played again on Saturday, Sept. 23, defeating Farmingdale State College and moving its record up to 4-2-1. This was the Violets' third shutout in a row, with a nal score of 3-0.
Meghan Marhan's second college start in goal resulted in her second shutout game.
Women's soccer is traveling to the College of Staten Island this Wednesday.
Men's Soccer
The men's soccer team played on Saturday, Sept. 23 against Manhattanville College at Gaelic Park. The team earned its fifth straight win with a 2-0 victory over Manhattanville.
The Violets are currently playing their best start of a season since 2011, when they won their first eight games.
Their winning streak will be tested on Tuesday, Sept. 26, when the team travels to Madison, New Jersey to play Drew University.
Women's Volleyball
On Wednesday, Sept. 20, the women's volleyball team fell to Stevens Institute of Technology, losing in three close sets.
The Violets returned to action on Saturday, Sept. 23 at the Ramapo Tri-Match in Mahwah, New Jersey. The team competed against Williams College and Middlebury College, falling short in both four set matches. The Violets won a set in each match and proved to be strong competition, keeping the sets close throughout both matches.
Women's volleyball is scheduled to play next at the UAA Round Robin, at Case Western Reserve University in Cleveland, Ohio on Saturday, Sept. 30.
Women's Tennis
NYU women's tennis competed at the ITA Northeast Regional Championships at Skidmore on Friday and Saturday and is set to complete the match on Sunday Sept. 24. On Friday, five Violets competed in singles and four of them — Stern freshman Anna Maria Buraya, Stern junior Flyora Shiyanova, Stern sophomore Judy Kam and CAS freshman Coco Kulle — advanced to Saturday's round of 16.
In doubles, Buraya and Kam, as well as Shiyanova and Kulle, won both of their matches on Friday and advanced to the quarter finals.
On Saturday, Kulle and Buraya each won two matches and advanced to the semi finals. In doubles, Buraya and Kam, and Kulle and Shiyanova, both won their quarter final and semi final matches, and are facing off in the championship on Sunday.
Men's Tennis
NYU men's tennis competed this Saturday, Sept. 23 at the Stevens Singles Invitational in New Jersey.
The Violets finished with a 10-5 record against both Stevens Institute of Technology and the College of New Jersey, preparing themselves for the ITA Northeast Regionals.
The Northeast Regionals will take place on Saturday, Sept. 30 at Skidmore College.
A version of this article appeared in the Monday, Sept. 25 print edition. Email Tyler Crews at [email protected]