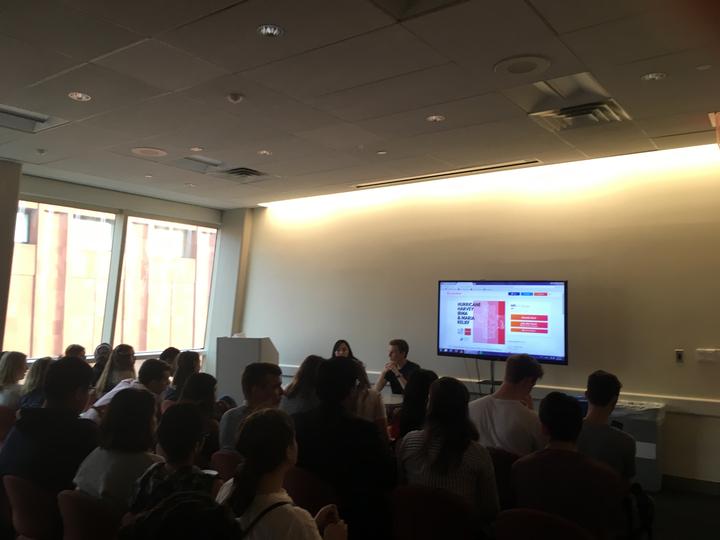 Mack DeGeurin
On Tuesday, Democrats and Republicans voiced their opinions and engaged their peers in debate over hurricane relief funding and climate change. The event, organized by the NYU Politics Society, NYU College Democrats and NYU College Republicans, took place in room 907 of the Kimmel Center for University Life.
More than 50 students attended the event, which was structured as an open forum discussion. Though the debates over issues like environmental racism and urban planning filled the room with noticeable tension, the NYUCD and NYUCR were united around disaster fundraising for hurricanes Harvey and Irma.
In a statement provided by NYUCD Vice President Lila Rimalovski, the Gallatin junior explained her club's main focus points.
"We, as NYU College Democrats, believe that conversations about climate change and natural disasters are incomplete without considering the several ways in which physical and ideological systems disproportionately impact low income communities and people of color," Rimalovski said.
While some in the crowd voiced their agreement with Rimalovski and the points made by the College Democrats, others voiced opposition.
Some in the crowd cited free market economics as their motivating factors for opposing government-sponsored disaster relief programs. Others questioned the validity of the term environmental racism.
Toward the end of the discussion one student, met with vocal groans, denied humans' impact on climate change entirely.
By the forum's end, several students continued engaging each other in civil debate. Rimalovski saw this as a positive example.
"For every problem we encounter, whether it's climate change or disaster relief there is an opportunity for innovation and cooperation," Rimalovski said.
Julia Molina, a CAS freshman and Houston native was personally impacted from Hurricane Harvey's destructive path and had mixed feelings about the event's effect. The Houstonian said she was grateful that the clubs were raising awareness, but she believed that more could have been done.
"They could have said more about how to help donate and how to help people affected," Molina said.
One LS senior said she thought the debate environment was too hostile and combative. Throughout the discussion, students in agreement with one another would snap vigorously, and some who disagreed with contested points audibly registered their displeasure.
Many who attended the event, however, were pleased with the exchange of ideas.
Sebastian Jimenez, a CAS and Stern senior, was active in debate and disagreed with the claim that the environment was hostile.
"I don't believe that at all," Jimenez said. "People were actually listening to what everyone had to say."  
Jimenez has previously debated at NYUCR and NYUCD debates. He said events like these are good opportunities to hone one's arguments.  
"This allowed me to sharpen up my viewpoints," Jimenez said.
Similarly, despite some heated exchanges, Ollie Jones, a CAS junior and NYUCD Director, thought the event was productive and engaging.
"We sometimes forget at NYU how many different voices there are," Jones said
Jones said the event was a great reminder for everyone on how to productively form their arguments.
NYUCR leadership did not respond to WSN's request for comment.
Email Mack DeGeurin at [email protected]