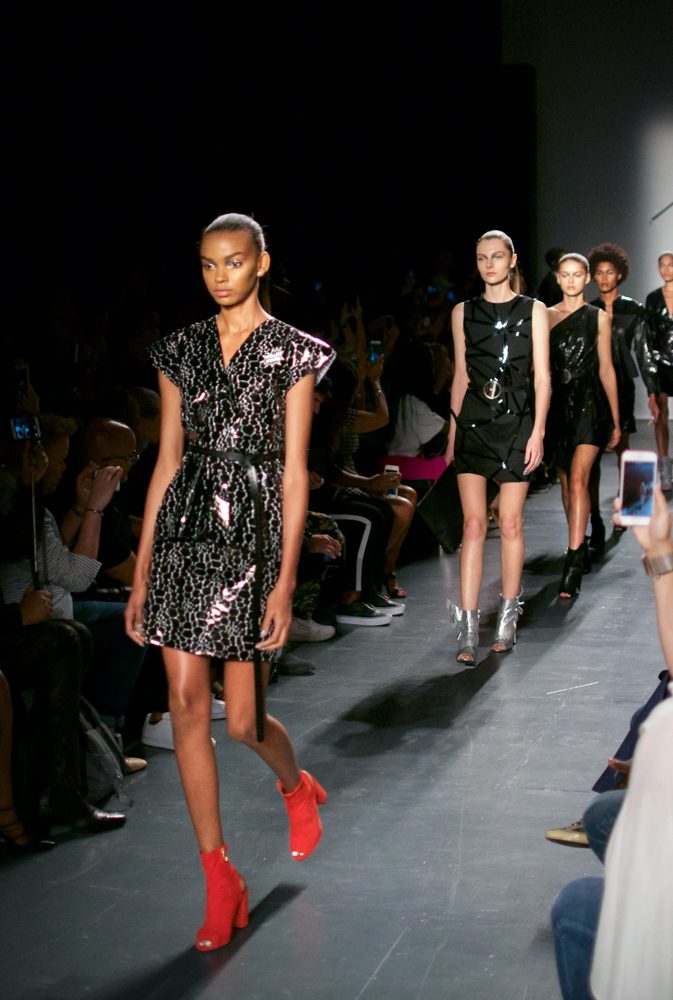 Catherine McMahon
Miguel Vieira's clothing is a minimalist's dream. In his Spring/Summer 2018 collection, Vieira kept with this theme while simultaneously practicing the art of duality in both the shape and material of his clothing.
Vieira maintains continuity throughout his current and previous collections by sticking to his signature color palette of black, white and grey. If past fashion trends have proven anything, it's that this color scheme is timeless and is a guarantee of making you look polished and chic. However, this collection felt like a breath of fresh air compared to his previous collections.
The collection was split into two sections — traditional and relaxed. Many of the traditional pieces featured were reminiscent of previous collections and included semi-formal dresses and men's suits. The fabric of the suits were usually wool or cashmere, and the dresses were leather, sometimes with a cracked detailing and belted around the waist. Women wore black heels and the men wore dress shoes. It is clear, in the careful attention he put into the clothing's beautiful details, that Vieira has mastered the art of both men and women's formal wear.
The second part of the collection was where Vieira showed off his versatility. In this half, he included shorts, sweatshirts and t-shirts made of more breathable fabrics, like cotton, lace and  mesh panels. Some models had glittery detailing on their dresses, while others had rose patches sewn onto the clothing to express the theme of spring. One of the standout, and arguably most fun looks of the afternoon appeared on a blonde male model. He strutted down the runway wearing a baby pink blazer with tasteful patches sewn onto the collar and white pants with a gold stripe down the side. This part of the collection felt like it was taking a vacation in the south of France. It didn't feel familiar at all, and that's what made his S/S 2018 collection so exciting for the audience.
Email Michaela Hoffman at [email protected]