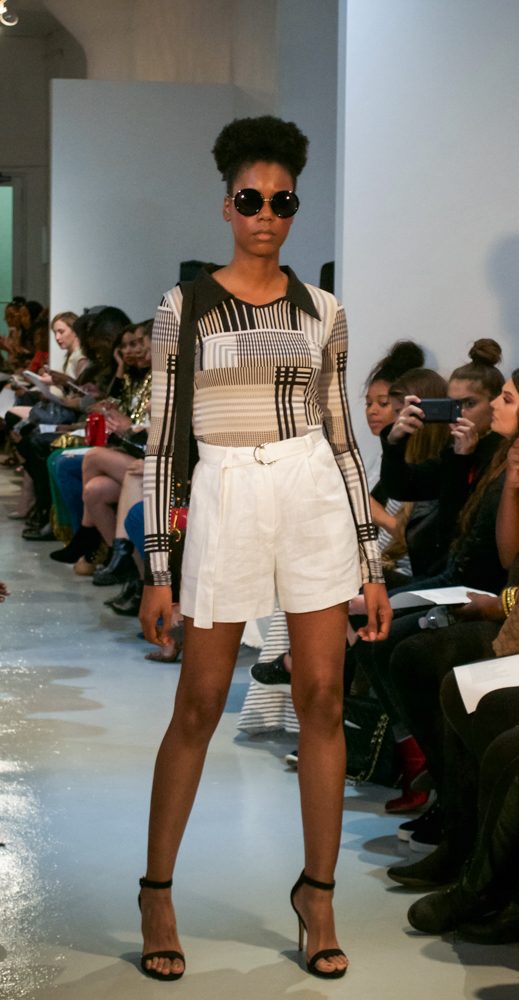 Catherine McMahon
With classic jazz vocalists serenading us through the speakers, Negris Lebrum debuted his Spring/Summer 2018 collection, a body of work born of a vintage, suburban daydream. As per usual with Lebrum, the focus was on the use of monochromatic tones and a heavy minimalistic aesthetic.
For colorful designs, look elsewhere, perhaps at his 2017 collection, because the only uses of color here were sparing uses of beige and muted yellow. These colors did well when paired with plaid and strong, sharp, black lines and particularly shined on the women of color, but by themselves, the muted colors simply failed to impress.
The worst look of night was one of these experiments, a piss yellow linen romper which resembled a burlap sack. Again, when paired with black accessories, a purse or a belt and simple black designs, the yellow was actually eye-catching. They suddenly became nostalgic statement colors, and they were in fact some of the best looks of the night. The pairing of the plaid pencil pants and blouse was stunning because the yellow was perfectly offset by the black plaid and floral top, to name one big success.
The best look of the night was a simple black dress, worn by a young model who carefully clutched her purse as if about to leave her lover. An image of power. Of course, this is what Lebrum truly delivers — classic, elegant designs and the best looks of the night were simply black and white.
Email Tyler Musante at [email protected].com.