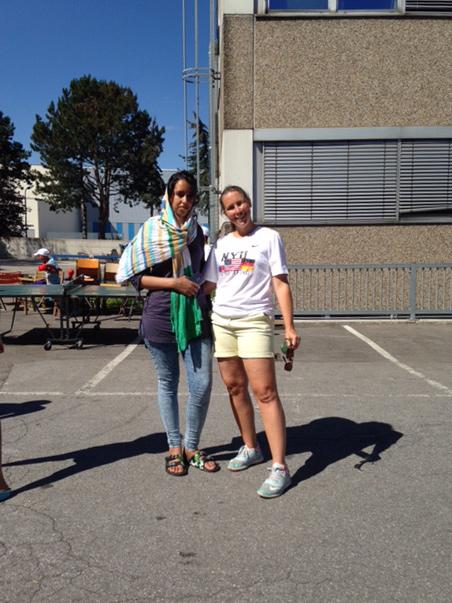 Photo Courtesy of Nikki Web
Coordinator of Athletic Training at NYU Nikki Webb has become a queen of the balancing act as she expertly navigates between her kids in the training room and her son back home in New Jersey.
Webb has been at NYU for over a decade, and has taken charge of the strength and conditioning program for all varsity sports since 2012. Webb has always enjoyed being outside and played a plethora of sports throughout her childhood, including softball, volleyball, basketball, track, golf and soccer. Born in Minnesota, she moved to Florida during her high school years and became serious about soccer, playing in club, high school and the Olympic Development Program.
While attending the University of South Florida, Webb worked with the women's soccer team as an athletic training student, participating in active training with a particular player recovering from an ACL injury. Although she did not originally play on the school's soccer team, things changed in her senior year.
"I went to college originally thinking my soccer-playing days were over since I did not play [during] my freshman to junior years," Webb said.
After the USF's women's soccer coach learned about Webb's experience in the sport, he invited her to join the team. Webb revived her soccer career and played for the Division I team for part of her senior year as well as for one year of graduate school, splitting her time between internship hours, her graduate degree and the soccer team.
As an undergraduate, Webb took advantage of every academic and extracurricular resource available to her, determined to expand her skillset and develop knowledge for her future profession.
"I was able to obtain my national certification through an athletic training internship program," Webb said.  "This gave me a lot of hands-on experience working with a wide variety of sports."
Since joining the NYU athletic training department in 2006, Webb has worked with hundreds of athletes across various sports, helping with injury rehab and weekly treatment. Sophomore swimmer Elle Tucker recently suffered an injury in the varsity weight room and greatly appreciated Webb's friendly demeanor. Tucker stressed that Webb is always willing to talk and cares about each and every one of the team members getting the help they need.
"Nikki ordered me an Uber and sent me right up to the doctor," Tucker said. "She even gave me her personal number to contact if I needed help over the weekend."
SPS junior and women's basketball guard Cassidy Fontana lauded Webb's enthusiasm for the students she works with.
"I have had the pleasure of working with Nikki for the last three years due to [my] various injuries and she has been nothing but sincere, helpful and determined to get me better," Fontana said. "Nikki always knows exactly how to make us feel better and always helps to provide us with treatment with a big smile on her face. She is one of our biggest fans, puts up with our complaining and has a high tolerance for anything sweaty, smelly or just straight up gross."
When not working in Manhattan or traveling with a team, Webb spends time at home in Atlantic Highlands, N.J. with her husband Gedney and son Nolan. She enjoys attending her son's sporting events, playing tennis, cycling and taking her dog for walks in the woods to destress after leaving work. During the summer, Webb retreats to a family cottage in Quebec to fish and enjoy the remoteness of the natural setting.
Webb acknowledges the difficulty of finding a healthy balance between her work and personal life as an athletic trainer.
"We can have very non-traditional work hours and sporadic schedules, and those can be very challenging hurdles to overcome when you have a family," Webb said.
Coordinating NYU's athletic department in an urban setting with no on-campus facilities adds a unique challenge to the athletics program.
"I have the mindset to be both the best athletic trainer that I can be as well as the best mom that I can be," Webb said. "But that is much easier said than done!"
Webb credits her co-workers and NYU administrators for partnering with her in the collective effort to find the right balance between work and personal life.
The rapid evolution of the athletic training field has pushed Webb's individual role within collegiate athletics. Webb's extensive experience in athletic training makes her an integral part of NYU Athletics and its sports medicine department.
A version of this article appeared in the Monday, May 1 print edition. Email Trevor Francesconi at [email protected]