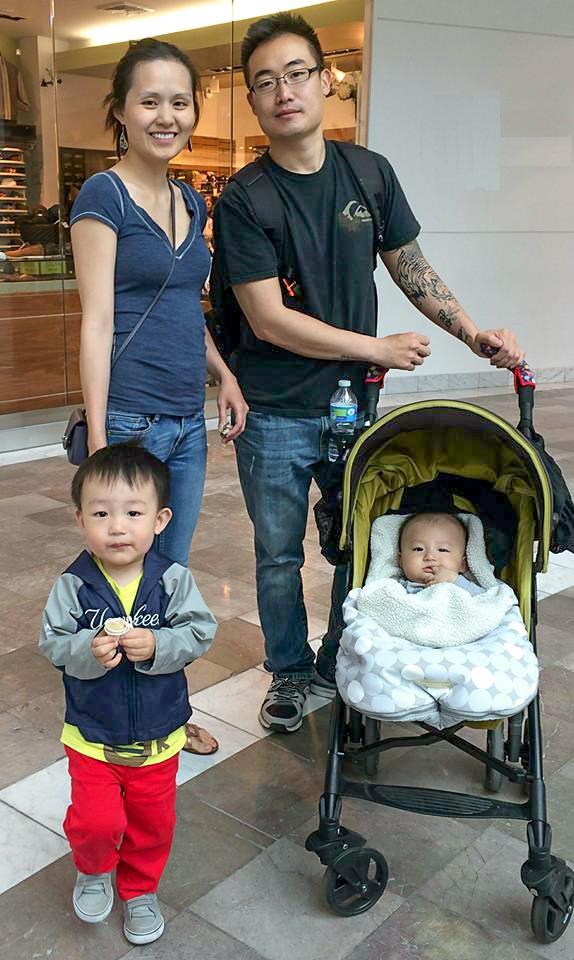 If you think college is stressful, imagine the balancing act requires to get a university education while raising a child at the same time.
Shveta Alreja and Cindy Pang are two Steinhardt graduate students majoring in early childhood education looking forward to their May. graduations
Alreja, who gave birth to her daughter this past fall semester, is relieved that her educational journey is nearing its end as she transitions into her role of mother.
"I feel like, because it's my last semester, I'm just focusing on the end right now," Alreja said.
Pang transitioned into motherhood with her two sons, aged two and four, before her time at NYU as a graduate student. However, both she and Alreja agree that the challenges don't go away as children get older.
"I think it's balancing responsibility and time management that has been especially difficult," Alreja said. "I feel like more than anything we're [Alreja and her husband] just strapped for time."
Pang added that balancing school, student teaching and part-time work is hard enough as is but that coming home to children makes the dynamic even harder.
Both mothers can study because of the childcare support that their families provide.
Alreja and her husband are both students, and they live with his parents so that their daughter is well taken care of. Alreja said that she can continue her education becasue of them — had they been unavailable, she might have had to take a semester off.
Pang changed career paths and is particularly grateful that her husband takes care of their boys when she's at school or studying.
"I'm a career changer, so between my husband and myself, we decided as I was transitioning to a new career that I would need the training," Pang said. "So we decided that he would stay home while I was able to go to school full-time."
They both worked for a few years to fund her education, which is why it's so important to Pang that she get sa job upon graduation. They were able to save just enough money for tuition but not enough to pay for childcare, so Pang's husband is crucial to the equation.
"Putting all that money into this program was sort of a risk, because we have a family," Pang said. "We have no savings for emergencies and things like that."
Alreja believes her professors' understanding of her situation was instrumental to her success.
"They were kind enough to let me work from home," Alreja said. "They made that exception for me."
Pang acknowledged that universities like NYU do a lot for their student-parents but that she wants to see more done, such as a space on campus dedicated to parents. On the few occasions that she's had to bring her family to school events, the experience was often isolating.
"If you're the only one with the children, it's not as welcoming," Pang said. "So I think the space would help in bringing the students-with-children community closer together."
Rollie Carencia, Assistant Director at the Student Resource Center, works closely with military veterans and graduate students at NYU. Student-parents can talk with Carencia if they want more information about the services the university has to offer.
Among other resources, Carencia said that NYU provides lactation rooms for breastfeeding mothers throughout campus. According to the university website, there are currently three private nursing rooms around the Washington Square Park campus and two at the Brooklyn campus, where new mothers can nurse their children or express milk.
"I think that's an area that could definitely be increased here at NYU," Carencia said. "NYU is very decentralized and mothers that are nursing are everywhere."
Further support can be found by way of a childcare subsidy, which full-time graduate students can apply for if their child is younger than six years old. If approved, NYU grants them $200 every semester to spend at their discretion. Carencia also helps organize events to bring the student-parent community together.
"In the fall, we had a zoo trip at the Central Park Zoo for students with children," Carencia said. "And then, in the spring, we had a Brooklyn Nets game night," Carencia said.
For many without children it can be difficult to understand what the student-parent experience is like, but Alreja and Pang help put it into perspective.
"I feel like my priorities have shifted," Alreja said. "My focus is really on my child right now."
Pang said some people compare being a student-parent to people who have full-time jobs and attend school full-time. The difference, Pang said, is that full-time jobs end at a certain time.
"You're not a parent for six to eight hours of the day and then you go home and relax," Pang said. "It's sort of a 24-hour-a-day job and so I guess it's not really equatable in that sense."
As with any struggle or challenge, nothing is impossible if you try hard enough, a belief Alreja and Pang hope they can instill in their children. Alreja stressed the importance of an education and not stopping for anything.
"With the pregnancy and the baby, that hasn't hindered me or my husband from pursuing what we had in mind," Alreja said. "It's just one added responsibility, but it's okay."
Pang hopes her sons will pursue whatever they're passionate about, no matter the obstacles  that may be in their way.
"I think, for myself, I wanted to switch careers earlier, and I waited a little bit longer than I wish I did," Pang said. "If you have something that you're really passionate about, you should just go for it."
A version of this article appeared in the Monday, April 10 print edition. Email Laura Rubio at [email protected]