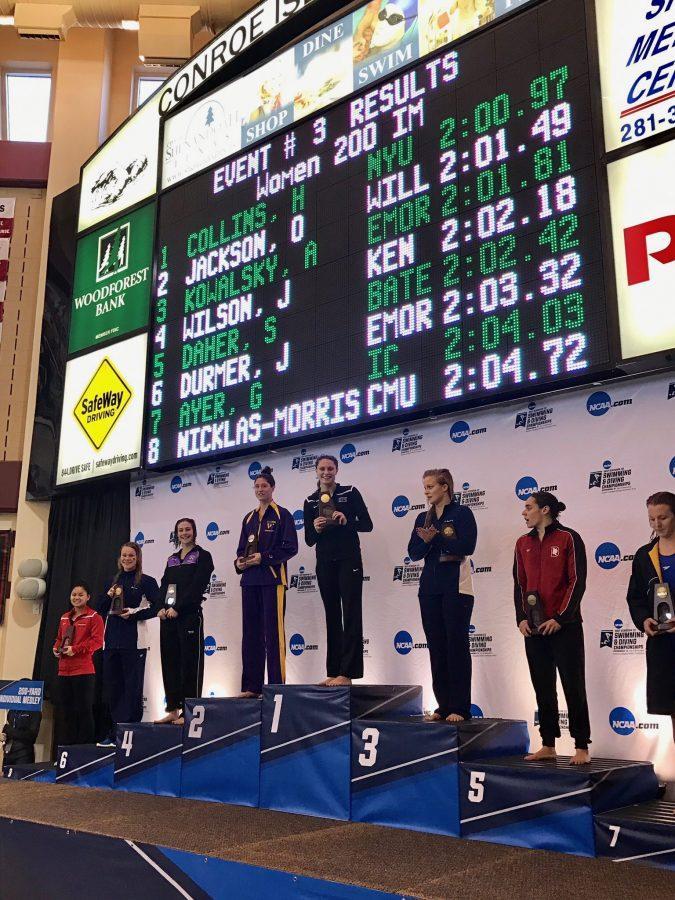 Courtesy of Maddie Howard
LS freshman and swimmer Honore Collins made NYU history in March when she took home the first national title in the program's history. Collins' championship performance was in the 200m IM, which she finished with a personal and NYU record-breaking time of 2:00.97. The NYU women's swimming and diving squad earned eighth place at the national tournament overall.
Collins is originally from Evanston, Ill. and attended Evanston Township High School. Before swimming at NYU, she was named an All-American during her freshman, sophomore and junior year seasons. She began her successful career as a young girl looking to get a competitive edge over her older siblings who started swimming before her.
"I started swimming at the age of two," Collins said. "My older siblings started swimming, and my mom was coaching them, so almost my whole family was in the pool, while I had a babysitter, which made me mad. My mom told me that I could either get in the pool and swim or stay with the babysitter. To her surprise, I got in, and I fell in love. The main reason I started swimming so competitively is that I wanted to beat my older sister Madison so badly and then I just never stopped."
After years of hard work and coaching, Collins said when she finally touched the wall during the national tournament it was unlike any thing else. She has received numerous swimming accolades, though nothing can match up to being named a national champion.
"I knew that I was winning, but when I looked at the board and it said I got first my entire body felt light, and I do not think I have ever smiled that big," Collins said. "Then I looked over, and every person who was at the meet from NYU was screaming for me, which made me feel so proud of myself. When I got out of the pool everyone said 'good job,' and hugged me, and it made everything that I did worth it, and I am so happy that I was wearing my NYU cap when I won."
The cheers have been resounding ever since Collins' performance. Freshmen teammates Jaime Robinson and Becky Flaherty were excited after Collins' big win.
"It's awesome that one of my teammates could win a national title," Robinson said. "It's such an accomplishment. As a team, we are all so proud of her."
Robinson also competed in the NCAA championships and earned an All-American Honorable Mention for her performance in the 1,650m freestyle.
"It was really exciting to see Honore win the 200 IM at the NCAA, because she was having such a great season," Flaherty said. "I'm looking forward to seeing where this takes us next season, because we're only getting stronger as a team."
Collins and the rest of the team finish this season with one of their best showings in program history. Collins is hopeful for the years to come and wants to focus on both winning more titles and continuing to enjoy the sport.
"I just hope to keep having fun with my team, which won't be very hard, because everyone on the team is so fun to be around," Collins said. "I also want to break the national record in the 200 IM."
Collins and the rest of NYU Swimming & Diving will begin their new season in fall 2017.
A version of this article appeared in the Monday, April 3 print edition. Email Maddie Howard at [email protected]