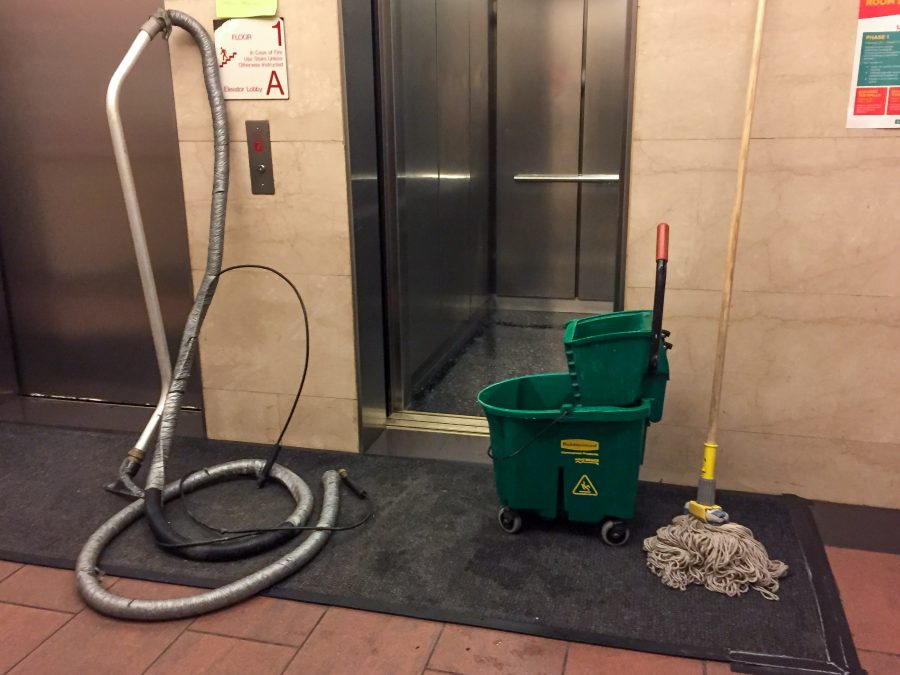 Natasha Roy
Students are trickling up and down the stairs of Palladium now that its elevators have sprung leaks.
On Tuesday at around 9 p.m., water began leaking from the ceilings of the non-special interest floor elevators of Palladium Residence Hall, and students have been required to use the stairs to return to their rooms since the elevators officially closed.
Palladium's Residential Life Assistant Mishaal Barrett sent an email to all residents explaining that the elevators were all out of service. Barrett also instructed residents to use the stairwells.
"In order to leave the building, we ask that you take one of the stairwells," Barrett said in her email. "To enter the building, you will need to take Stairwell B — next to Trader Joe's — and a Public Safety Officer will check your NYU ID to enter the building."
Barrett did not specify when the elevators would be back in use. She also said that residents in special interest housing could use their separate elevator as normal.
Palladium residents were sent a second email from the hall's Residence Hall Director, David Lopez, on Wednesday. Lopez said that the elevators were expected to be repaired by the end of Wednesday.
"The reason that the repair of these four cars is taking longer than usual is that we have been waiting on replacement parts for components that were damaged from the leak," Lopez said in the email. "I am happy to say that one of the four elevator cars has been repaired and is now working."
Tisch sophomore Jessica Fisher said she heard water rushing on the other side of a closed elevator door while trying to return to her room around 9:20 p.m. on Tuesday. She saw that the elevator doors were open on both the fourth and fifth floors of the building, and she watched the water rush through.
"It may be because I saw it early, but no staff members were around," Fisher said. "We were all just students crowded around the elevators in awe."
The slow commute to and from different floors of the building caused by the elevator closings has inconvenienced students. Fisher said that walking up seven flights of stairs has been hard for her.
"Luckily I did not need to go outside last night so I just stayed in, but not being able to use the elevators has increased my travel time to class," Fisher said. "Walking down isn't too bad, but walking back up to my room is a pain."
Fisher said she is aware one elevator is currently working, but that there is always a long line of students waiting to use it. Fisher also said residents were not initially made aware of what caused the leak.
NYU spokesperson Matt Nagel said that NYU Facilities is working to return the elevators to service.
"Currently, the building has one working elevator and another is expected online this evening. A roof drain that became clogged with ice caused the issue," Nagel said. "NYU Facilities is working on a long-term solution that will prevent this from happening again."
Email Natasha Roy at [email protected]