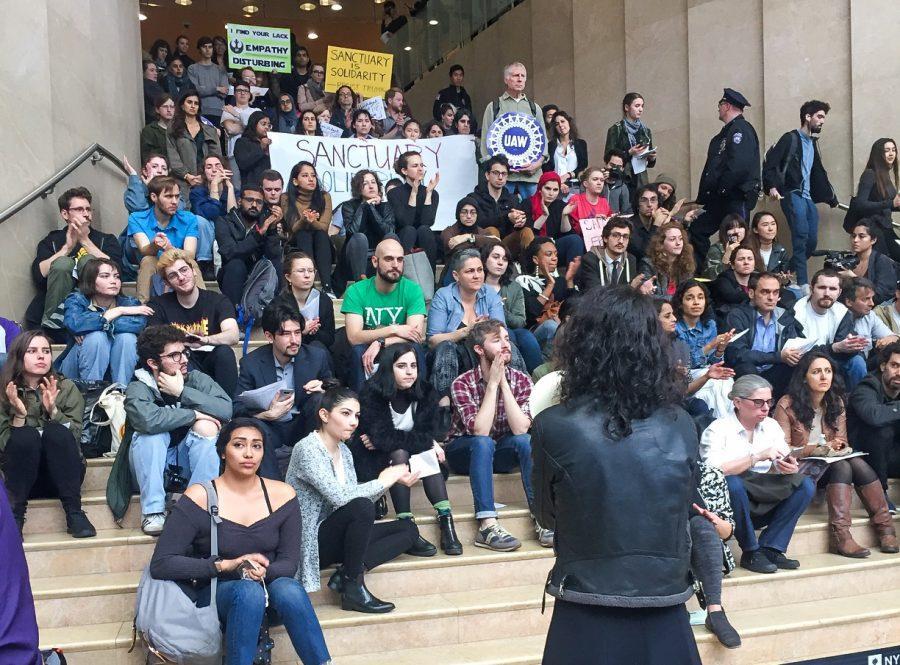 Grace Halio
Students are ready for NYU President Andrew Hamilton to declare the university a sanctuary campus. Yesterday afternoon, students armed with posters lined the grand staircase of Kimmel Center for University Life to advocate for protecting their classmates who are undocumented or immigrated here.
They organized this before Hamilton's town hall meeting on affordability, and the NYU Sanctuary Campus group gathered with allied activist organizations and other community members to demand that NYU take further actions.
The group has been appealing to the university to protect students targeted by President Donald Trump's recent executive orders regarding undocumented and immigrant students — this coincides with similar movements at colleges across the country. Speakers led the crowd in a series of call-and-response chants, while outlining their demands and positions for concrete changes in university policy.
The protesters requested that the university commit financial and material resources to NYU's most vulnerable community members — they called the recent raids by state agencies and the possible Muslim registry antagonistic. Therefore, the students asked NYU to refuse to cooperate if U.S. Immigration and Customs Enforcement came to campus or if the registry started.
In a statement to Washington Square News, the sanctuary campus group said that the administration must go beyond aiding affected students on an individual, case-by-case basis. The group wanted the administration to outline comprehensive and transparent policies that provide resources to impacted students, staff and faculty.
"These resources should include expanded access to housing for students whose ability to travel is imperiled by the new deportation regulations or the Muslim ban, guaranteed access to need-based financial aid for students whose federal funding is jeopardized and expanded access to healthcare and mental health support," the group said. "The university should also work with academic departments to implement flexible degree requirements and provide emergency funding for students who are unable to complete classwork or research due to travel restrictions or the threat of deportation."
Those at the rally did not think that the university had done enough to protect threatened students, and the crowd called upon Hamilton to stand up for vulnerable students and declare NYU a sanctuary campus. The ralliers said they would escalate their activities if these demands were not met.
CAS sophomore Nour Obeidallah attended the rally to support both SLAM and the push for sanctuary campus status, and looked forward to an open discussion with Hamilton at his town hall later. Obeidallah said Hamilton had been reluctant to meet personally prior to yesterday.
"He didn't agree — he didn't understand our beliefs, didn't understand what we were asking for and almost belittled our concerns," Obeidallah said. "I think step one is to agree to a public meeting with the sanctuary campus committee or SLAM — well, both, preferably to talk about our respective issues but first just be open."
Obeidallah believes being open meant holding a public, on-the-record meeting with the sanctuary campus meeting simply to hear them out.
NYU spokesperson John Beckman said that the university has not declared itself a sanctuary campus, because the term has no clear legal meaning. He also said that declaring it a sanctuary campus may actually be harmful, since NYU may not be able to provide the level of reassurance that students construe from the term sanctuary campus.
"We are committed to doing everything we can within the law to protect our community members," Beckman said. "We should not let an issue of terminology overshadow substance or divide us at a time when we need to be united."
Additional reporting by Arushi Sahay. Email Téa Kvetenadze at [email protected]