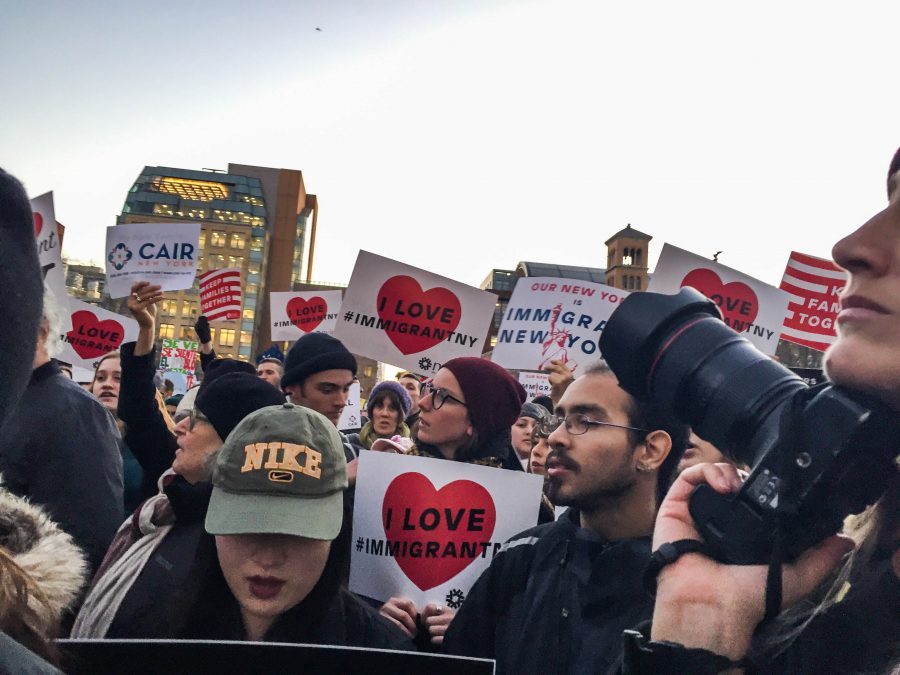 Natasha Roy
After President Andrew Hamilton failed to explicitly declare NYU a sanctuary campus, various on-campus groups took matters into their own hands to protect students threatened by President Donald Trump's travel ban.
Last week, Asian/Pacific/American Institute, the Kevorkian Center and South Asia at NYU hosted a safe space discussion for students affected by the travel ban.
Gallatin Associate Professor Paula Chakravartty is a member of South Asia at NYU, and she helped organize the event. Chakravartty said that students put together the event, but nobody wanted to be interviewed or identify themselves for safety reasons.
"I think there was a sense that it would be good to have a space for people — who self-identify — [to] come together and have a space to talk about what this means for people's ability to stay in New York, in the United States, in terms of people's research [and] in terms of leaving the country," Chakravartty said. "All sorts of questions that people had about what this ban implies and what might happen if the ban ever expanded [were discussed] because we don't know really what will happen in the next 90 days."
Chakravartty is also a faculty member of The NYU Sanctuary Campus Working Group. She said the safe space event shows that there is a need for Hamilton to make NYU a sanctuary campus.  
"Part of this comes out of a need to sort of recognize the need to push NYU on declaring sanctuary campus [status] so that students who are affected by these different policies around immigration feel safe," Chakravartty said.
In a statement to WSN, the Sanctuary Campus Working Group said it is supporting affected immigrant students by outlining measures the university can implement to protect them, and organizing events to show the NYU community why declaring sanctuary status is important. The group believes the university needs to take direct action to support students and faculty affected by Trump's policies.
"Rather than aid affected students on an individual, case-by-case basis, the administration should elaborate comprehensive and transparent policies that provide resources to impacted students, staff and faculty," the group said in the statement. "These resources should include expanded access to housing for students whose ability to travel is imperiled by the new deportation regulations or the Muslim ban, guaranteed access to need-based financial aid for students whose federal funding is jeopardized and expanded access to healthcare and mental health support."
The group also demanded that the university administration lay out specific protocols for protecting students' and staff members' personal information and host clinics for the affected community to learn its rights and how to respond to federal agents. They also said they are proud that the NYU Immigrant Defense Initiative — a project to ensure free, confidential advice and legal representation to NYU students and staff at risk of deportation — was established and events such as the Social and Cultural Analysis Department's upcoming "Immigration Rights in the Trump Era" panel and legal clinic are being organized. These projects reflect faculty involvement in the movement to declare NYU a sanctuary campus.
NYU Dream Team, an organization that works to aid undocumented students at NYU, also wants to involve the university more directly in aiding those endangered by Trump's policies. The organization said that by being involved with either Dream Team or the #SanctuaryCampus movement, students can both help and be helped.
"Currently, Dream Team is working with Global Programs, Admissions and Financial Aid [offices] to see what kind of tangible policies can be created to aid those affected by the travel ban, and in general, anybody who finds themselves unable to come into the country," Dream Team said in a statement to WSN. "People on campus are mobilizing and trying to form a strong front to push for legislation on campus that will protect people by making sure NYU won't cooperate with ICE officials, and that information and details regarding [a] student's immigration status [are] very well hidden."
Email Natasha Roy at [email protected]