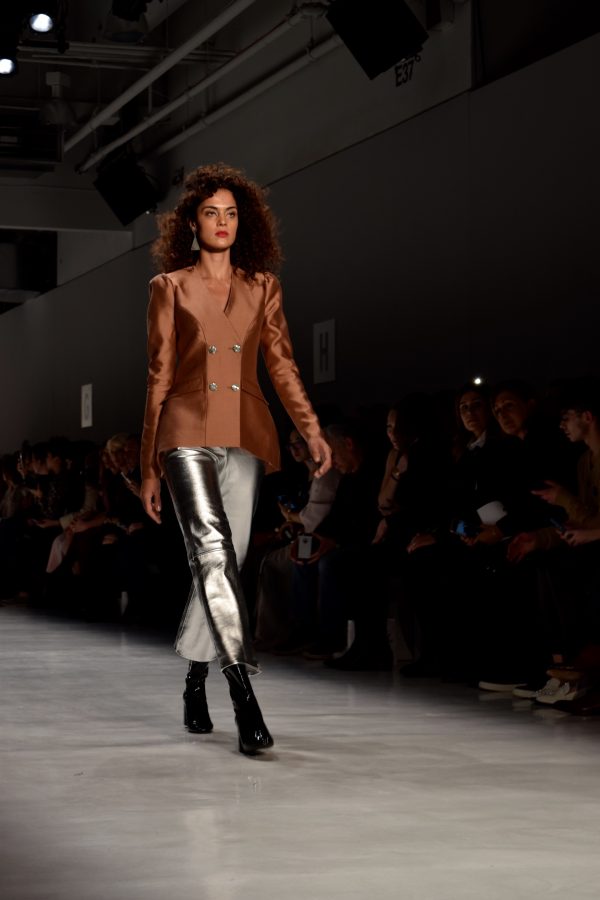 Krista Anne Burton
Nina Tiari's debut ready-to-wear collection combined the tailoring of the uptown businesswoman aesthetic, with the confidence of downtown street style. Fitting for many occasions, the Fall/Winter 2017 collection was versatile enough for the office or a formal night out. The NYU alumna's inspiration came from modern, empowered women and abstract art.
In an interview with Tiari, a first generation Iranian-American, she addressed how politics influenced her collection.
"[Politics influenced me] a lot. Just in a way of 2016 being so tumultuous, I feel like 2017 is a year of rebirth, empowerment, just celebration of people, everyone coming together," Tiari said. " I particularly was inspired by females — strong, active, empowered females."
Velvet and patent leather were recurring textiles. A particular standout of this trend was a knee length copper dress paired with nude, Yeezy style sock boots, an apt choice of footwear considering Kanye West is one of her mentors. Another distinct look was the final outfit — an ankle length multicolored jacket, paired only with high waisted ivory pants cropped to mid-calf and black mules.
Tiari also showed an affinity for playing with classic silhouettes. A strapless blue tunic layered over a glittery copper pencil skirt was a prime example of this. The ensemble represented the ideal balance of office wear and street style with modern, eye-catching colors. Another mold-breaking look featured a red and blue diagonally striped top paired with a skirt which showed off contrasting orange strips. Such bold use of color allowed Tiari's work to stand out from other striped designs.
By simply reimagining classical designs with a unique twist, Tiari truly has crafted a strong opening statement with her debut collection.
Email Krista Burton at [email protected]