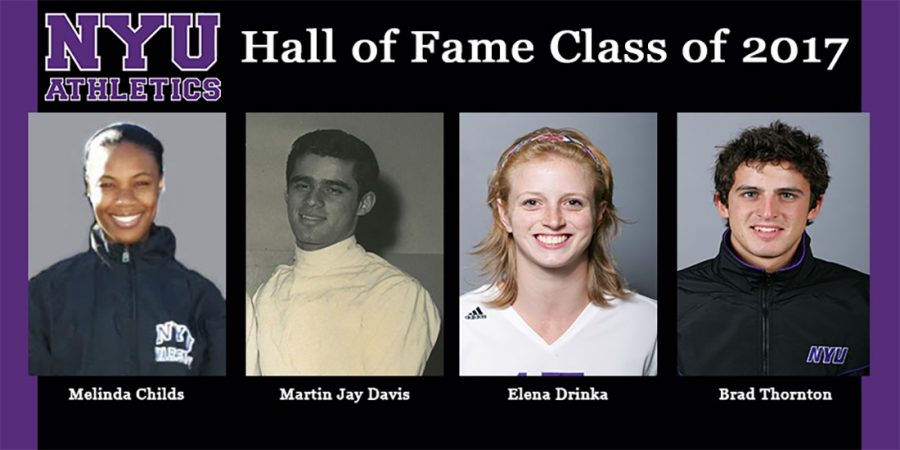 Via gonyuathletics.com
NYU Athletics has been home to many accomplished and hard-working athletes for many generations. Each year, dedicated team members set the bar even higher for athletic excellence in their respective sports. Those whose records have remained intact despite the passing of time earn themselves a spot in the NYU Athletics Hall of Fame. Recently, the department announced its 2017 inductees.
The group includes 2004 graduate and women's track & field team member Melinda Childs, 2007 graduate and women's volleyball team member Elena Drinka, 2008 men's swimming and diving team member Brad Thornton and finally, 1959 graduate and men's fencing team member Martin Jay Davis. Among those individuals, the 1997 women's basketball team and the 1966 and 1967 men's fencing teams will be inducted for their NCAA championship victories.
The Hall of Fame's existence and its recent choice of inductees have meant a great deal to the NYU Athletics student-athlete community. Current student-athletes hold plenty of appreciation for the greats that came before them.
Senior captain for the women's basketball team Kaitlyn Read commented on the team's efforts to live up to the legacy that this year's inductees demonstrated throughout their careers.
"As an athlete, I can do nothing but respect and try to emulate the kind of athletes the Hall of Fame inductees represent," Read said. "All athletes work hard, but the athletes in the Hall of Fame have gone above and beyond to be the best at their sports. I can only hope to one day be as good as they are in the sport that I play."
Read recently helped her team to a win over number one-ranked Rochester last Friday.
Freshman women's softball player and Texas native Mary Tindall explained how her respect for the inducted athletes stems from the NYU student body's overall lack of appreciation for the Athletic Department.
"It's definitely a huge deal for me, because it's a pretty widely known fact that nobody at NYU really cares about sports," Tindall said.  "I've even had professors say 'everyone knows that sports at NYU don't matter.' And everyone that I know in sports is always trying to get people to come to our games, but there's still very little hype, especially coming from Texas, where high school and college sports are [a] religion. So to see athletes coming from NYU and having that much success really makes me happy and is just one more way to convince people that sports at NYU do, in fact, matter."
Tindall and the rest of the women's softball team will be starting the season on March 5 against Fairleigh
Dickinson University.
Freshman women's basketball player Nikki Tucci echoed her captain's sentiments. However, she highlighted the deep dedication that being a top-ranked university athlete requires.
"There is an incredible amount of sacrifice that an athlete gives to the school," Tucci said. "To be recognized for excelling at your specific sport and reaching that highest level of achievement within the school is a remarkable honor."
Tucci had her collegiate debut against Baruch College on Nov. 17.
Ultimately, it is an enormous honor to be chosen for this recognition among the hundreds of athletes that have competed at NYU throughout the years. The time and dedication the inducted individuals and teams have given to their sport means an incredible amount to the current student-athlete community. It motivates current athletes to strive for that same athletic excellence each day.
A version of this article appeared in the Monday, Feb. 6 print edition. Email Maddie Howard at [email protected]