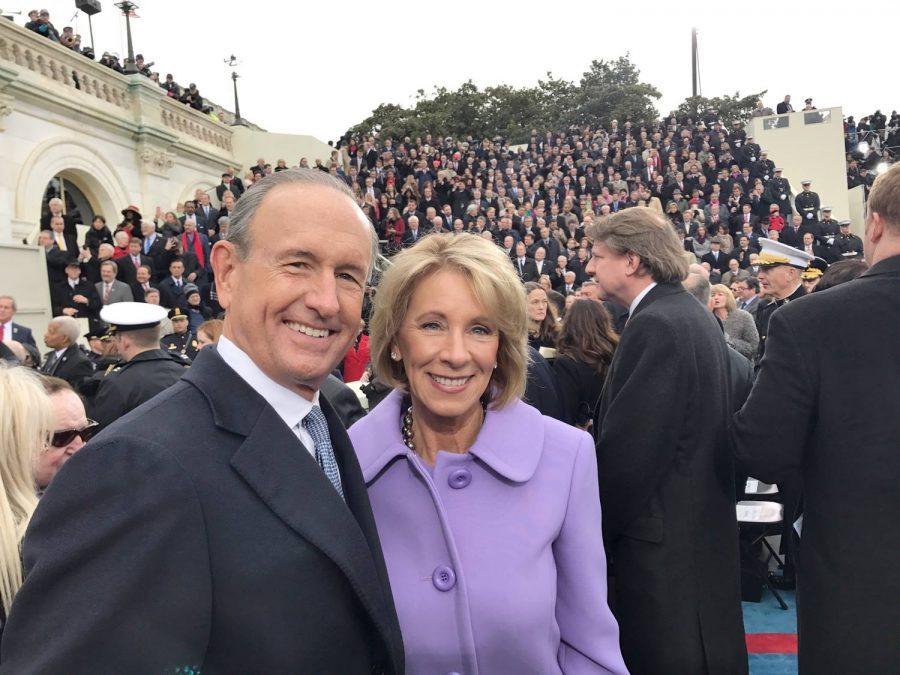 Via facebook.com
From Broadway to the White House, Betsy DeVos is no stranger to large stages. But right now, she stands at the doors of Capitol Hill as the Office of Government Ethics reviews her financial standing before officially becoming President Donald Trump's Secretary of Education.
Senate Democrats criticized DeVos's lack of experience in the public school system, her financial support of Trump's presidential campaign and her endorsement of Trump's "School Choice" — a voucher plan system that would use public education funding to help students below a certain income level attend private school.
I will be voting against Betsy DeVos for Secretary of Education. We must strengthen public education in America, not destroy it.
— Bernie Sanders (@SenSanders) January 26, 2017
The Senate Democrats' inquiry on Jan. 17 was limited, since the Office of Government Ethics had not yet released DeVos's financial and ethical paperwork before her confirmation hearing. As a result of the pending release, Democrats requested a second hearing for DeVos before they vote on her Secretary of Education appointment.
The Senate Committee on Health, Education, Labor and Pensions voted on DeVos's nomination on Jan. 31, a week later than the proposed voting date. But there was no second hearing.  
Associate Professor of English Education, David Kirkland said that DeVos's support of School Choice could financially interfere with intellectual institutions such as community colleges and public K-12 schools, which would contribute to inequality in the education system. However, since NYU is a private institution, Kirkland said that he does not believe DeVos's policies will affect the university.
"The people who depend on public education the most are usually disadvantaged citizens in the country," Kirkland said. "So what DeVos's embrace of 'Choice' does is create the conditions for concentrated inequity within our society."
Assistant Professor of Special Education Natasha Strassfeld said that DeVos's lack of personal testimony when it came to special education was alarming, and Strassfeld hopes that differently-abled students will become a priority for her.
"What I'm concerned with is where we move in the future when it comes to School Choice as a replacement for public schools," Strassfeld said. "It's my hope, personally, that public schools continue to exist, but also we work hard to make sure that public schools do better."
She also thinks that the country should reference Michigan to see what the state of education will look like under DeVos, since DeVos molded most of the education model there through her chairmanship on the American Federation for Children from 2010 to 2017. However, Strassfeld said that the nation's education system under DeVos cannot be fully understood until she actually becomes the secretary.
Professor of Politics Lawrence Mead is not in favor of DeVos's voucher system because of the negative effects it would have on public education, such as the eradication of public schools. However, Mead thinks that overall School Choice will have minimal affect on NYU students once they enter university.
"Her policies generally focus on K through 12 issues, there's much less about higher education," Mead said. "So, our NYU students might be affected at the secondary level, but once they're in college, there won't be much [of an] effect."
Kirkland pointed to Arizona, a state potentially expanding its ban on ethnic studies at universities, to outline what the future of higher education could look like under DeVos's administration.  
"With the DeVos administration, we can see such a ban — one that seems nearly impossible and far-fetched — become far within reach across the United States," Kirkland said.  "The idea of intellectual freedom is at risk."
Email Miranda Levingston at [email protected]