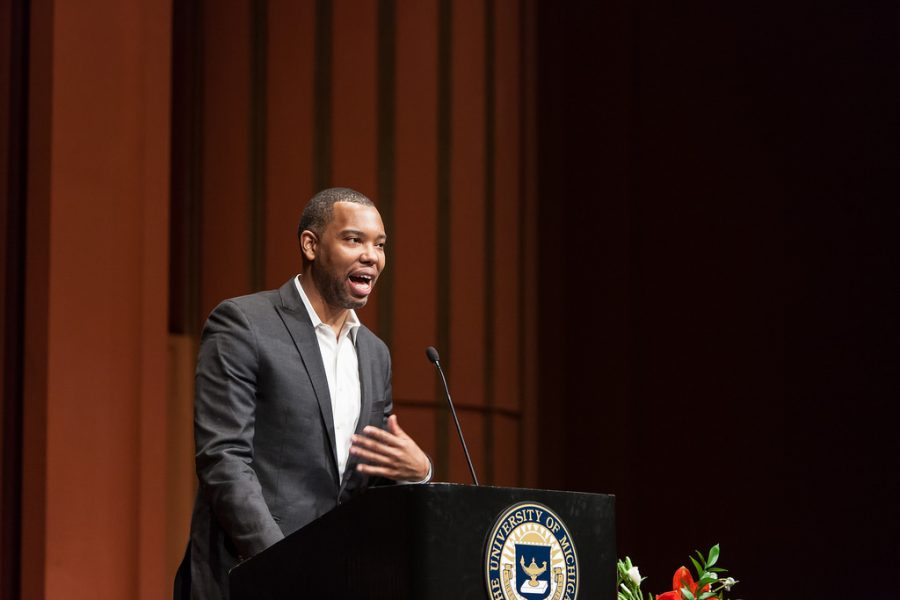 via flickr.com
The world between Ta-Nehisi Coates and NYU is about to become much smaller — the university announced yesterday that Coates officially signed a three year contract with the Arthur L. Carter Journalism Institute. Prior to joining, he worked as a fellow at NYU's Institute for the Humanities.
Coates is a national correspondent for The Atlantic and authored the NYU required reading "Between the World and Me," a letter addressed to his son that tackles how to navigate modern America as a black male. He is critically acclaimed for his work regarding race relations in the United States, especially those regarding politics and the Black Lives Matter movement.
Vice Provost for Faculty, Arts and Diversity Ulrich Baer said that Coates will start in the Fall 2017 semester after conversing regularly with him. Baer said that Coates will greatly contribute to the university's ongoing dialogue surrounding diversity and inclusion.
"He's really invested in mentoring and helping students from diverse backgrounds get a college degree," Baer said. "He wants to really contribute both to the conversation on campus and to our actual direct actions that we take, especially with enforcing and promoting a diverse range of students from different backgrounds."
Journalism faculty members believe Coates' expertise will bolster journalism students' experiences and learning due to his prominence in modern social discourses. Arthur L. Carter Professor Perri Klass said that the themes presented in Coates' works are especially relevant today.
"He's a very important journalist, a very important voice, an amazing writer — somebody whose writing matters tremendously in a lot of very important conversations going on today — and also somebody whose writing is very important to our students," Klass said. "I think they'll be very excited to get the chance to study with him."
Klass, a prominent medical journalist, said that Coates' importance in national public discussions feeds into people's understandings of the history and subsequent path to modern America as we know it.
Arthur L. Carter's Cultural Reporting and Criticism Program Director Katie Roiphe said that Coates also brings his eloquent voice and writing mastery of various styles to the journalism department — a great asset to students across all journalism concentrations.
"One of the things that made me want to reach out to him, and I think for my students would be important, is that it's very rare that you can find somebody who's both an incredible writer and prose stylist — as well as being a startlingly original thinker and also a great reporter," Roiphe said. "I just want to emphasize how beautiful his writing is. We are always looking for people who can teach writing, and I really think he is going to be incredible at that aspect."
Roiphe is a prominent voice within feminist criticisms, and she thinks that Coates' arrival at NYU paves a precedent for the university to advance its faculty diversity.
And as the face of journalism changes with the American political climate, Baer thinks that the legacy Coates brings can inspire journalism students to continue their efforts to bring truthful, compelling stories to the public: inspiring them to make a difference, be fully committed, conduct meaningful research and change the way society looks at policies.
"For students, he can demonstrate that as a journalist, you can really make a difference," Baer said. "I think personally, in this day and age right now, where journalism is going through a major structural crisis — especially since social media has upended conventional journalism — Coates can demonstrate that journalism still plays a really important role in society."
Email Natasha Roy and Diamond Naga Siu at [email protected]