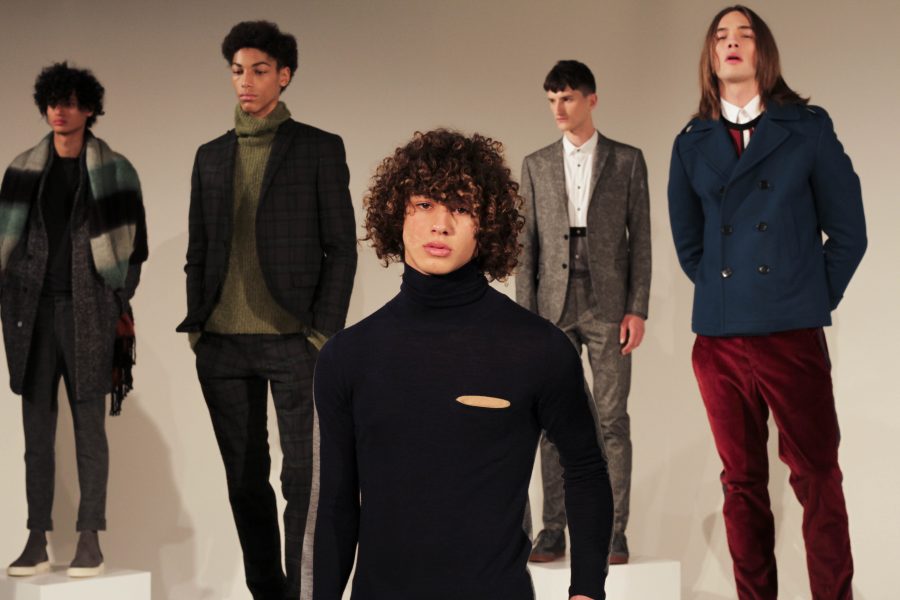 Julia Saliba
David Naman
A conglomerate of classic suiting and sportswear, David Naman's collection was comprised of soothing earthtones and subtle patterns. Rich, mossy greens stood out among muted charcoal plaids, while patches and appliques brought sparkle and interest to plain sweaters. Models toted sleek dark leather backpacks and bucket bags, and looked cozy wrapped in large blanket scarves. Though the simple pieces in the collection wouldn't make a bold statement, they are a staple in any modern man's wardrobe.
By Robert James
In a period of political upheaval, By Robert James took the opportunity to make statements beyond the clothes. Models donned classic trousers, sportcoats, parkas and army-style jackets in camouflage, olive green and brown. The military-inspired looks were refined for everyday wear and paired with brown chelsea boots and black army boots. Many models wore bandanas over their noses and mouths while holding up protest signs that read, "Not my government", "#Free Science" and "By Robert James USA #1 Brand #Alternative Facts", to shine light on the issues that we face today.
WOOD HOUSE
This Fall/Winter collection challenged the idea of conventional men's fashion by changing the details of different garments to create interest and inspire the consumer to keep an open mind about what menswear means. Joggers were paired with simple sweatshirts, both adorned with small, drapey details, while jackets featured exaggerated sleeve lengths. Pops of color came from a sunny yellow raincoat, pale pink pullover and a textured green bomber jacket, while longer coats had bright lavender linings.
Maiden Noir
Maiden Noir's "Traces of Warm Light" collection drew inspiration from the soft colors of the work of artist Cy Twombly. Cropped corduroy trousers were balanced with more refined, classic tuxedo pants in luxurious paisley satins. Shearling collars hugged classic trench coats and shorter, boxy jackets alike, while loose fitting striped button downs were juxtaposed by chunky,  striped sweaters. Neutral tones were offset by deep hues of burgundy and emerald, bringing interest to a collection that put a fresh spin on your grandpa's classic favorites.
R. Swaider
R. Swaider aimed to encapsulate the energies of all different kinds of men, from near and far, urban and rural, while still presenting a cohesive collection. Raw hems brought flair to cape-style sportcoats while flannels got a cozy, draped makeover. Trousers were cropped, cinched and paired with graphic tees reading, "Tarnished stars falling from the sky". Though an artful collection, the garments on their own are wearable and practical.
Private Policy
Private Policy took on the changing climate of globalization in our world through contrast. Graphic patterns and collaged fabrics play, in the most literal way, on the importance of collaboration — one look is made entirely of the flags of different countries. Denim was paired with velvet, chartreuse brought interest and silver chains stood out and weaved outfits together. The entirety of the collection had a slight militaristic style, and models had small phrases on their faces such as, "refugee", "terrorist" and "rude".