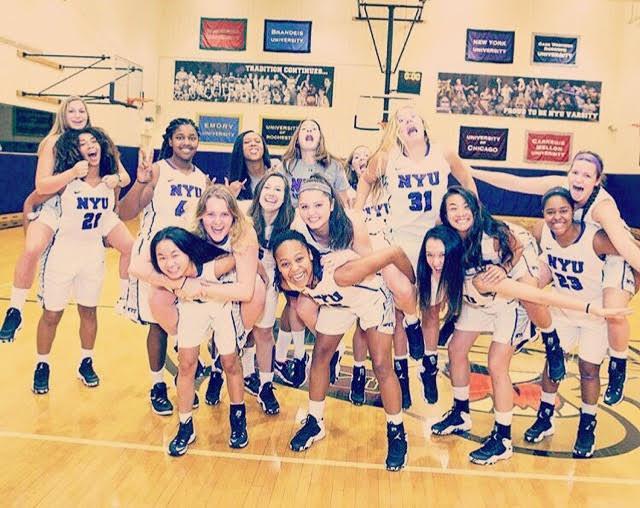 Olivia Linebarger
After finals, most students are more than ready to take their month-long vacation as time to finally get a well-deserved dose of rest and relaxation. However, for some of the NYU athletic teams whose seasons continue into the January Term, their time off from school is drastically truncated. Varsity fencing, basketball, wrestling, swimming and diving all must remain in Manhattan for a majority of the time off and continue both training and competing.
Freshman nursing student and swimmer Jaime Robinson explains the difficulty of having such a short break time between the holidays and returning to NYU for practice.
"I got seven days off for my break but some people had only four depending on when their finals ended," Robinson said. "It was a little sad that I didn't have more time with my family but I was excited to get back to New York and be with the team."
Robinson has aided the group in their undefeated season record. The team is currently ranked sixth in the country according to the latest NCAA release.
The athletes also have a very demanding schedule given the fact that coaches do not need to schedule practices around students' classes. Swimming and diving uses the extra period for a training trip in warmer weather.
"We had doubles almost every other day along with lift and dryland, said Robinson. "We also spent a week training down in Florida, which was a lot of fun."
While the transition may be hard, there are benefits to sticking with the group without the stress of schoolwork, which can greatly impact athletic performance.
SPS sophomore and guard for women's basketball Liv Linebarger, along with many other athletes, finds that the time off from school gives the team opportunities to bond and focus on their mutual passion for the sport.
"It's always a little rough leaving because you feel like you just got there, but we quickly get back into the swing of things," said Linebarger. "Luckily it's a great group of girls to come back to and we all love the game. During January the city is still buzzing, but without school we just have each other and basketball. All of the extra time is still spent together so we become meshed in every aspect of our lives. The chemistry ends up carrying over to the court."
Linebarger has earned time in every game this season and has helped the team to their ranking as second in the east region. She and the rest of the team put the extra practice to use when they faced off against UChicago this weekend.
Ultimately, all year long these students not only have school to worry about, but also pushing themselves to their maximum potential in their respective sports. While the commitment may be taxing, they find their reward both in competition victories and in the relationships they build with their teammates.
A version of this article appeared in the Monday, Jan. 23 print edition. Email Maddie Howard at [email protected]