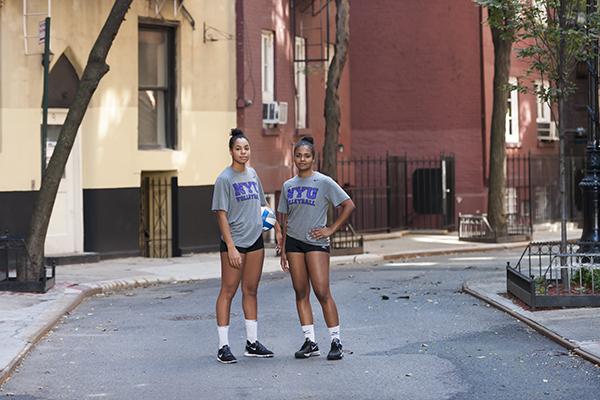 File photo by Sam Bearzi
NYU athletic teams are members of the highly competitive conference, the University Athletic Association. Not only is the UAA home to many of the best sports teams in Division III — with multiple of its sports winning or qualifying for the NCAA tournament each year — but each of the member schools is particularly known for their competitive academics.
At the end of each season, the conference releases the names of those who made the UAA All-Academic team. To qualify for this honor, one must maintain a GPA of 3.3 or above and be a member of a varsity sport for an entire academic year. This season, 49 NYU athletes earned this impressive award.
In light of this award and the closing of the semester, several of the athletes with honors reflected on their experience of being a varsity athlete at an academically rigorous institution like NYU. The daunting task has forced many athletes to make big adjustments in their lifestyle in order to maintain a high GPA while also excelling at their sport.
CAS sophomore Simone Kanter of the men's soccer team explains that he cannot afford to be lenient on his study habits, especially during the season.
"I feel that when you don't really have any room to procrastinate it's a lot easier to sit yourself down and get everything you need to done," Kanter said. "I try not to think about everything I have to do all at once but instead make a routine of doing one thing after another."
Kanter is majoring in political science and recorded his first career goal this season in a game against York College.
Time management is an essential component of the balance these athletes must strike in order to remain strong on and off the field. Stern sophomore and women's soccer goalkeeper Michaela Brickley explained the enormous time required to maneuver both a demanding course load and varsity athletic commitments.
"We spend 20-plus hours training on the field or in the gym and competing in games per week," Brickley said. "I think athletes generally are very driven, responsible and focused when it comes to their sport.  But these qualities also translate to how they view academics, especially at a school like NYU. Being surrounded by other people who are all such high achievers really pushes me to do my best in my classes."
CAS junior and women's volleyball captain Rayne Ellis describes a more controversial aspect of participating in a sport at NYU that at times makes it difficult to continue partaking in the athletic programs.
"I think NYU is both the best and the hardest school in the UAA," Ellis said. "A lot of what NYU students learn is from the city. It is about people and experiences, and then of course the rigorous curriculum. Some [UAA] schools give their students class credits for being on a team and they have student bodies that know they exist. It is a lot harder to succeed when you're practically invisible, yet NYU athletes still find some way to do it."
This is a conversation that occurs among many within NYU athletics. At times it can be a struggle to continue dedicating extensive time to a sport when one is not recognized on a school-wide level, as one might be in a Division I program or a less dispersed urban campus.
However, despite the setbacks, the athletes still find the motivation to continue pursuing what they love. One of the ways they succeed is by applying what they have learned in their academic field to their sport.
Erica Bohdan is a senior cross country captain and a nutrition and food studies major in Steinhardt. She has learned to utilize the skills she's acquired in her courses as a means to make herself a better runner.
"Any nutrition major will tell you that what you put in your body can really enhance or be a detriment to your athletic performance," Bohdan said. "I find what's helpful for me is to keep an app of what I eat that helps keep me on track for my fuel in accordance with my needs. I have a good idea of what kinds of foods to eat and when, [especially] if we have a race that day."
Overall, Bohdan reflects positively on the experience of being a UAA All-Academic and the honor of being a part of that group.
"It feels great to be among a group of really hard working and intelligent students," Bohdan said. "All of these schools are very academically rigorous, so the fact that a list like that is so long with people with such high GPAs is astonishing and something to be proud of."
NYU's athletes deal with a unique set of circumstances and obstacles, and these 49 students are exemplars of a high caliber of both academic and athletic prowess.
Email Maddie Howard at [email protected]