Carmen White: Diving to the Top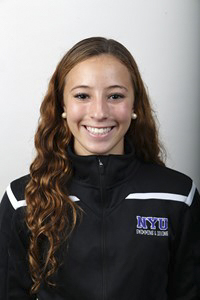 As a freshman athlete it can be difficult to come in and make a big difference on the team. It is hard being completely new to the city-school environment and also performing at the absolute best in a sport. However, first-year diver Carmen White has it all figured out.
White is a two-time winner of the UAA Athlete of the Week for Swimming and Diving. She is also currently undefeated in the one-meter event, helping the Violets to win at their first two meets.
She began her career during her freshman year at Lake Forest High School in Illinois. There, she helped the team to a second in-state finish her senior season. She also earned herself 14th place individually as a junior and fifth as a senior.
Carmen believes her achievements are a result of not only years of hard work, but also the instruction of her coaches.
"My biggest influence in my diving career is my old coach, Pam, who knew exactly what to tell me no matter the mood I was in," White said. "I attribute my success to my former coaches and current coach, Todd, for pushing me to my limits allowing me to be where I am today."
Head Diving Coach Todd Kolean was one of the main reasons she decided to continue her career at NYU.
"I decided to dive at NYU because I felt my coach, Todd, could take my diving to the next level allowing me to be competitive collegially," White said.
Clearly, the help of Kolean and the rest of the NYU swimming and diving staff has paid off for White thus far. Her weekly schedule is packed with practices and lifts almost everyday, ensuring that she maximizes her time in the diving pool and prepares to crush the competition.
Outside of the pool, Carmen is heavily influenced by her mom, who has been by her side tirelessly throughout her diving career. Though the school is quite aways from the Chicagoland area, the support of her family remains strong.
"My biggest influence in my life is my mom," White said. "She is always supporting me and cheering me on."
Being so far from home can be quite difficult for freshman athletes, who are typically used to the constant reassurance and help from their family members inside the arena no matter the sport. This is often where the presence of their new team comes into play, which serves as their new family and support network. White describes her fellow team members as something like her new family.
"So far it has taken a bit of getting used to — balancing school with diving and getting accustomed to living in New York," White said. "Although it can be stressful at times, it's nice to know that you have a team supporting you along the way. My favorite part of NYU so far is
being on a team that I can call my family."
Young athletes like White are what make NYU varsity sports so successful. It gives them the chance to show their worth and that they can truly stand out at the collegiate level. White hopes to continue to stand out for the next four years.
Catch White and the rest of team in their next meet on Saturday, Nov. 5 at West Chester University at 10 a.m. in West Chester, Pennsylvania.
A version of this article appeared in the Monday, Oct. 24 print edition. Email Maddie Howard at [email protected]