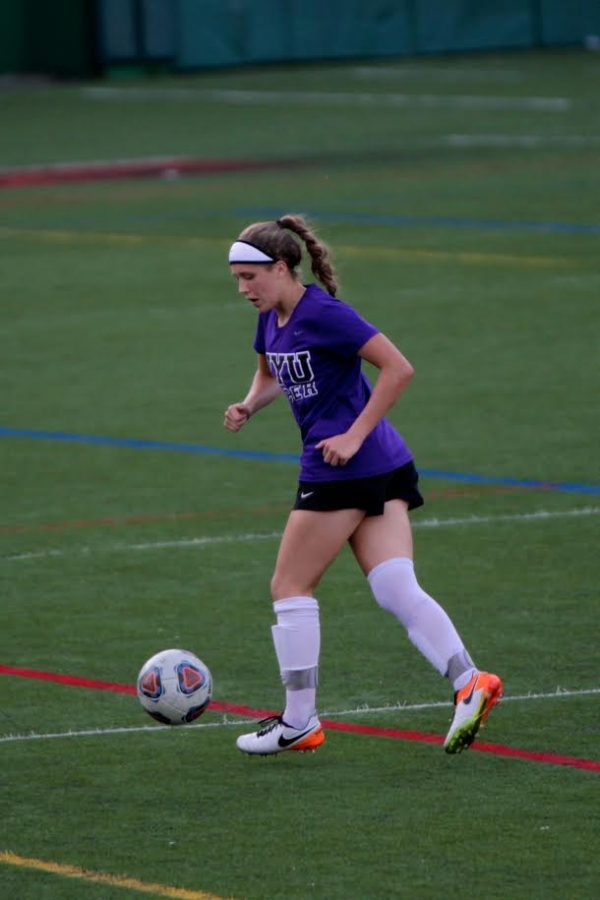 Kathryn K Benedict
Adjusting to life as a college student is hard enough for most freshmen, but doing so while also navigating New York City and trying to make friends can prove to be incredibly difficult. These stresses of normal college life are enough, but imagine dedicating another several hours of your day to playing a collegiate sport.
I am a freshman soccer player at NYU this year and the transition has been a challenging adjustment, but I would not change it for the world. In my brief time here, I have met some of the greatest people, and together, we have created amazing experiences both on and off the field.
Despite the fact that my time here so far has been enjoyable, there have been some trying moments as well. In a very short period, I have learned that time is precious and to make my spare moments as productive as I can. Whether that means doing homework on the bus to games or waking up early before my 9:30 a.m. class to go see a professor, I have to manage my time efficiently in order to keep up with my academics.
Many of my fellow freshman teammates have found themselves in a similar situation. Our days are fast-paced and we are constantly on the move. Most of us wake up and go to an early morning class. Then we will speed-walk to Palladium in order to load the vans with our gear and drive to Chelsea Piers for practice.
Practices take a lot of energy out of me. Mentally, we have to make sure we're focusing at all times in order to absorb as much information as we can about the game and what our coach is trying to teach us. We are also physically battling each moment, trying to prove to the group that we deserve to be on the field during the games.
After playing, I am usually exhausted. However, I have to force myself to forget my drowsiness and go to my next class of the day. Coffee has become the staple that holds my life together. When classes are done and I make it back home to Founders, I finally get to peel off my sweaty practice clothes and shower. At this point it's usually around six at night and I am struggling to keep my eyes open. The sleep deprivation as a result of school and soccer catch up to me and I usually want nothing more than to crawl in my bed and fall asleep.
However, I know that if I let myself doze off in this moment I will regret it. So I run to Think Coffee, grab an iced red eye and get to work. At the end of the day I am tired, but I get a sense of accomplishment knowing I got through everything despite the difficulty.
Yes, the time commitment of being a student-athlete can be daunting. But being with my team and playing the sport we love together makes the stress worth it and in them, I know I have friends for life.
A version of this article appeared in the Monday, Oct. 3 print edition. Email Maddie Howard at [email protected]