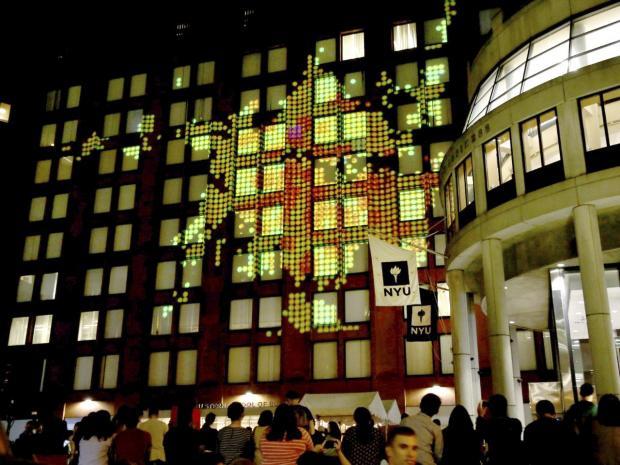 via nyu.edu
Inauguration Week was all about celebrating Andrew Hamilton as the 16th president of NYU through a series of events ranging from free food at Kimmel to a projected visual artwork under the stars at Gould Plaza.
Hundreds of students, pedestrians and spectators gathered outside Tisch Hall on Thursday night with blankets and snacks to watch the projected art produced by students and alumni (it was, as a matter of fact, the only student-created event during the whole week of events). The project had evolved from an undergraduate film class assignment to an event that would gather individuals from across campus to honor the talents and innovative ideas of the students at NYU. Rising senior Bea Young and alumni Justin Scholar formulated the idea of having the multimedia project presented for the whole school.
The project opened with dimmed lights and a little history of Aphrodisias, an ancient Greek city, as well as its influence on the social and cultural findings of an ancient civilization. The focus then shifted to Greene Street and honoring the importance of music in everyday lives. Though the piece had a very educational feeling, it was still visually impressive and found no challenge holding the attention of the audience.
The show wasn't just limited to the stunning visual projections, though. In addition to the lights cast upon Tisch Hall, a troupe of student dancers performed a routine in time to the music. The performers were surrounded by a pool of mesmerized faces amazed at the skills and abilities of their fellow classmates. The audience's hearts seemed to beat in time with the drumbeats of the song.
Coming to NYU, one can expect a diverse, interactive and, most importantly, unique campus. Every day, there is something new. On the night of "Violet Lights," people passing by the show did what could possibly be considered the great pastime of pedestrians in New York: they stopped and watched. Many individuals who weren't students attended the show, part of the boon of being "in and of the city."
In the classrooms of our campus, students can witness the intelligence and sophisticated minds of their peers, challenged by professors to support them on their journey to success. "Violet Lights" was a way to bring all the unique characteristics of the campus together to create an innovative, short presentation of what goes on at NYU. The performance was informative and inspirational. The fact that the project was completely created by former and current NYU students made the film both more entertaining and more personal to the members of the school's community.
"Violet Lights" was a way to display the magic that can happen when students are given an assignment that gives them room to flourish. For years, NYU has released scholars and scientists into the world to do great things. "Violet Lights" was an example of these students putting their greatest work to the test, and succeeding boundlessly.
A version of this article appeared in the Monday, Sept. 26 print edition. Email Cristal Gonzales Nunez at [email protected]