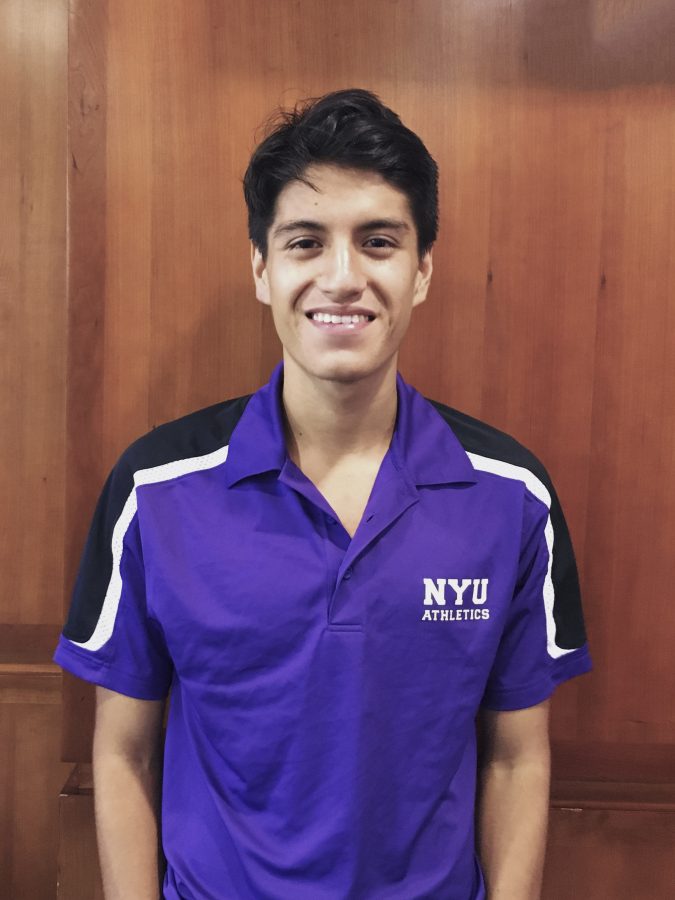 Maddie Howard
Running cross country is hard. But Jorge Maldonado, a CAS senior on the NYU team, makes it look easy.
Maldonado was the recent recipient of the NYU and UAA Athlete of the Week award and has been a member of the team for the entirety of his time at NYU and has led the group to a successful season thus far. Maldonado credits his award to a recent win at the Vassar Invitational, where he ran a 6K in just 19:08.
"I expected to be up top," Maldonado said. "I think the reason why I got that kind of accolade was because Williams and other all-Americans were in the race as well."
He has been working all summer in order to end his senior season with memorable performances. Though time management has become difficult, Maldonado has learned to balance eating right, lifting and running twice a day as a means to reach his optimal
performance level.
Missing a majority of his first two seasons due to injury, Maldonado got back into shape his junior season. His injuries did not seem to withhold him from achieving great success when he got the opportunity to compete once again.
"Last year I was ECAC athlete of the week three times and UAA athlete of the week one time," Maldonado said. "Also last year, I earned All-Region for the 5k in the indoor season and for the 10k in the outdoor season. I also won the UAA in outdoor."
Since this will be Maldonado's final year at NYU, he looks to end his senior season on a high note for the team and while individual performance is important, he ultimately wants to be able to positively reflect on his cross country experience as a whole.
"I want to be happy with it more than anything," Maldonado said. "But beyond all, I want us to achieve to our fullest potential as a team … It has been a little tumultuous over the past years with people who have been out because of injuries and other setbacks, so we only really got to scratch at the surface of how great we could be. But I think this year we have an opportunity to show the hard work that everyone has put in and the talent that I believe has always been there. Hopefully by the end of the season we can come out feeling like we did our best and hopefully the results show for that."
Maldonado attributes a lot of his success on and off the field to his close family and friends. His coaches and more experienced teammates have helped him grow as a competitor by teaching him all they can about the sport. This camaraderie, not the running itself, has been the highlight of his career at NYU.
"The actual running and the actual racing, you could say it's fun, but it's not really," Maldonado said. "It's painful and tough and you wonder why you do it each time when you're really tired and want to stop. The fun part is the kind of 'in between' where you're trying to improve yourself the best you can but there are other people alongside you physically dedicating themselves to the same thing."
Maldonado will be applying to graduate programs upon completing his majors in sociology and psychology this spring. Catch him and the rest of the cross country team competing next in the Paul Short Run at LeHigh University in Bethlehem, Pennsylvania on Saturday, Oct. 1.
A version of this article appeared in the Monday, Sept. 26 print edition. Email Maddie Howard at [email protected]