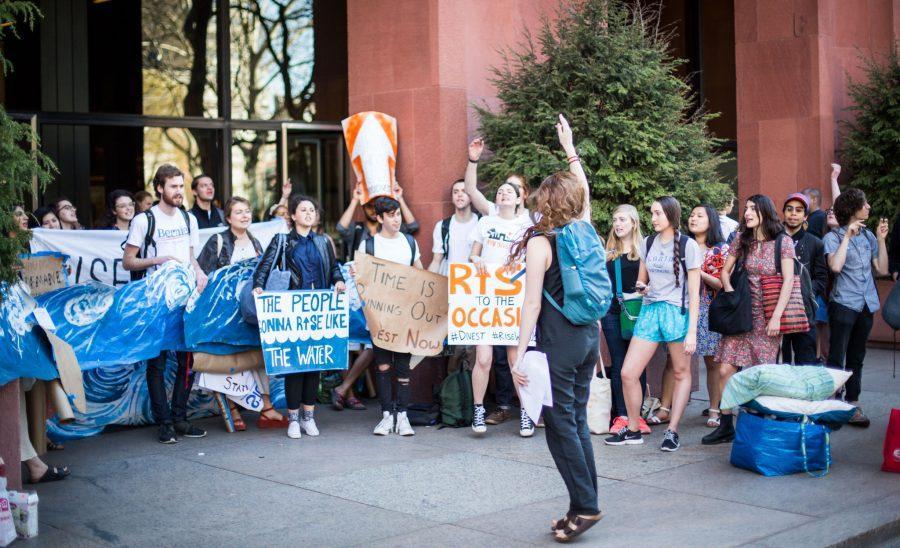 Jake Quan
After last year's array of protests and overnight sit-ins, three movements on campus have come out with agendas to look for in the upcoming semester. New policies, decisions and plans came in response to the efforts of three key activist groups — Student Labor Action Movement, Incarceration to Education Coalition and NYU Divest — and with these changes, these groups have reinvigorated their plans for the semester.
SLAM
For over two years, SLAM has fought for a $15 minimum wage, and in March 2016, the student-led organization finally saw the fruits of its labor. President Hamilton announced that NYU would implement an incremental minimum wage increase until it hit $15 an hour in 2019.
Gallatin junior Hannah Fullerton was an active member of this fight and was very happy with the university's progress.
"SLAM wants to hold the administration accountable and make sure that this change does not come hand in hand with students losing their jobs," Fullerton said. "We are currently researching and speaking to students to make sure that students who had jobs on campus are able to keep them and earn the wage they deserve."
SLAM now plans to use its momentum to take steps towards getting student representatives on the Board of Trustees. Fullerton said that this would benefit students, since she believes that business people comprise the Board of Trustees, rather than people with students' best interests in mind.
The organization planned a petition drop on Sept. 23 at 2 p.m. as its first action of the semester. After that, it plans to combat the student debt crisis.
IEC
IEC works to end discrimination against NYU applicants with criminal records, and the organization hosted a 30+ hour sit in at the Kimmel staircases last semester to ban the box on college applications.
After meeting with President Hamilton and communicating with the Common App on Monday, Aug. 1, NYU announced progress to the fight: the university would no longer ask prospective students about their criminal history and would instead ask them to check a box if they have been convicted at trial or pled guilty to a violent crime.
Gallatin senior Sumathy Kumar is a key IEC organizer who works towards making higher education more accessible for people who have been priorly incarcerated. While she acknowledged the progress, she thinks the reform did not go far enough.
"Continued work is necessary for conditions to materially improve for formerly incarcerated people, in particular people of color, poor people, LGBTQ folks and undocumented folks," Kumar said. "We want to ensure that NYU is a welcoming community for formerly incarcerated folks and that mass incarceration is a part of university curriculum."
Although NYU made steps towards progress, IEC's goal to entirely abolish the box remains the same.
NYU Divest
NYU Divest held an overnight protest in Bobst, hoping to get the University to withdraw its endowment from the fossil fuel industry. However, the Board of Trustees rejected this resolution passed by the University Senate. On June 16, the Board of Trustees announced that it would not divest from its fossil fuel investments. CAS senior Olivia Rich, who worked closely with Divest, found this announcement disheartening.
"Divest will not stop fighting to remove dangerous and unethical investments from the University's endowment," Rich said. In response to the Board of Trustee's decision, she said the organization is demanding that NYU divest its approximately $700,000 interest in direct fossil fuel holdings by 2017. "[This] would be effortless and would have no impact on the endowment."
She said that Divest wants to see a more democratic, transparent and accessible Board of Trustees whose decisions reflect the NYU community's values and do not come from the interest of financial conflicts.
Email Jemima Charlotte McEvoy at [email protected]