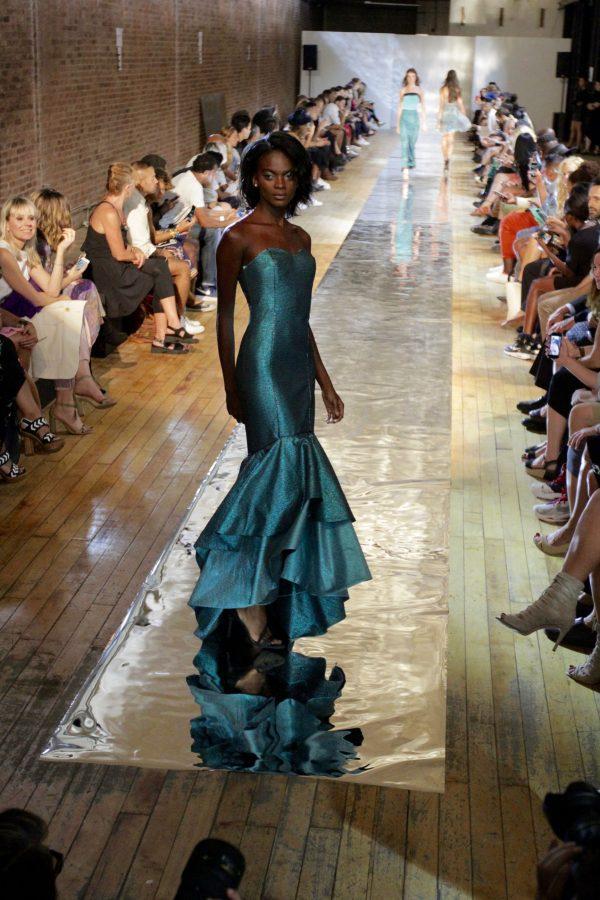 Kat Vlasova
Ane Amour's Spring/Summer 2017 runway show opened with a stunning three-quarter sleeve dress with a pastel mermaid scale pattern. The strong theme of Siren's Song recurred throughout the entire collection, especially with the color selection of blue greens, navy and coral. Even the runway's mirrored effect shadowed light onto the white walls to mimic the sea.
Models' hair always included fishtail braids or nautical knots. Blue green eyeshadow was brushed across their eyelids to contrast with their dewey faces.
Designer Iyala Anne used many two piece and high-waisted silhouettes, but both were overshadowed by the two jumpsuits, one in black and then the final piece made of white metallic lace with slits up to the knees. Lace accented the majority of pieces. Another standout piece was a metallic blue green mermaid style evening gown. 
Backstage Anne explained what she wanted people watching her show to take away.
"A feeling of beauty overall and not only for the models and pieces but for themselves. The ocean itself is pretty reflective so I'm hoping that the show somewhat gave that feeling" said Anne.
Overall the collection offered unique silhouettes within an overused nautical theme and a great message of empowerment, from a description of the collection, that "each siren or woman, has her own individual song to speak, and this collection expresses the unique and diverse voices through eloquent designs."
Email Krista Burton at [email protected]