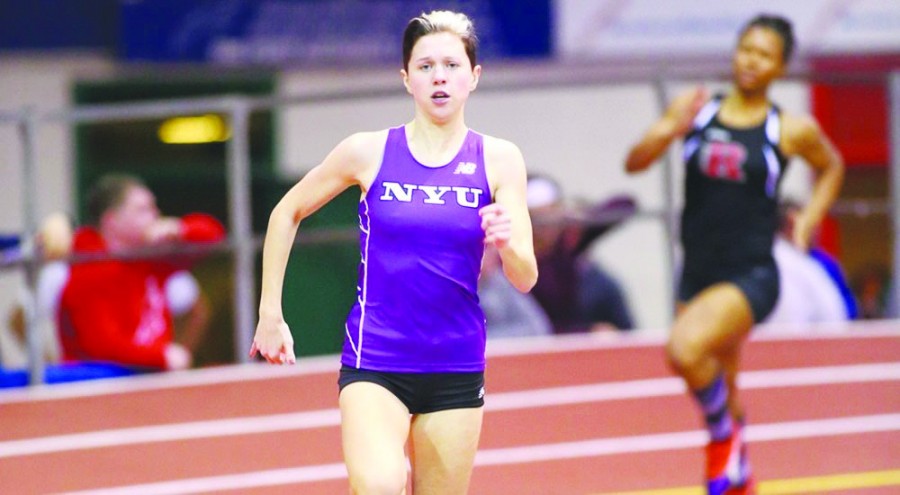 via gonyuathletics.com
Despite poor weather conditions, both the men's and women's track and field teams competed in the Roadrunner Invitational hosted by Ramapo College on Saturday. Despite the cold, rain and wind, the teams performed impeccably. The men placed in 29th overall, with freshman Daniel Sovich landing in 11th place in the 400-meter hurdles.
"The weather was awful, but hard work and commitment to the team were unaffected," Sovich said. "We came out there to show other teams that NYU is not to be disregarded."
However, Sovich wasn't the only one who found success during the weekend. Junior Nick Torsitano finished close behind Sovich, taking 17th place. Junior Fred Lam came in 29th place in the 400-meter. In the pole vault, sophomore Sherman King shined in an eighth-place finish, while junior Nick Hespe claimed 11th place.
While both teams performed well this weekend, the women's track team definitely demonstrated their prowess. They finished in sixth place out of the 30 teams that competed during the weekend to compete this weekend. Competing in the 4×100 relay were senior Kristina Harris and freshmen Alyssa Jean, Samantha Scoggins and Mary Conti, who placed in second behind Monroe College. Jean felt that the meet was a great experience for the team, especially the freshmen.
"We're at a point in the year where we should be constantly progressing and that's exactly what we're doing," Jean said. "The weather was pretty bad but as a team we all pushed each other to help us reach our maximum potential."
In addition, Conti also landed in third place overall for the 400-meter. Freshman Chelle Mitchell captured fourth place in the 100-meter hurdles. Jean, Scoggins and Mitchell respectively landed in seventh, 17th and 46th place in the 200-meter. In the 400-meter hurdles, Alexa Goldman claimed 10th place. Junior Dana Placentra led the field squad by finishing in third place in the pole vault. Jean and sophomore Brianna Yee participated in the triple jump, placing ninth and 10th place. Yee also placed in 12th for long jump. Freshman Sabrina Illiano surfaced in her outdoor debut, in which she finished 23rd for the long jump.
"I think that everyone persevered really well," Illiano said. "My teammates were good at encouraging each other to go out and do their best despite the conditions, and I think that helped keep us motivated."
The Violets will continue competing next Saturday, April 9 for the Rider University Invitational.
A version of this article appeared in the April 4 print edition. Email Ashley Arnold at [email protected]