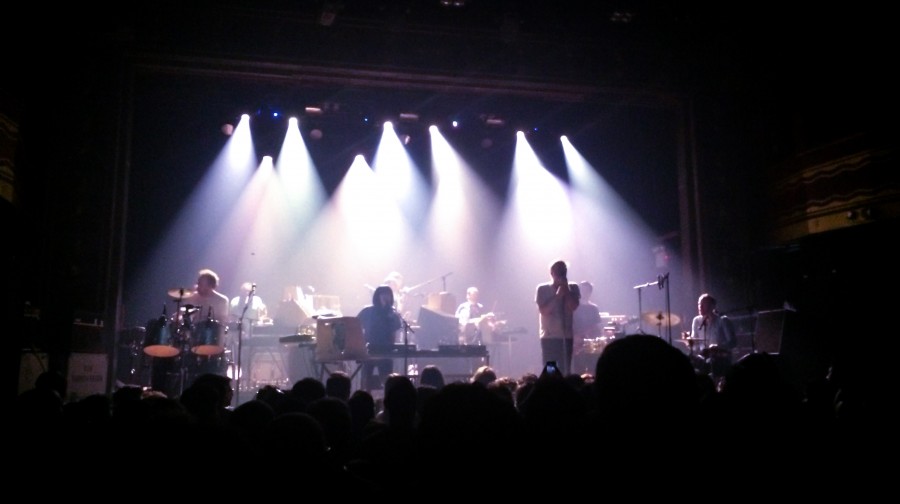 Zach Martin
It's been a long five years since LCD Soundsystem played at Madison Square Garden in what they said would be their last show ever. That show lasted four hours, hosted appearances by Reggie Watts and Arcade Fire, inspired a documentary and featured an elated Aziz Ansari crowdsurfing. The band went out on top, with three albums of era-defining dance-punk and a truckload of explosive, rowdy songs to their name. It was both a bittersweet and moving ending.
Now, five years later, frontman James Murphy and the rest of LCD Soundsystem have answered the prayers of all the young fans who never got the chance to cry while hearing "New York, I Love You But You're Bringing Me Down" live. Before they embark on a festival-headlining tour this summer, the band played their first reunion show at Webster Hall on Sunday night, a starkly different venue from MSG or Coachella.
The months since the announcement of the band's return have been marked with an understandably divisive fan reaction. While some have celebrated the reunion, others have argued that this is an uncharacteristic action of this group that makes their initial farewell less powerful. Murphy has always been hyper-aware of his age and consciously concerned with authenticity. The band's debut single "Losing My Edge" is about losing his indie credibility to a younger generation of hip music obsessives. Naturally, a reunion tour seems like something he would scoff at.
But LCD Soundsystem didn't play like a band selling out and reaping the benefits of nostalgia. From the opening drum beat of "Get Innocuous!" they played like a young group who still needed to prove themselves and win the crowd over. Even with technical difficulties with their new synthesizer — appropriately named "Demon" — and verbal acknowledgements in between songs that they were a little rusty, the whole set was marked with warm humility and genuine gratitude.
They shortened and changed the order of their setlist from their MSG show. Instead of opening with the quiet build-up and insane bass drop of "Dance Yrself Clean," they saved it for the first song in their encore. Their MSG closer, the ballad "New York, I Love You But You're Bringing Me Down," became the last song of their main set.
It was fitting that their most emotional, beloved track "All My Friends" was the last of the night. That song is about nostalgia, aging and becoming distant from friends as life goes on. As Murphy poured his heart out on stage, the line "You spent the first five years trying to get with the plan / And the next five years trying to be with your friends again" resonated. In that moment, LCD Soundsystem became the friends who never left. In the intimate setting of Webster Hall, it felt like no time had passed — Aziz Ansari was still there, "Dance Yrself Clean" still made the floor shake and the magic of their music was still on full display. In that moment, it became clear that after five years, the band hasn't lost their edge at all.
Email Zach Martin at [email protected]