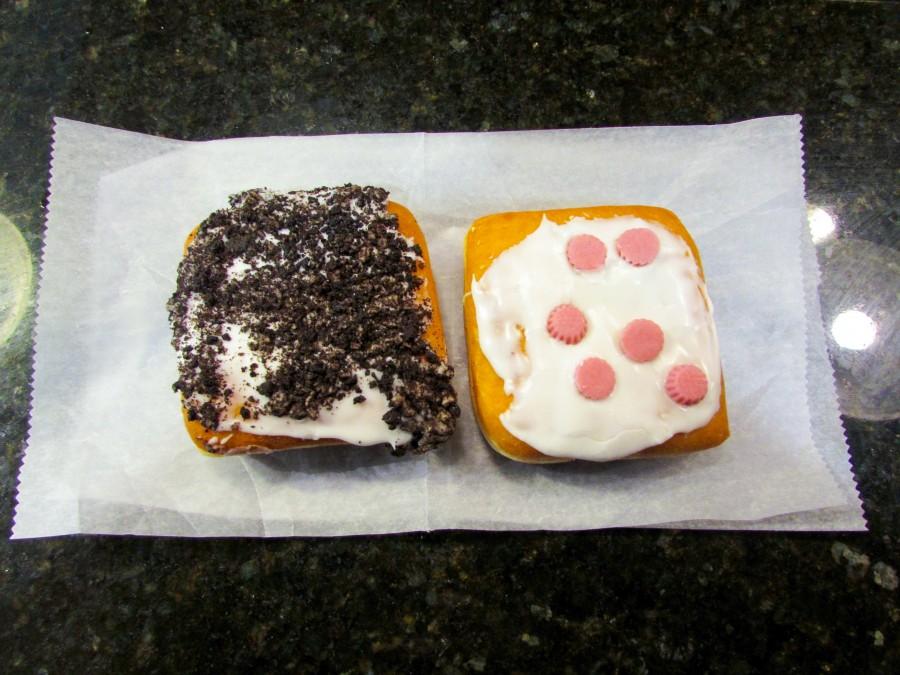 Ashley Arnold
Your favorite spot for coffee and doughnuts just got better. This past week, Dunkin' Donuts officially released new menu items for the spring season, which will be available until April. Old favorites were reintroduced, as well as some new breakfast specials and beverage flavors.
One of the biggest and boldest additions is the breakfast GranDDE Burrito. Weighing in at 10 ounces, the GrandDDE burrito consists of a spicy omelet filled with jalapenos, red bell peppers and pepper jack cheese with habanero peppers. The rice and bean blend within the burrito also includes a mix of corn, fire-roasted peppers and onions, with an optional addition of sausage. There is a meatless option for vegetarians, and this burrito is available for purchase all day.
If you're craving something sweeter, try the new Strawberry Shortcake Croissant Donut, which features a glazed croissant-donut filled with strawberry buttercream and topped with a drizzle of vanilla and strawberry icing.
In terms of coffee, there are now three different flavors to choose from. Pistachio is Dunkin' Donuts' newest flavor, and old flavors like cookie dough and butter pecan are now being brought back as options.
Other products that are making their comeback to the menu include the Oreo Cheesecake Square and the Raspberry Cheesecake Squares, which are essentially pastry squares with cheesecake filling and either raspberry candy or Oreo crumbles on top.
Liberal Studies freshman Grace Allende just recently tried the raspberry cheesecake squares for the first time.
"It's such a great addition in the Dunkin' Donut family," Allende said. "I can taste the raspberry and the cheesecake. It's truly amazing."
CAS freshman Breanna Byrd also enjoyed the square and she's anticipating trying the strawberry shortcake croissant-donut.
"It was sweet," Byrd said. "It took a second to get to the filling, but once you get to it, it's thick, but also light enough so the customer isn't overwhelmed."
Lastly, Dunkin' Donuts debuted their new chocolate chip cookie, which is served warm for that freshly-baked feel. Head on out and indulge in these new products while they're still in store.
For those on an NYU meal plan, the Dunkin' Donuts by University Hall, 110 East 14th Street, accepts NYU Dining Dollars and meal swipes.
Email Ashley Arnold at [email protected]