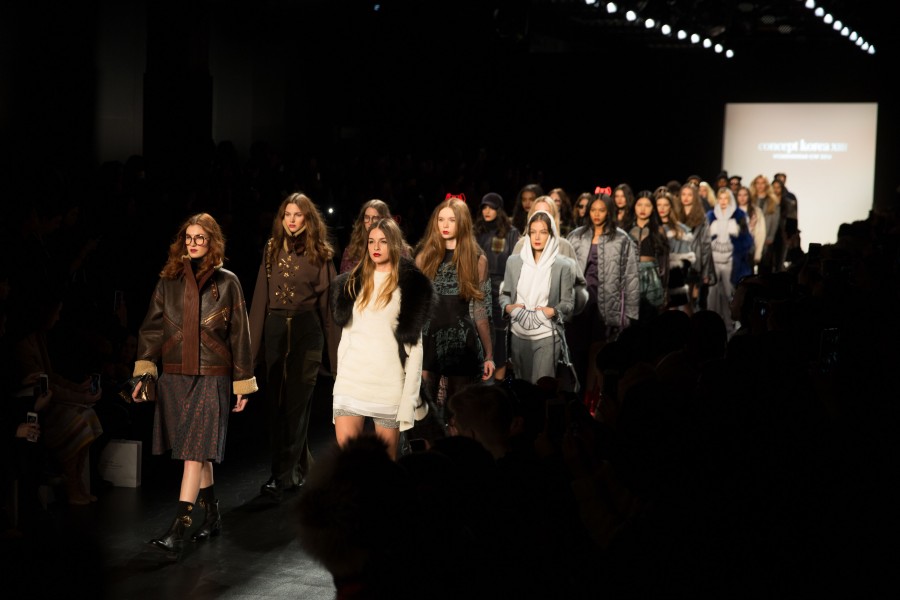 Cynthia Lee
Concept Korea Womenswear treated fashion-hungry viewers to a dual experience, debuting its two F/W collections, Yohanix and Jarret. Each designer took a different approach to his collection, yet somehow the looks seemed interconnected, creating seamless unity.
Powerful bass and haunting melodies shook the room as shadow blacks and midnight blues possessed the runway's first collection, designed by Tae-keun Kim. Encompassing the dark sense of humor attached to previous Yohanix collections, each style presented an unexpected combination of fabrics and embellishments, accessorized by frameless glasses and beanies. Seen on a variety of styles such as trenchcoats, blazers, and overalls, metallic embroidery and heavy beading merged with strong textiles such as texture leather and carbon-coated cotton. An emphasis on strong structural elements emerged in the forms of a broad-shouldered blazer paired with frilled fabric and the countless bold, statement pockets lining each trenchcoat.
Harsh bass faded into a light, bouncy melody as the second collection, designed by Ji-yeon Lee, took over the runway.  Jarret, a collection focused on the weaving together of feminine detailing and masculine tailoring, uniquely provided "a modern interpretation of both masculinity and femininity." The funky, bubbly synth introduced shades of burnt henna, burgundy, and blood red splashed onto a multitude of fabrics, ranging from fur to tulle. The reoccurrence of fur throughout the collection proved to be a major characteristic of the collection, along with the eye-catching vibrant red and blue booties worn by the majority of the models. Almost every model dawned a metal hairpiece or bright red lips to accessorize each of the thought-provoking designs such as the grey-hooded sweatsuit covered by an outrageous blue fur coat.
Although each of the designers styled looks that were uniquely independent, as the models lined the runway for the last time, both collections merged into one, creating an undeniable cohesion through interesting fur patterns and bold trench coats.
Email Carson Kessler at [email protected]