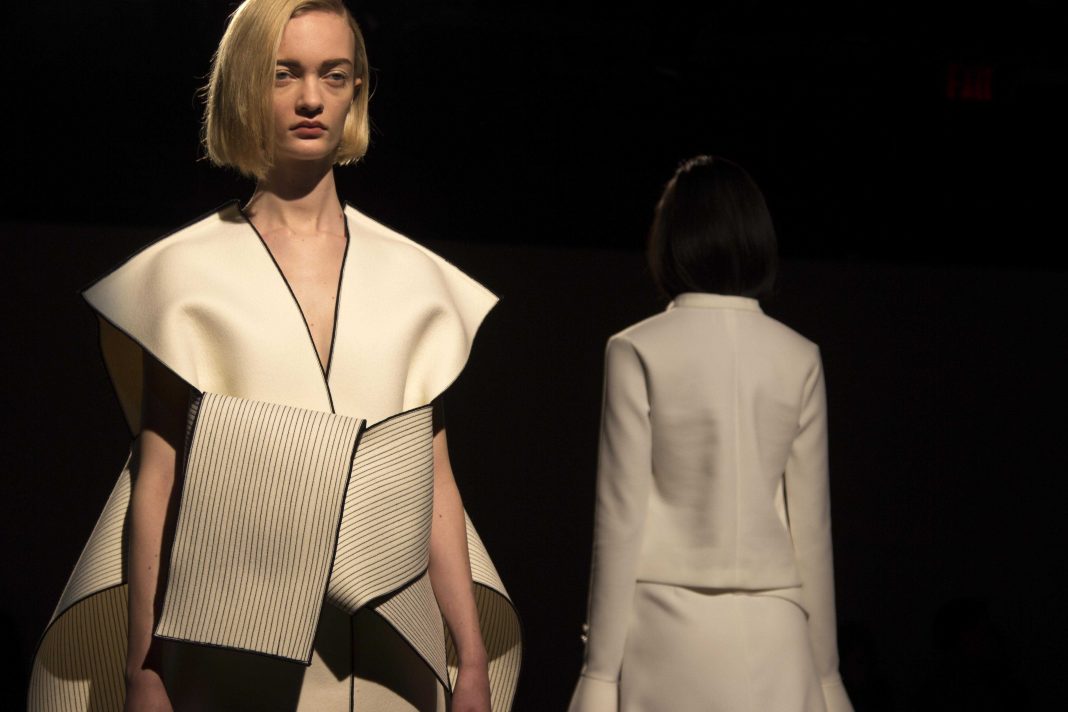 As electronic indie-pop played over the speakers in a dark, sparse room, Claudia Li was making a bold artistic statement. In her second NYFW collection, Li stunned with an impressive Fall/Winter collection that blurred the lines between fashion and art.
For a young designer, Claudia Li has a remarkably firm grasp on her artistic vision. The collection effortlessly alternated between fabrics and materials– from vegan leather to knitwear, from denim to yarn. While this blend of fabrics may seem strange on paper, Li managed to create a cohesive collection.
Most importantly, Li knew her strength was her craftsmanship, and capitalized on it. She opted to focus on the structural elements of her designs, rather than embellishments, and it definitely paid off. She chose a simple color scheme– neutral reds, blues, blacks, and whites– and stayed away from flashy fabrics. One stand-out piece featured a dress made to look like an origami fold, another featured a impeccably tailored denim trenchcoat. Li made the smart decision of opting for minimal styling, which ensured that nothing was distracting from the clothes. The models, standing on elevated platforms in the middle of the room, wore no accessories. They all wore the same shoes– white and black low-top converse– and had very simple hair and make-up.
With only two NYFW shows under her belt, Li has already made a quite an impression. I know I'll be staying tuned to see what comes next from this on-the-rise designer.
Email Colin Burke at [email protected]