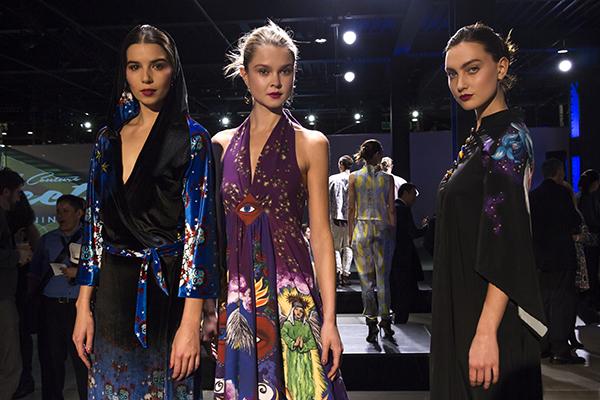 A spectacle of bold collections dominated the space at Skylight 60 Tenth this past Tuesday evening. In the digital era, technology is constantly pushing boundaries, allowing artists to relish in fearless attempts to create riveting designs. Digital printing technologies are radically impacting the fashion industry, and Epson Digital Couture is proves to be a game changer for many designers who presented on Tuesday night.
"I had tried to do silk screen printing before, prior to this coming out, and the design that i wanted to do was a custom design so when we tried to do it, it bled quite a bit, we couldn't really get a sharp finish because the ink process would drip onto the fabric. With this type of printing I was very surprised because I've never worked with this process before. We took the designs that I had done and sent it off to be done and they turned around and they were actually really perfect," Danny Santiago, designer and Contributing Editor at Italian Vogue, said.
An array of looks spanning from collections by multiple designers were showcased amongst various platforms within the venue. Each designer's signature style shined through, but they all seemed to collectively echo a sense of vibrancy. The inspiring group of designers included in this unique night of fashion radiated enthusiasm and passion for what their respective collections represent.
For Felipe Santamaría Luque, the versatility of Epson printing meant that he could represent the nuanced beauty of his homeland, Colombia, in his line Lenerd.
"It's a collection that portrays the conflict and exuberance we have," Santamaría Luque said.
The collection is inspired by the captivity but also the floral beauty of Latin America, a story told in organic shapes at the designer's New York Fashion Week debut. See the brilliant colors of Lenerd at @lenerd_offical on Instagram.
Paris born painter Chloe Trujillo first broke into fashion after realizing the inaccessibility of art enthusiasts to purchase original paintings. So she trasnformed her paintings into scarves. After the scarves came the handbags and now, with Epson technology, a full line of clothing.
"The technology was not that great before a few years back. My artwork is very vibrant, very colorful and I like to respect to colors so it was not respecting that before." See Trujillo's designs at chloetrujillo.com or visit her on Instagram at @chloetrujillo.
For many designers, it was their first experience in New York City, let alone New York Fashion Week, and they welled up with excitement as they shared their stories and inspirations with attendees. Gustavo Moscoso's collection was inspired by the colonial style home in Ecuador passed down to him from his father. On the exterior, his designs are sober, only in black and white. However, the inside of each piece is marked by intricate, colorful designs inspired by the 1890 manor.
"[My collection is] about that dialogue–the architectural dialogue, the Spain versus France dialogue. I question a little bit how women now are the ones with the power and men are a little bit more allowed to take care of themselves and they are not judged for looking gorgeous. It is three different concepts fused into this one gorgeous collection."
Designers raved about how accurately this technology brings their spectacular visions to life, producing meaningful prints on high quality textiles.
"You have everything. They scream!" Tigresse designer Vanessa Ribeiro enthused, in regard to Epson Digital technology's capability to capture the bold images and colors of her collection.
Because Tigresse produces 12 collections per year, the ability to quickly produce their newest designs is instrumental for the São Paulo based company.
"And it's not tiny collections they're really complete collections, so it's a whole universe, at least eight prints per month," Ribeiro said. Follow the dynamic brand at @tigresseoficial and follow the fabulous Vanessa at @vanessasiqueiraribeiro, both on Instagram.
Lulu Ramírez Decrescenzo and Isabela Navarro presented swimwear from their line Kaleidoscopic, giving versatility to the show as a whole. Their vintage cuts and fresh colors looked beach-ready and made it easy to forget that each creation began with an Epson printer. See their swimwear, accessories, and more at @kaleidoscopic_mx on Instagram.
The capacity for artistry in printed fashion was eloquently stated by Fabrizzio Berrocal, designer of his self-titled brand. His brand creates their work by hand — either by drawing or painting — and the ability to upload the work digitally completely transforms his process. Now, designers are able to produce new textiles more quickly, including textiles that they may have been a risk to mass-produce before.
"I think this innovation from Epson was wonderful because it allowed me to create new textiles, new designs — basically if you see the drawings on the paper and the drawings on the jacket, they look the same."
Berrocal takes most of his inspiration from the biodiversity of his home country, Costa Rica, and proudly proclaims that "the future of fashion is personalized."
Ultimately, Epson's presentation embraced digital couture in a wild, fresh, and fun way. The diversity of the designers, plus the digital capabilities of Epson printing methods, equals a recipe for vivid and fascinating translations of vision into reality. Digital couture is representative of a revolutionary collaboration between technology, culture, and style.
Email Courtney Marino and Hannah Starke at [email protected]